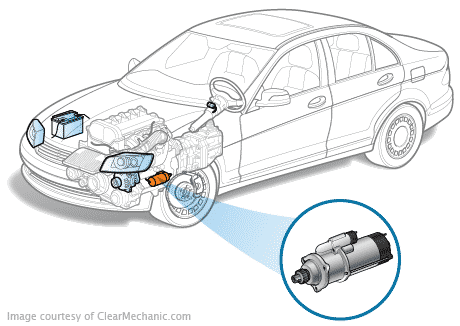 What Is A Starter?
When you crank your key, it is the starter that receives a huge electric charge that allows the car to start up. After the current is sent, your motor will turn the crankshaft and fire the pistons where ignition can start occurring. Without excellent function, you may have issues starting up your car or getting anywhere at all.
How do I know I need to replace my starter?
The best way to know if it's the starter is to do a bench test – which one of our certified technicians can do on site. Another way to check the starter is to check the signal to the solenoid and the power from the battery. It will usually make a one click sound when trying to turn the car on. You can find more information by looking at our list of reasons why your car won't start.
Common Signs & Symptoms of Starter Malfunction
Car takes multiple tries to start up
Starter operates loudly
Engine won't start even when key is put in
How does a car's engine starter motor work?
When you turn the key on, the battery sends a huge wad of power to the starter solenoid which sends a signal to the starter to go crank. The solenoid connects the electric motor of the battery to the starter by closing a large copper contact.
What causes a starter to need replacement?
First of all you have to check the battery, the ignition, and the solenoid to make sure they're all in good shape. You should also check the wiring to make sure everything is connected and nothing is exposed. Once you have that confirmed you can test the starter – which can go due to normal wear and tear where the gears or brushes in the starter just wear down over time.
How Much Does it Cost to Replace a Starter?
Typically the cost of a starter replacement ranges from $300 to $600 depending on the vehicle. Generally domestic and Japnese vehicles are the on the lower end of the scale while European vehicles can cost up to $1000 to replace the starter. Feel free to give us a call or request a quote online to get an exact price for your particular vehicle. 
Other automotive services.
Please note that there are certain services we only perform if we diagnose the issue.
Timing Belt & Water Pump
Power Steering Repair
Cooling System Repair
CV Joints & Axles
Engine Flush
Coolant Flush
Fuel System Flush
We are open from 8am - 6pm Monday to Saturday
instaMek Auto Repair & Inspections
Average rating:
4 reviews
Jun 25, 2018
A simply great service
You would be a complete idiot to get your car towed with these guys around. Had an odd starter issue that handled so professionally, I requested them to handle another issue that I could have easily gone to a garage for once they had it started. My mechanic Moe, showed up exactly on time and very confidently solved all my car issues. I don't write online reviews ever, but Moe and Instamek have earned if.

Thanks a ton guys!
Apr 30, 2018
My car wasn't turning on and I knew it was a starter because I could hear it trying to go. Because I have a Ford Escape I wasn't able to replace it myself (big job) so I search up mobile mechanic and found instamek. They came over the same day and charged me a very fair price - the mechanic was solid and got the job done. The car runs like new and as a mechanical person myself I have to say I was very impressed with this service.
Apr 29, 2018
My car wouldn't start the other day and I was hearing a ticking noise. Heard about instaMek from a friend decide to give them a call. Graham came by with a starter and replaced it right on site I was surprised they could do that! It works like a dream now thanks guys.
Apr 28, 2018
Really fast and friendly team here - they got the job done with no troubles. I really did like dealing with them