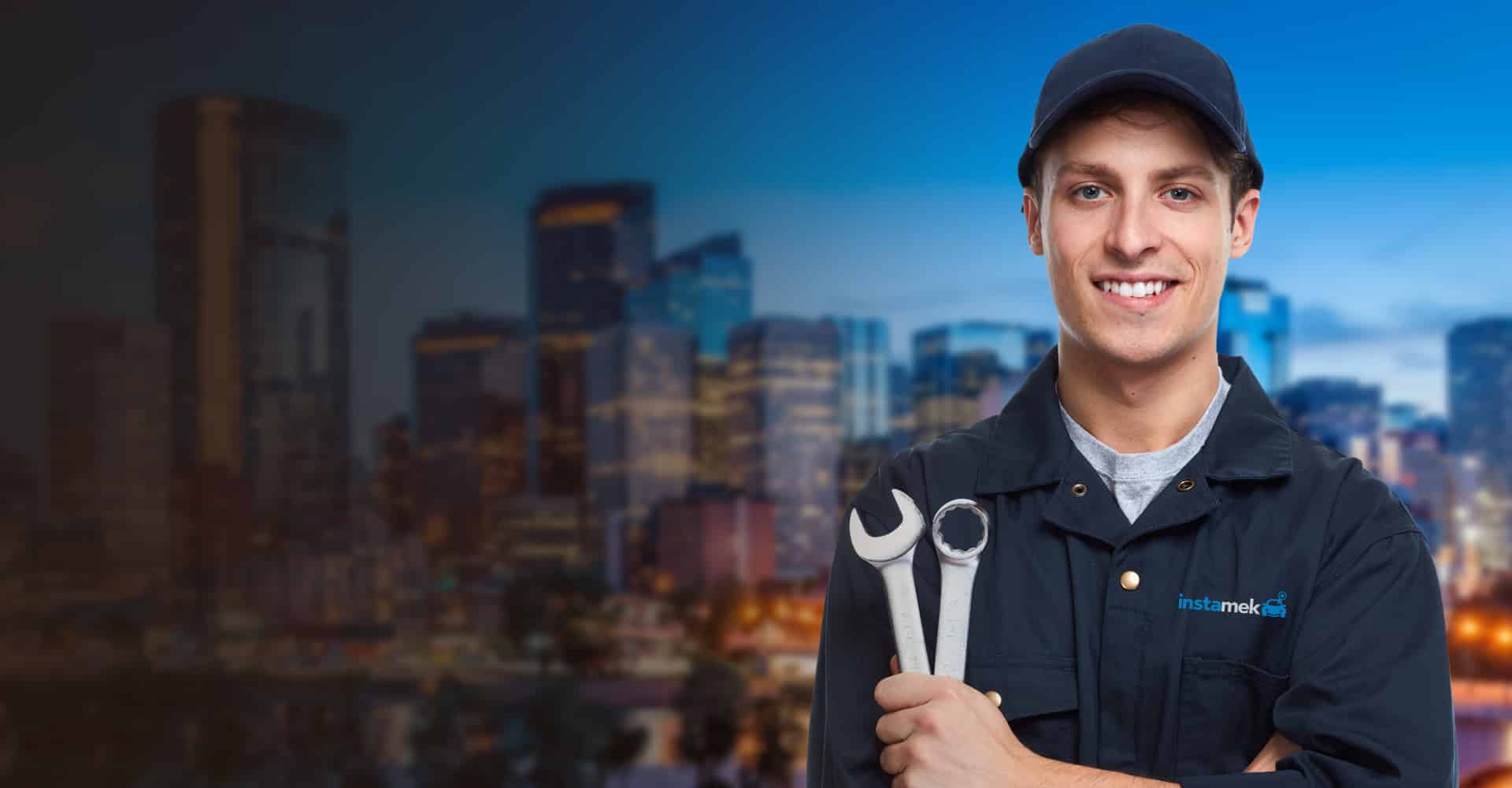 Our certified mobile mechanics in Calgary will fix your car at your home.
Our certified mechanics come to you · Backed by 12-month / 20,000 km gold standard warranty program.
Popular Services in Calgary, AB
Oil Change
A regular oil and filter change is considered one of the most important car maintenance services to avoid severe engine damage.
Car Won't Start?
An InstaMek certified mechanic will come to your location to diagnose why your car won't start and follow-up with the necessary repairs
Vehicle Inspection
Get a comprehensive, 150-point pre-purchase inspection performed by a certified mobile mechanic before buying a used car.






Best Auto Repair in Calgary, AB

Helik Sandren
21:07 25 Apr 19
Prompt, courteous, and thorough service. Needed car inspection done on a Saturday - no shops open. Instamek was booked, but managed to rearrange schedule to accommodate. Very happy with the inspection. Great service.

Ashutosh Chhabra
17:35 23 Apr 19
Came on Sunday to help start my car. Fixed the fuse. Mechanic knew exactly where to look and fix. They were also polite to deal with.

I had InstaMek do an inspection an a truck I was interested in purchasing. The inspection was prompt and the report was very thorough. It revealed many problems that I would otherwise been unaware of, and the cost of the inspection probably saved me what would have been a couple thousand dollars in repairs. I did not purchase the vehicle, and was very glad that I chose to have it inspected by InstaMek!

gladtidings
18:18 11 Mar 19
Absolutely top class service! My car wouldn't start and literally within 5 mins my car was up and running and they didn't even charge me for the service just for the diagnostic and it's been about a week now with no issues. This company genuinely cares about the service they give and they even followed up to see if everything went well. Im definitely going to be using this service again in the future and I'm going to tell all my friends and family just how affordable, reliable and convienent the service they deliver is!

Codey Falkenberg
21:12 02 Feb 19
Great service! My vehicle wouldn't start in the parade of my building. InstaMek was able to troubleshoot it and get it started. It wasn't possible to make the repairs since it required raising it but they were very helpful in explaining the cause of the problem and what needed to be done to fix it

Darleen Collins
19:50 16 Jan 19
I found Wrench Patrol on Google. Their website communicated their services well. The fact they are mobile is fantastic. I called them and the fellow was very pleasant and helpful. They also scheduled the appointment with the vehicle Owner (Seller) and I had the option of being present for the Inspection or not. Since the vehicle was at least 30 minutes away, I opted not to go but let the Mechanic handle it. Very convenient for both Buyer and Seller. The Report arrived via email shortly after the inspection and was very easy to read and thorough. Brake pads will need replaced within the next 6 months and a leaky inner cv boot was indicated. This was critical information in helping us with our purchase. I would definitely use and recommend their service again. Thank you guys.

Wylie Diegel
04:05 09 Jan 19
Great first experience. Quick response and friendly, efficient and knowledgeable tech. Highly recommend Todd B. No start diagnosis in under an hour!
Calgary Auto Repair
Service Hours
| | |
| --- | --- |
| Monday | 8AM–7PM |
| Tuesday | 8AM–7PM |
| Wednesday | 8AM–7PM |
| Thursday | 8AM–7PM |
| Friday | 8AM–7PM |
| Saturday | 9AM–4PM |
Contact Us
Toll Free:
1-888-507-3435
Local:
403-917-1218
Phone support hours are typically 8AM to 6PM Monday to Saturday.
Address
We come to your home or office!
---
Local Auto Repair in Your Area
Nissan Mechanic in Edmonton
Honda Mechanic in Calgary
Dodge Mechanic in Sherwood Park
Volkswagen Mechanic in St. Albert
Jeep Mechanic in Fort Saskatchewan
Pontiac Mazda Mechanic in Nisku
Ford Mechanic in Beaumont
Toyota Mechanic in Morinville
Hyundai Mechanic in Leduc
Other automotive services
Our certified mobile mechanics come to you with all necessary parts and tools.
*Please note that there are certain services that
we only perform if we diagnose the issue.
Timing Belt Replacement
Power Steering Repair
Radiator Repair
CV Joints & Axles
Engine Flush
Coolant Flush
Fuel System Flush
We are open from 8am - 6pm Monday to Saturday