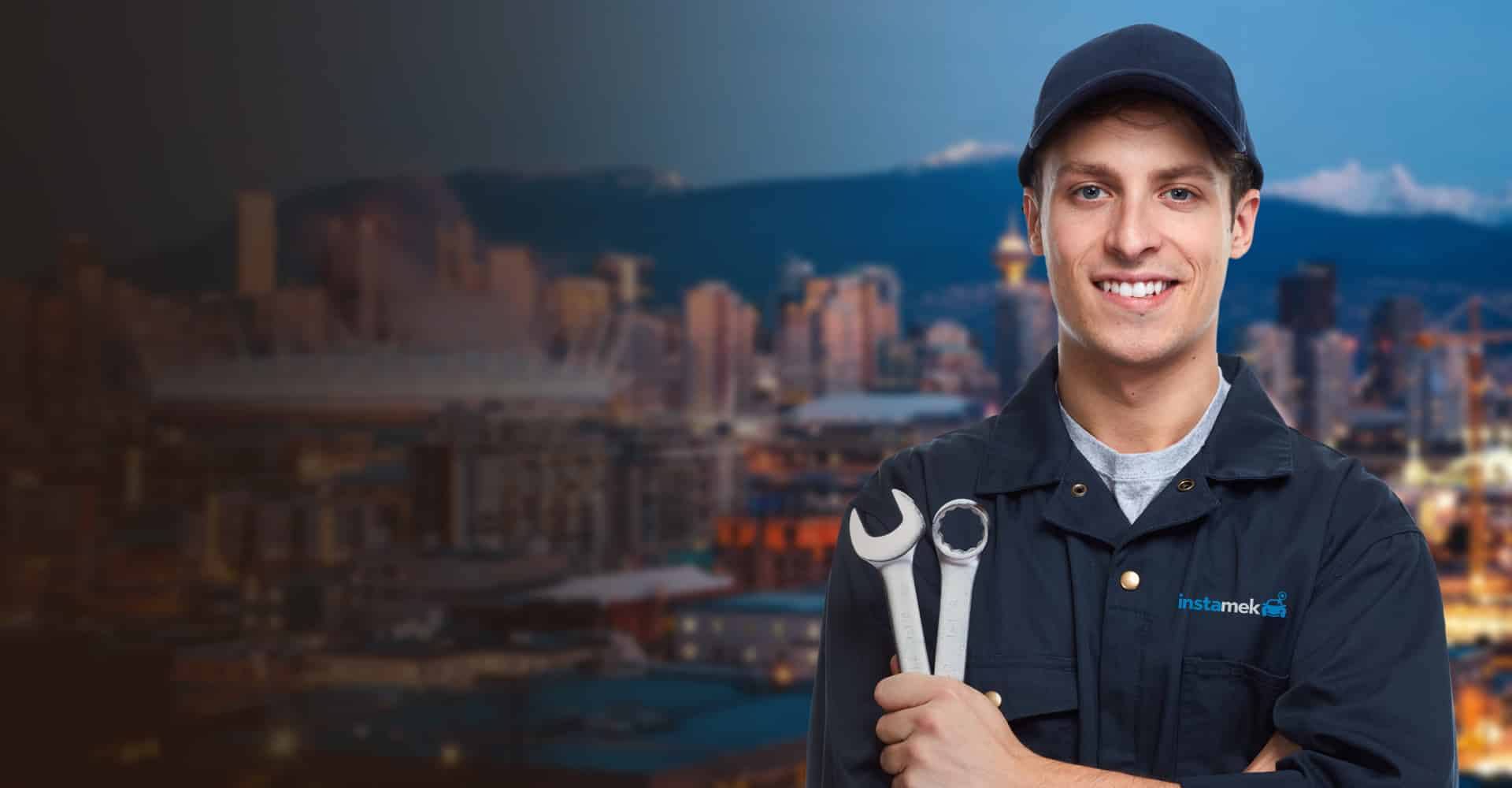 Our certified mobile mechanics in Vancouver will fix your car at your home.
Our certified mechanics come to you · Backed by 12-month / 20,000 km gold standard warranty program.
Popular Services in Vancouver, BC
Vehicle Inspection
Get a comprehensive, 150-point pre-purchase inspection performed by a certified mobile mechanic before buying a used car.
Oil Change
A regular oil and filter change is considered one of the most important car maintenance services to avoid severe engine damage.
Brake Replacement
Squeaky brakes? Pedal Pulses? Get your Brake Pads replaced at your home or office. Covered by 12-month, 20,000 km gold standard warranty






FAQ
Are you social distance approved? What are you doing to protect people from Covid-19?
Yes! Since our mechanics come to you instead of you going to a shop it makes the first step of the process so much easier. On top of that our technicians wear the proper PPE and sanitize your vehicle after they're done. We also ask you to keep your distance and stay 6 feet or 2 m away from the technician at all times.
What kind of services can you do at peoples homes?
We can do over 500 services right at your home or office including oil changes, tire changes, brakes, inspections, alternator, starter, battery replacements and more. You'd be surprised at all the work we can do!
Are you technicians licensed and insured?
Yup all our technicians have at least 10 years of experience and are all Red Seal Certified Licensed Journeyman Automotive Technicians. We also have liability insurance for your car and your property!
What cities do operate in?
We operate in over 20 cities in Western Canada including Edmonton, Calgary, Vancouver. (I think for this one we need to customize for the landing page).
Is this more expensive than going to a regular shop?
Nope! Our prices are the same or lower than going to a shop especially if you sign for our instaMek Prime membership!
Best Auto Repair in Vancouver, BC

stan miller
04:33 26 Nov 20
Waheed the mechanic was very knowledgable and did an excellent "pre-purchase inspection"on the car. Found some issues with the car, and as a result we didn't buy the car. Very thankful

Sina Akbari
04:26 17 Nov 20
Our pre-purchase inspection was done by Waheed who did an excellent and thorough job. He was very professional and took the time to discuss a few questions I had on the phone after I had read the report.

Alice Annee
04:07 12 Nov 20
I booked for a pre purchase inspection and My mechanic was Waheed and he was very efficient and went out of his way to help me finish the inspection. My seller didn't have a plate so the inspection had to be stopped but Waheed came back to finish it when my seller had the plate. He also was very honest about the condition of the car, I know nothing about cars and he was patient to explain everything to me.

Mitchell Wilson
17:22 05 Nov 20
Waheed was unreal, really detailed and helped me with a pre-purchase inspection. He even thoroughly checked under the car in the pouring rain on the side of the road. Highly recommend.

I would like to appreciate for a job well done on my car the tech name is mohamed is very professional and very friendly. The prime membership is very affordable and free inspection twice a year it helps me to keep my car safe on the road thanks mohamed. Job well done!

Got an inspection done. Waheed was thorough. Unfortunately it doesn't make sense to me to spend 2x the value of the car in repairs. Good to know what I have to do to keep it running safely though.

Angela Matheson
05:03 24 Sep 20
Jack at InstaMek literally saved me thousands of dollars. I was all ready to buy a used vehicle from a private seller as the vehicle looked and drove great However, I could see a few minor things that made me concerned that there may be bigger underlying issues. I decided it best to have an inspection before completing the sale. As there was a second buyer with cash in hand, I needed a same-day inspection. I contacted InstaMek to see if I could get an inspection ASAP, and they sent a technician out within a couple of hours. That alone was pretty amazing customer service. Jack did a thorough inspection and showed me the photos of his areas of concern...and there were many! Although,I was sad to have spent $200 for an inspection only to walk away without the vehicle I wanted, it was money well spent as the repairs would have cost me a minimum of $3-4000. Whew! On a side note, their reporting system was having technical difficulties, so I had to wait longer than expected to get the full inspection report. However, Jack called me personally (after hours) to discuss his main concerns with me, as he knew I was anxious to make a decision on buying the vehicle. Really great customer service 👍
Vancouver Auto Repair
Service Hours
| | |
| --- | --- |
| Monday | 8AM–7PM |
| Tuesday | 8AM–7PM |
| Wednesday | 8AM–7PM |
| Thursday | 8AM–7PM |
| Friday | 8AM–7PM |
| Saturday | 9AM–4PM |
Contact Us
Toll Free:
1-888-507-3435
Local:
604-330-0424
Phone support hours are typically 7AM to 5PM Monday to Saturday.
Address
We come to your home or office!
---
Other automotive services
Our certified mobile mechanics come to you with all necessary parts and tools.
*Please note that there are certain services that
we only perform if we diagnose the issue.
Check all the oil change prices in Vancouver
Timing Belt Replacement
Power Steering Repair
Radiator Repair
CV Joints & Axles
Engine Flush
Coolant Flush
Fuel System Flush
We are open from 8am - 6pm Monday to Saturday