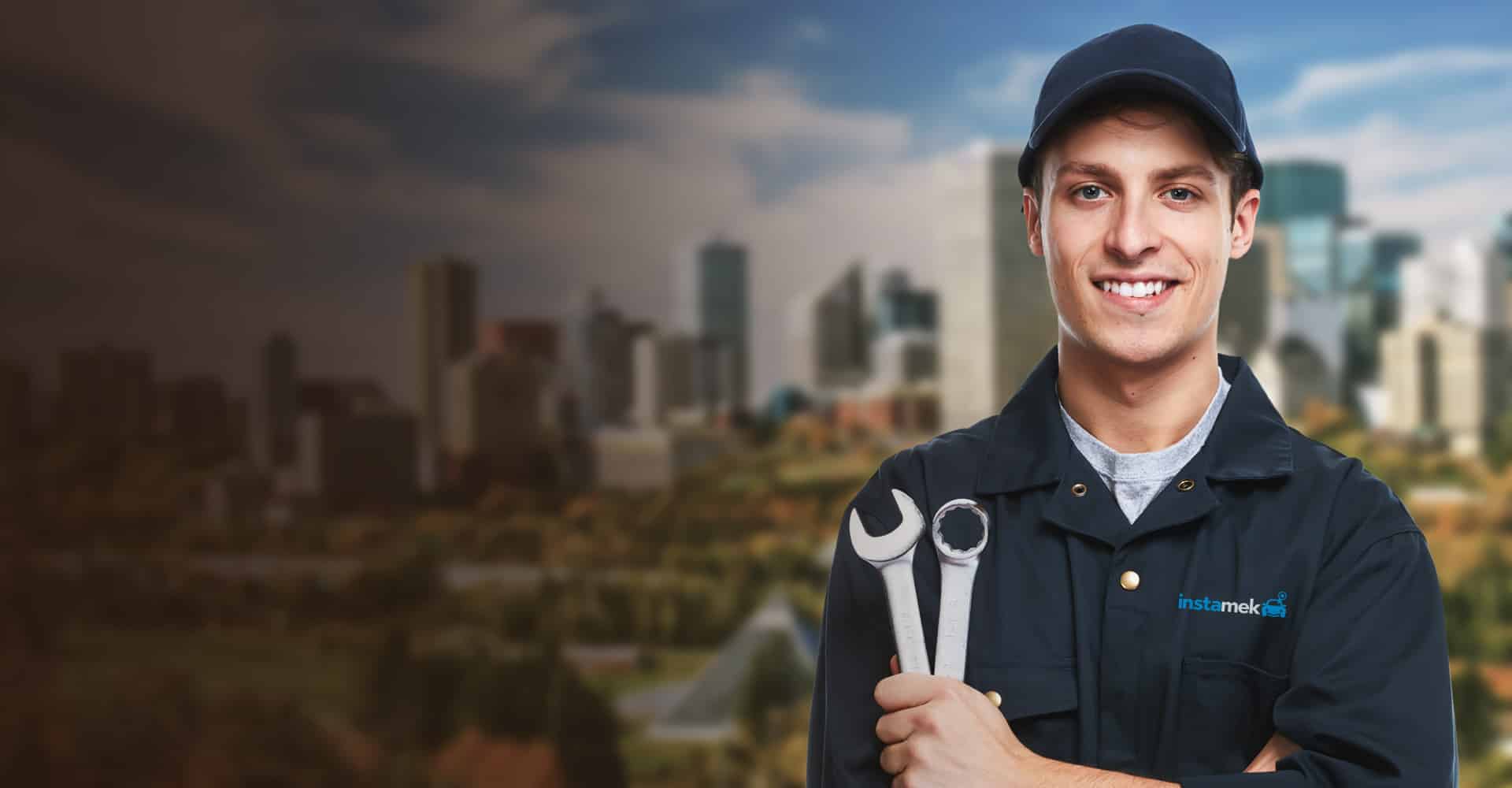 Our certified mobile mechanics in Sherwood Park will fix your car at your home.
Our certified mechanics come to you · Backed by 12-month / 20,000 km gold standard warranty program.






Popular Services in Sherwood Park, AB
Oil Change
One of the most important car maintenance services is a routine oil and filter change to avoid severe engine damage.
Vehicle Inspection
Before buying a used car, get a comprehensive, 150-point car inspection by a certified mobile mechanic. Our Meks go directly to the sellers location.
Car Won't Start?
An InstaMek certified mechanic will meet you at your location to diagnose why your car won't start and promptly get your car up and running again
Best Auto Repair in Sherwood Park, AB

Creations/fun !
19:41 28 Sep 19
Mechanic is outstanding & fast. Very smart man found problem in 5minutes and problem was solved within hour. Especially exceptional considering he was working with electrical bugs. I will recommend to others for sure!

Very prompt service, detailed feedback in an easy-to-understand report. InstaMek allowed me to proceed with my purchase with peace of mind. I would recommend this service to anyone thinking of buying a used car.

Dillon Tomyn
02:41 10 Jul 19
I was sincerly pleased with the service from InstaMek. My mechanic Doug was right on time and was at work within minutes. He had the inspection done in no time and went over the results in great detail. All in all I had a great experience and will recommend this company to everyone i know.

Menaka Kumburutenne
20:38 24 Jun 19
instaMek definitely helped me when I needed the service as I had to get going back on the road as soon as possible. I was panicked and send a message late night to Uzair and he quickly guided me through the process which was nice and easy and the office followed through the next morning. Alexey, our mechanic was well educated and actually really funny, making the process seem faster. He was able to diagnose the problem quickly, present the options and fix it within two hours. Also the best part is they give you a heads up when they will be coming, drive to you and then diagnose and fix on the spot. Therefore, I could carry on with my day.I definitely recommend this company to my friends and family.

Cory Kwong
21:29 05 Jun 19
Service is excellent with good pricing. I actually went on the chat line on the website and directly chatted with the CEO! You might not believe it but I can confirm it's true. The best

Kevin Yang
20:12 15 May 19
Prompt quote - received the quote in email 20 minutes after submission.Easy and hassle free booking over the telephone. Service took place one day after the quote.Jack arrived ahead of time and was easy and personable to work with.Very satisfied with the service.Will book again and will recommend.

Instamek is amazing company, i used them few times and they always impressed me with reasonable pricing, quality of work, expertise and explaining what is happening with car in details. Few days ago Alex came to do inspection and check out my bmw m3 2005 and as he was checking out the car he explain in details what he was finding and how it affects driving and use of the car at present stage and also in future. Also Uzair is always answering promptly and getting back to clients with answer on any question. Great job Insamek, you are setting good standard in the car repair world and making sense of it for us as customers. I am recommending Instamek to all my friends and family. Thank you again for great job. Vito
Sherwood Park Auto Repair
Service Hours
| | |
| --- | --- |
| Monday | 8AM–7PM |
| Tuesday | 8AM–7PM |
| Wednesday | 8AM–7PM |
| Thursday | 8AM–7PM |
| Friday | 8AM–7PM |
| Saturday | 9AM–4PM |
Contact Us
Toll Free:
1-888-507-3435
Local:
780-809-9613
Phone support hours are typically 8AM to 6PM Monday to Saturday.
Address
We come to your home or office!
---
Local Auto Repair in Your Area
Other automotive services
Our certified mobile mechanics come to you with all necessary parts and tools.
*Please note that there are certain services that
we only perform if we diagnose the issue.
Timing Belt Replacement
Power Steering Repair
Radiator Repair
CV Joints & Axles
Engine Flush
Coolant Flush
Fuel System Flush
We are open from 8am - 6pm Monday to Saturday