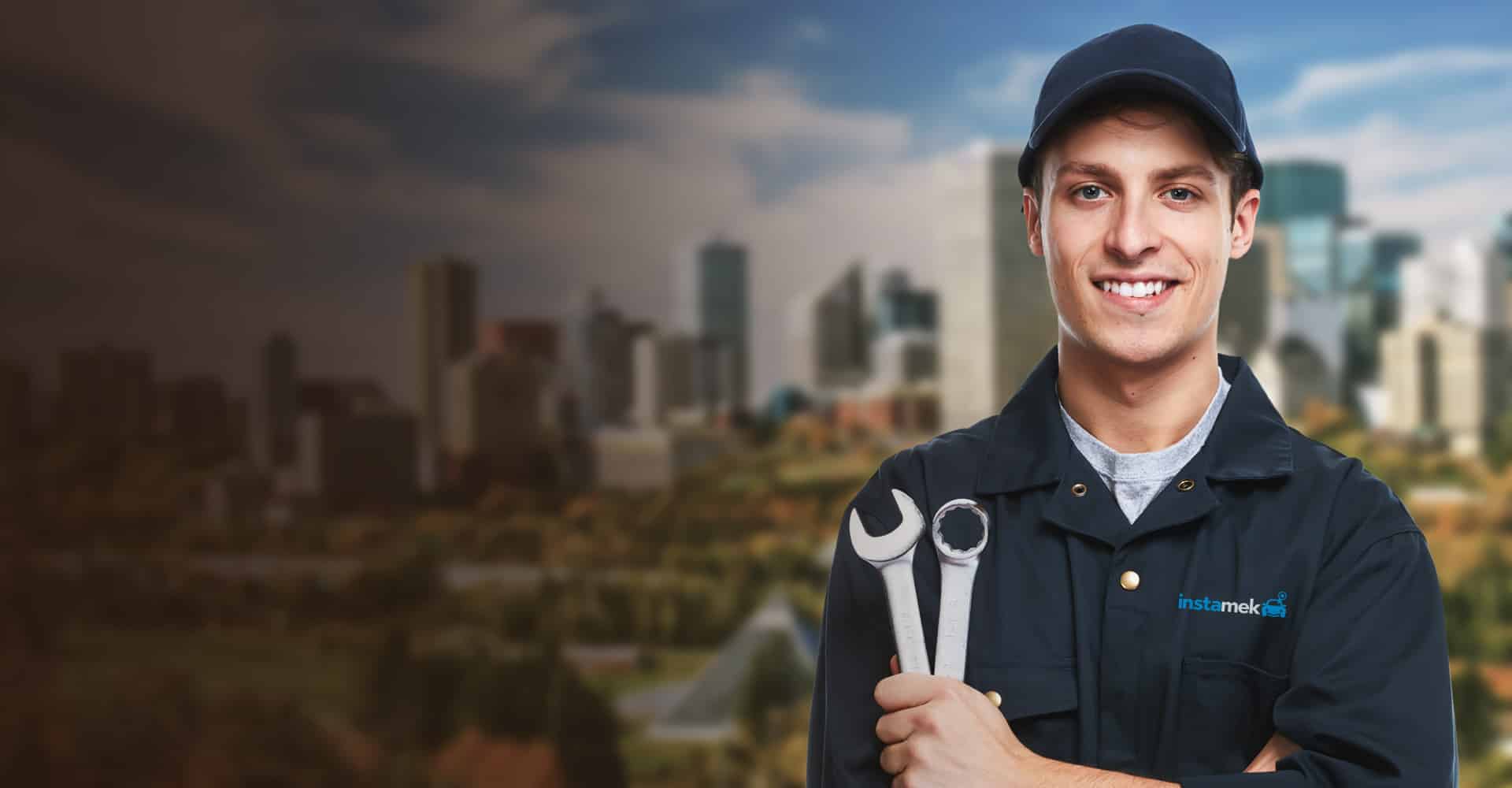 Our certified mobile mechanics in Edmonton will fix your car at your home.
Our certified mechanics come to you · Backed by 12-month / 20,000 km gold standard warranty program.
Popular Services in Edmonton, AB
Vehicle Inspection
Get a comprehensive, 150-point pre-purchase inspection performed by a certified mobile mechanic before buying a used car.
Car Battery Replacement
An InstaMek certified mechanic will come to your location to diagnose why your car won't start and follow-up with the necessary repairs
Oil Change
A regular oil and filter change is considered one of the most important car maintenance services to avoid severe engine damage.






Best Auto Repair in Edmonton, AB

Kevin Shamanski
15:42 04 Dec 19
Needed a Pre-Purchase inspection done on a vehicle in somewhat short notice and with a hesitation from the small dealer to have us tie up one of their plates in taking the car to a brick and motor service location for a day. Enter Instamek.Able to make all the arrangement required including identifying who to contact at dealership. Got a confirmation email with the time window and let dealer know. Mek arrived on time and did what they needed to do with no muss and no fuss. Got the report an hour later with images of things to note from their inspection and a complete list of pass, monitor, and required things in regards to the vehicle.everything was coordinated by email and text and it did not require me to be onsite which was nice as schedule didn't permit.All in all... a very good experience and would HIGHLY recommend. You do pay a bit more for the convenience but it was worth it in this case.

Dale Radjo
14:42 16 Sep 19
I needed to have an inspection done on a car for insurance purposes. I googled local mechanic services to get quotes when I saw the ad for InstaMek. Uzair answered me right away and I had a technician booked within minutes. Having a mobile mechanic come to me saved me a lot of time and money. My tech (Alexey) was very knowledgeable, very friendly, and worked quite quickly. He was able to find a few issues that I hadn't suspected, and needed repair. Once those things are repaired, he confirmed that the car would be solid, safe and reliable. Now, I am confident in this car. I will definitely call on InstaMek again in the future.

I had them come out to do a insurance inspection on a vehicle we bought. The gentleman that came out was polite and professional, his name was Lexi, he even shook my hand. I was very pleased with their customer service and I would definitely have them come out again for any repairs on my vehicles in the future. I never even knew a mobile service like this existed, doesn't get any more convenient than that! So I'm very glad that I found them online :)

Instamek is amazing company, i used them few times and they always impressed me with reasonable pricing, quality of work, expertise and explaining what is happening with car in details. Few days ago Alex came to do inspection and check out my bmw m3 2005 and as he was checking out the car he explain in details what he was finding and how it affects driving and use of the car at present stage and also in future. Also Uzair is always answering promptly and getting back to clients with answer on any question. Great job Insamek, you are setting good standard in the car repair world and making sense of it for us as customers. I am recommending Instamek to all my friends and family. Thank you again for great job. Vito

Stewart Wyllie
21:10 22 Apr 19
We used instaMek twice for a pre purchase vehicle inspection within a few days over the Easter period, (all other mechanic shops were fully booked). Both technicians were very helpful and informative, which helped us make a decision on which vehicle to purchase. I highly recommend this company for their communication, attention to detail and customer focused approach. Spend the money on an inspection, so you are aware of what work might be required or if you should avoid buying the vehicle all together.

Sean Trayner
16:34 04 Apr 19
My initial impressions are very good for Instamek. I had Alexey do a pre-purchase inspection on a used vehicle. He was professional, seemed to be thorough in his assessment, and provided advice and noticed things I would have easily missed. The best part was that he took the time to explain things, and actually seemed invested in what he was doing. Price was reasonable for the level of convenience. Will definitely be trying their services again, and will update this review based on my next experience.

gladtidings
18:20 11 Mar 19
Absolutely top class service! My car wouldn't start and literally within 5 mins my car was up and running and they didn't even charge me for the service just for the diagnostic and it's been about a week now with no issues. This company genuinely cares about the service they give and they even followed up to see if everything went well. Im definitely going to be using this service again in the future and I'm going to tell all my friends and family just how affordable, reliable and convienent the service they deliver is!
Edmonton Auto Repair
Service Hours
| | |
| --- | --- |
| Monday | 8AM–7PM |
| Tuesday | 8AM–7PM |
| Wednesday | 8AM–7PM |
| Thursday | 8AM–7PM |
| Friday | 8AM–7PM |
| Saturday | 9AM–4PM |
Contact Us
Toll Free:
1-888-507-3435
Local:
780-809-9613
Phone support hours are typically 8AM to 6PM Monday to Saturday.
Address
We come to your home or office!
---
Other automotive services
Our certified mobile mechanics come to you with all necessary parts and tools.
*Please note that there are certain services that
we only perform if we diagnose the issue.
Timing Belt Replacement
Power Steering Repair
Radiator Repair
CV Joints & Axles
Engine Flush
Coolant Flush
Fuel System Flush
We are open from 8am - 6pm Monday to Saturday