Car Leaking Oil Inspection at your home
Our certified mechanics come to you · Backed by 12-month / 20,000 km gold standard warranty program.
8AM - 6PM Monday to Saturday
Car Leaking Oil Inspection
When you first see a puddle of fluid below your car, your mind fits to assume the worst. While leakage can be a sign of major concern, it might also be an easy fix. Before thinking the worst, try to first recognize what is leaking for a much better idea of what is wrong.
How much does a Car Leaking Oil Inspection cost?
It depends on the type of car you drive and the auto repair shop you go to. Our mechanics are mobile, which means they don't have the overhead that repair shops have. They provide you convenience by coming to your home or office.
Fast and easy service at your home
Backed by 12-month, 20,000-km guarantee
What's leaking from my car?
You don't require accessibility to a research laboratory to determine the kind of liquid that is leaking from your car. Generally, you can determine the kind of fluid simply by taking a look at the color:
Blue:Probably windshield wiper liquid. Some late version Hondas utilize blue coolant.
Clear: AC condensation (which is slim like water) or more new brake fluid (which has a tool uniformity and also an oily feeling). Normally, brake fluid with over 10k miles is darker in color.
Dark brown: Brake fluid or motor oil. Brake fluid will certainly have a much more slimy feeling than greasy.
Green,orange, or yellow: Antifreeze or radiator coolant.
Light brown: Gear lubricant (which has a bad odor) or more new motor oil. Old transmission fluid might transform brown with expanded usage.
Pink or red: Power steering or transmission fluid.
Orange: Antifreeze, AC condensation, or transmission fluid all of which might be stained by rust or age).




Common causes for your car to leak

Now that you understand, or at least suspect, what is dripping from your car, you have an indication regarding what may be wrong. This permits you to estimate the intensity of the issue. Here are some prospective problems based on the kind of fluid that is leaking:

Windscreen wiper liquid: Your car may have an opening or fracture in the liquid reservoir or system-related tubes.
Air conditioning condensation: If you have actually run your aircon for any amount of time, it's not uncommon for a little clear condensation to leave your A/C system. In this instance, it's likely there is nothing to worry about whatsoever and you can deal with business as usual.
Brake fluid: Although it is reasonably simple to confuse older brake liquid with motor oil, a brake fluid leak is not a problem to ignore. Brake liquid preserves the hydraulic pressure in your brake system, and without it, brake failure is a high possibility. If you think the fluid below your car, typically around the wheels or simply under where the brake pedal is located, is brake fluid, call a technician. Do not take the risk of driving.
Motor oil: Oil leakages at the front of your car can be a sign of a wide variety of issues. These consist of a worn gasket, rusted oil line, incorrectly connected oil filter, or a removed or leaky drain plug. Before driving, even more, make sure to confirm that the oil degree in your car is not alarmingly reduced.
Antifreeze/coolant: Vehicles produced prior to fuel injection made use of coolant consisting of silicates to aid secure tiny leaks. Modern vehicles cannot make use of silicates, so even minute pores can enable percentages of coolant to leak. If nonetheless, the leak is much more extreme, it might suggest a damaged water pump, loosened clamp, broken hose, or worn O-ring. Considering that antifreeze is toxic to animals and local wildlife, such leaks constantly warrant a call to a technician.
Gear lubricant: This kind of leak--commonly on or near the wheels--recommends a used seal or that it is time to service the gearbox.
Power guiding liquid: If your power steering fluid leaks around the front of your car, it is a sign of a defective fluid line or used seal. This kind of leak is usually accompanied by a high pitch whine.
Transmission liquid: When this fluid leaves, normally around the center of your car, it may be an indication of a leaking gasket, seal, or cooler line. Some contemporary transmissions do not have dipsticks to confirm liquid levels, so if you presume a transmission fluid leak, it is best to have the car serviced immediately to prevent further damages.



What to expect during a car leaking oil inspection service

A top-rated mobile technician will come to your house or workplace to identify the kind as well as the source of the liquid leakage, and will then give a comprehensive assessment report that consists of range and price of the essential repair services.




How important is this service?

Liquid leaks can be a painful experience, but they do not need to be. A knowledgeable specialist will have the ability to determine the source of the leak, along with giving an estimate for fixing, Some repair services are straightforward. Others may be much more extensive and need more time. Regardless, it is necessary to understand what kind of liquid and repair are you handling. Reserve one of our technicians to do a thorough examination immediately.
Valve Cover Gasket Leak Inspection
Are you seeing oil leaking from the top of your engine? Or are you smelling burning oil?
The most likely cause is damage to the valve cover gasket. The first thing you should do is check your oil as you may have been losing oil for a while and it is never good to drive the vehicle if it is low on oil.
How much does a valve cover gasket leak inspection cost?
This is something that greatly varies on the type of vehicle. Most of the price originates from the labor involved for the job with parts typically ranging from $50 to $120. The job itself usually ranges between 1 hour to 3 to 4 hours depending on the vehicle.
How this system works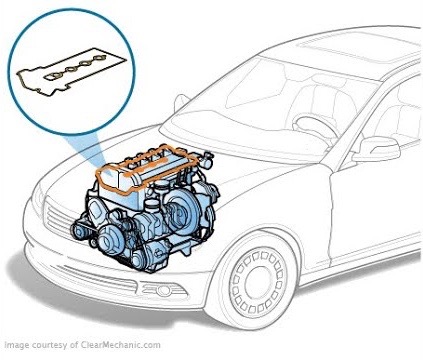 Commonly, the engine valve cover is the top most part of an engine and is labeled with either the name of the manufacturer or the size of the engine. A valve cover gasket is put in place because the metal of the valve cover does not seal tightly enough against the metal of the top of the engine. The cork material or rubber of the valve cover gasket safeguards a good seal, and helps stop oil from spilling out of the top of the engine.
Valve cover gaskets unusually last the life of a vehicle and must be monitored at the time of every service. For vehicles with four-cylinder engines, checking for oil around the valve cover is especially important because of an increased chance that oil could leak into spark plug tubes, causing misfires.
Oil leaks can cause damage to any engine and must immediately be dealt with.
Common causes of valve cover gasket leaks
Blown Valve Cover Gaskets: The tremendous heat an engine produces can result in valve cover gaskets to become brittle and break down over time.
Damaged Valve Covers: A mechanic must also inspect your valve cover(s) to make sure they are still intact when replacing your valve cover gasket. Damage to a valve cover could also result to an oil leak.
What to expect during a valve cover gasket leak service
A certified mechanic will come to your home or office to pinpoint the cause of the oil leak and confirm that the valve cover gasket requires replacement. The mechanic will then run a detailed inspection report outlining the cause of the leak and the cost of any repairs that need to be made.
How it's done
A mechanic will perform an in-depth examination of the engine bay and determine the source of the leak. The mechanic will remove the valve cover and gasket if the source seems to be coming from the valve cover gasket. Different engines require different gaskets. Our mechanics will make sure they find the one that matches your vehicle exactly. A poorly-fitting gasket will not be able to do its job as effectively. After installing the new gasket, the mechanic will inspect the valve cover to ensure it is fully intact. If not, the mechanic will replace the valve cover and check the engine oil level. Your vehicle might be low on oil if your engine sprung oil leak due to a damaged valve cover. Our mechanics will make sure your oil is topped-off before they leave. The mechanic should then start the engine and inspect the valve cover gasket again to make sure it was installed properly and is not leaking.
How important is this service?
While a small oil spill may not seem like a major issue, it can lead to both potentially costly and potentially dangerous repairs. A practical approach in maintaining the life of an engine must include a check for oil around the valve cover. A mechanic can make the essential repairs and avoid more significant engine issues if oil leaks are found early. Oil leaks of any kind should be taken seriously and should be reported to a mechanic.
Engine Oil Leak Diagnostic
The Engine Oil in a car has many functions, and one of these functions is removing the deposits of sludge and gunk in the engine keeping it clean. Engine oil that is unused has an amber color; however, it changes to black over time after being exposed to heat and dirt from the engine. Engine oil is critical for the proper function of your engine and an engine oil leak should be addressed right away to avoid engine damage.
How to tell if you have an engine oil leak?
To check for engine oil leaks keep a close eye on your oil dipstick. If the level drops over time, you're losing oil. While driving, check and see if blue smoke is coming from the tailpipe. Blue smoke means oil might be leaking into the engine itself. After a drive, you may notice a burning oil smell. This could mean oil is leaking onto hot components of the engine itself. Lastly, check for the classic oil stains or puddle under the engine compartment, especially after it's been sitting overnight.
Finding a puddle under the engine is usually the sign of a leak. If the liquid is red it's probably transmission fluid. If the liquid is green or orange and has a sweet smell, coolant is the culprit. Brown fluid will indicate an engine oil leak.
Common causes of engine oil leaks?
Degraded engine gaskets
Oil pan leaks
Oil seals or bad connections
How it's done:
Instamek will send a certified mechanic to your home or office and perform the engine oil leak diagnostic. They will check the oil pan seals and the oil pan drain plug. Next, they'll check the timing cover seal and the valve cover gaskets. Problems here can require extensive repairs that are not cheap. After running a full inspection of the components, the mechanic will create a report telling you the source of the problem and the needed repairs which can usually also be performed on the spot.
How important is getting an engine oil leak diagnostic?
If you notice signs of an oil leak, get your car inspected right away. Engine oil leaks are a fire risk in your engine compartment and can result in catastrophic engine failure.
Car Leaking Oil Inspection Reviews

Wayne St John
15:43 22 Jan 21
I was looking at a vehicle to purchase and had Grant from instaMek come out to do an inspection on it before making my final decision. Grant provided an amazing amount of information and noted so many items in his report that I had overlooked, everything from a small leak in the rear differential right down to a broken screw holding the license plate on.This was an easy and extremely

...

professional service to arrange and was absolutely worth every penny.

read more

Brandon Mordy
22:22 26 May 20
Jack (the Instamek mechanic) called me back when I requested after viewing the inspection report. He provided some really great information and answered the questions that I had. I'd like to thank him for his thorough and in depth inspection as this has helped me understand the condition of the minivan in question. He was also very cordial and easy to speak with. I give him 5 stars. Thank you

...

Instamek for all your help with my pre-purchase inspection.On another note, I noticed that a few Google reviews are negative. I would advise that it is likely that a lot of those reviews were for older cars that might not be in good condition. What you have to remember is that they are primarily an inspection service. They are trying to demonstrate the current condition of the vehicle. If they were to miss something, that might expose the buyer to unforeseen repair expenses. So, of course they are going to proceed on the side of caution by listing everything they can see and test. And, they cannot look inside the engine either. So, some items might need to further diagnosed by a physical repair shop or monitored for follow-up later. They are not able to do an exhaustive review given their fee of approximately $200, their limited time associated with that fee, and being mobile with limited equipment. I do not think it is reasonable to expect them, or any other auto inspection service, to ascertain the location of an oil leak either. A lot more time would be needed to diagnosis this. It is even difficult for a physical shop to determine the exact location of an oil leak. Sometimes, it is easy to determine while other times it is difficult if there is a lot of oil caked on an engine. Sometimes an engine will have be cleaned and then monitor where a leak occurs over a certain duration. So I think that a lot of the negative comments are not justified nor are they reasonable. I just thought that I would share my opinion and perspective for future users of the inspection service.

read more

Murphy Brown
02:38 01 May 16
This was AMAZING service.It was a very fair price.We bought a used truck and experienced an oil leak. It was scary.Hany came out the same day we called. On a Saturday! (Which did not cost extra).He inspected everything for us. He ran diagnostics. He put us at ease about our purchase.Next time I buy a used vehicle, I'll definitely call Hany to check it out ahead of time.He was professional,

...

knowledgeable, friendly, and a pleasure to work with. I feel that he went above what was necessary and really provided superior customer service.I'll be using them for all my regular service.

read more

"The company responds within an hour and dispatches a mechanic shortly after with all the tools and parts required to repair the vehicle onsite."
-GLOBE AND MAIL

"taking a unique approach to vehicle repairs in the same way 'Uber' changed the taxi industry"
-CTV NEWS

"InstaMek is an on-demand service that allows vehicle owners to request and schedule a meeting with a fully certified mobile mechanic."
-CBC NEWS
Local Car Leaking Oil Inspection in Your Area
We are open from 8am - 6pm Monday to Saturday