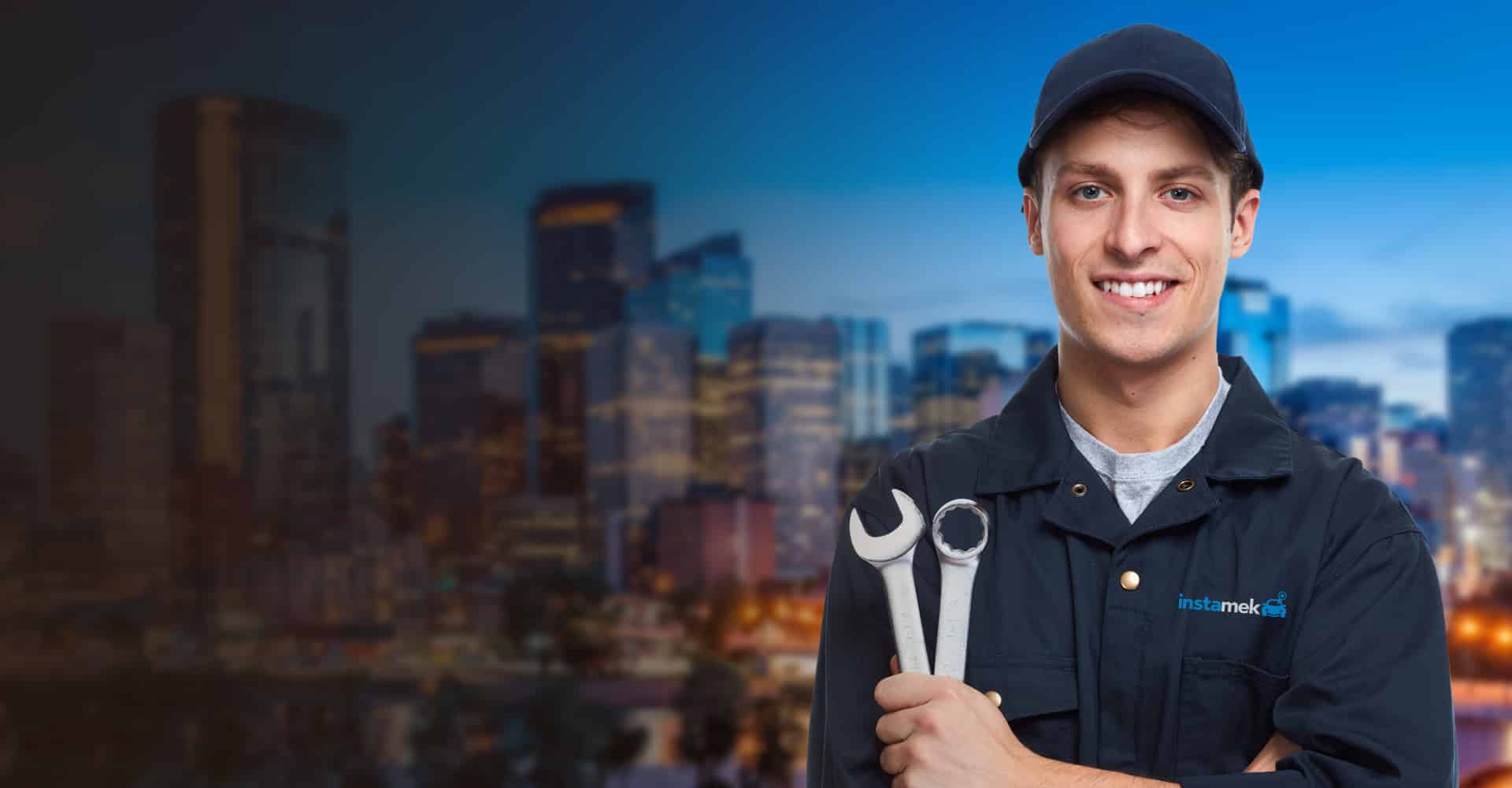 Auto Repair & Service in Calgary
By Mobile Auto Mechanics Who Drive to You 
Open from 8am to 6pm Monday to Saturday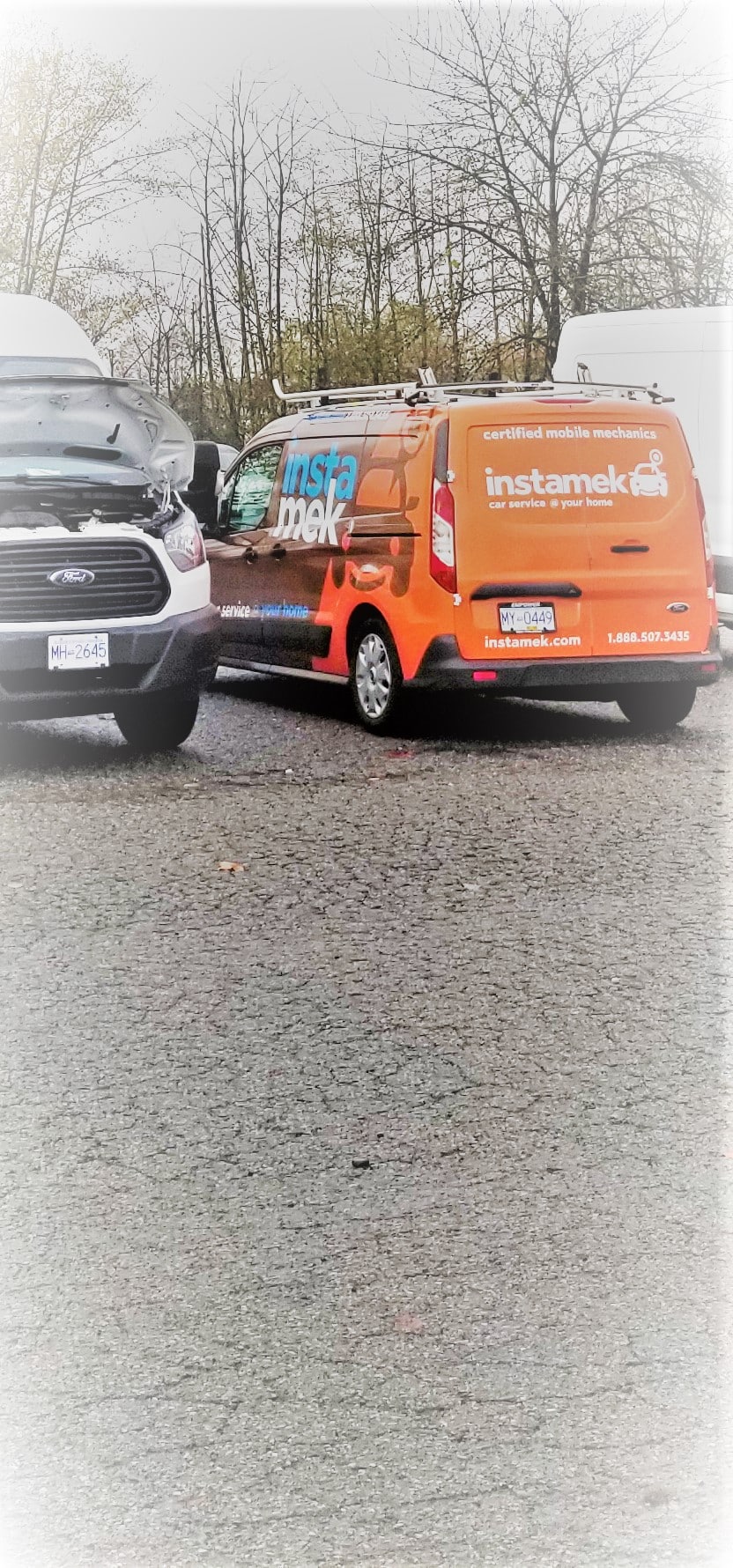 Car Repair & Service in Calgary
By Mobile Auto Mechanics Who Drive to You 






Hours of Operation and Contact Information
| Our Mechanics are available from: |   |
| --- | --- |
| Monday | 8AM–7PM |
| Tuesday | 8AM–7PM |
| Wednesday | 8AM–7PM |
| Thursday | 8AM–7PM |
| Friday | 8AM–7PM |
| Saturday | 9AM–5PM |
Phone support hours are typically 8-6 MST everyday.
--- "I had a great experience with InstaMek! They were very easy to book with and the service was very efficient. Cost was reasonable and the mechanic who came was a pleasure to deal with."
– Carys V.
Pre-Purchase Inspections to Help You Buy Smart
If you're relying on the sellers "report" when buying used you could be taking a huge risk. It's always better to have an indepedent third party inspect the vehicle before you buy it because the onus is always on the buyer. We are the used car experts in Calgary and perform thousands of these inspections a year. 
You'll get:
A thorough 137 point inspection on vehicle
We will check the vehicle for any accident damange
Inspect the brakes, suspension and other saftey compoents
Check the interior condition and features of the vehicle
Provide all our findings in a detailed yet easy to ready digital report
We're a CarProof Certified Partner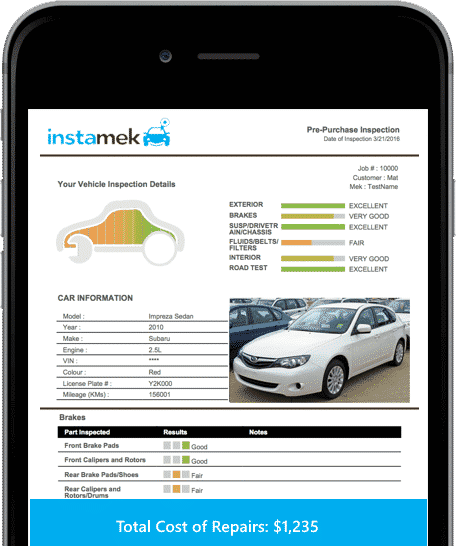 Easy Vehicle Maintenance
Regular maintenance is the fountain of youth for your car - but it can be a hassle - even at Quick Lube stations. With instaMek we make it extremely easy to keep up with your maintenance and getting your oil changes on time. Each service package is designed to keep your vehicle in tip top shape and includes a peace of mind inspection. 
Our Various Packages:
Service A: Includes an oil change plus a 14 point basic inspection. Starts at $84.95
Service B: Includes an oil change, tire rotation plus a 28 point inspection. Starts at $149.99
Service C: Our most through inspection that includes everything in a Service B plus replacing all your filters, a test drive and thorough 100 point inspection. Starts at $289.49
Winterize Package: This includes everything to get your vehicle ready for winter! Starts at $149.99
Brake Repair & Replacements
We make it easy to replace or repair your brakes and can do everything a shop can. The benefits of choosing instaMek for brakes are:
We cater to all budgets with different parts
All our work is backed by a 12 month / 20,000 gold standard warranty
All the work is done at your home so you don't with the hassle of brake repair
A detailed inspection is performed with each service
An insured & licensed technician in a branded van
Car Battery, Starter & Alternator Replacement
Your car not starting is one of the most frustrating experiences you can experience as a car owner. There are many reasons why your car won't start but we will get to the bottom of it, fix it and get your car running. Our diagnostic services start at $99 and we can replace whatever we have to get your vehicle running.
No need for a tow truck - we can do it all onsite
If we need to take it a shop we have trusted partner shops we work with
Our Commitment to Calgary
Calgary is a driving city and when you're waiting in rush hour the last thing you want to do is take your car to a shop. That's where we come in – our Meks know Calgary inside out so we can come right to you in a timely manner to keep your car running at its best. We also cover the surrounding areas from Airdrie to Okotoks and Cochrane to Chestermere.
We work hard for our customers.
The results speak for themselves. We have hundreds of reviews on Google from past customers who loved our service!
Take a look at our reviews from our customers in Calgary. This doesn't even include the hundreds of reviews we have as a company in Edmonton and Vancouver.
Our Pricing
Since we don't have the overhead that your dealership has including:
the huge bays,
the shiny showroom,
high salaries
and the massive advertising budget
We are able to do more with less and pass on those savings on to you. You worked hard for your money and you deserve to keep it without sacrificing the best mechanics and the experience. Just take a look at how we compare to other mechanic shops in Calgary.
So not only do you have a highly trained and equipped mechanic that comes to you – you also save money in the process. It's a no brainer.
Other automotive services.
Please note that there are certain services we only perform if we diagnose the issue.
Timing Belt & Water Pump
Power Steering Repair
Cooling System Repair
CV Joints & Axles
Engine Flush
Coolant Flush
Fuel System Flush "Great experience! Graham came to my home right away and did a great job fixing my vehicle. I will definitely call again."
– Tracy K.
InstaMek
Average rating:
12 reviews
Feb 10, 2019
Although they were 2 hours late for the appointment due to vehicle problems, they finally agreed with my diagnosis for a replacement alternator and had me back on the road for my appointment in the nick of time.
Jun 25, 2018
No Hassle!
Great experience! I'm very grateful I didn't have to find a tow truck to get in my parkade. I will definitely call again if and when I have an issue with my vehicle. Was impressed Naveed came equipped to fix my car with a new starter and a new battery just in case. Very personable, on time and honest.
May 2, 2018
Todd was a miracle worker - my car wasn't turning on and I called other mechanics to come by and take a look. Todd came by and fixed what they couldn't!
Apr 23, 2018
Fantastic service! The technician I got was friendly, fast and got it all done without a hitch. Will definitely use these guys again
Apr 16, 2018
I love these guys for how easy they are to use. 3rd year in a row for me - keep up the good work fellas
Apr 14, 2018
Got an oil change and my mechanic told me that the alternator in my car was weak. Noticed it too because the lights would dim when the music was loud in my car. I wanted to get it replaced but it never had the time, my friend told me about instaMek. Loved the idea and they were great to work with especially with my busy schedule. Will definitely use these guys for everything else.
Jan 17, 2018
Will definitely use them again.
Great service! Will definitely use them again. The mechanic I had was really nice and my car is fixed!

Jan 10, 2018
5 really appreciate the great service.
Jan 2, 2018
5, Nav is professional and courteous.
5, Nav is professional and courteous.


Diagnostic - CEL for a 2002 Pontiac Sunfire
Dec 17, 2017
Great job done
Great job done, helpful and personable.


Blend Door Actuator for a 2002 Volkswagen Jetta.
Sep 22, 2017
Thanks again Steve and instaMek be booking with you guys again
I just got my mom van a oil change the guy came over it was done less time then the dealership also Steve was able to explain everything as he was doing it. Thanks again Steve and instaMek be booking with you guys again
May 15, 2017
Sounded a bit too good to be true at first
After having a couple bad experiences at some large shops in Calgary I came across these guys while searching for another mechanic on google. Sounded a bit too good to be true at first, but after contacting them I was emailed back a detailed quote within 30 minutes. One day later I had a friendly mechanic named Clay show up at my work to replace my timing belt, water pump AND serpentine belt; all done in the parking lot well before I needed to drive home. This is an amazing service and I hope you guys get the recognition you deserve! Thanks!