Buying a used car? Don't buy a lemon!Get an on-site inspection by a certified inspector.
Book an inspection
Call us
or
Get a quote
We don't bill you until the inspection is done. Cancel 24 hours in advance without penalty.
Mechanic inspects the car on site
Our mechanic will perform the 147-point inspection at the seller's location, taking photos and notes of the car's condition. You do not need to be present.
Get detailed report
You will receive the mechanic's report by email. Use photos and recommended repairs in the report to negotiate with the seller.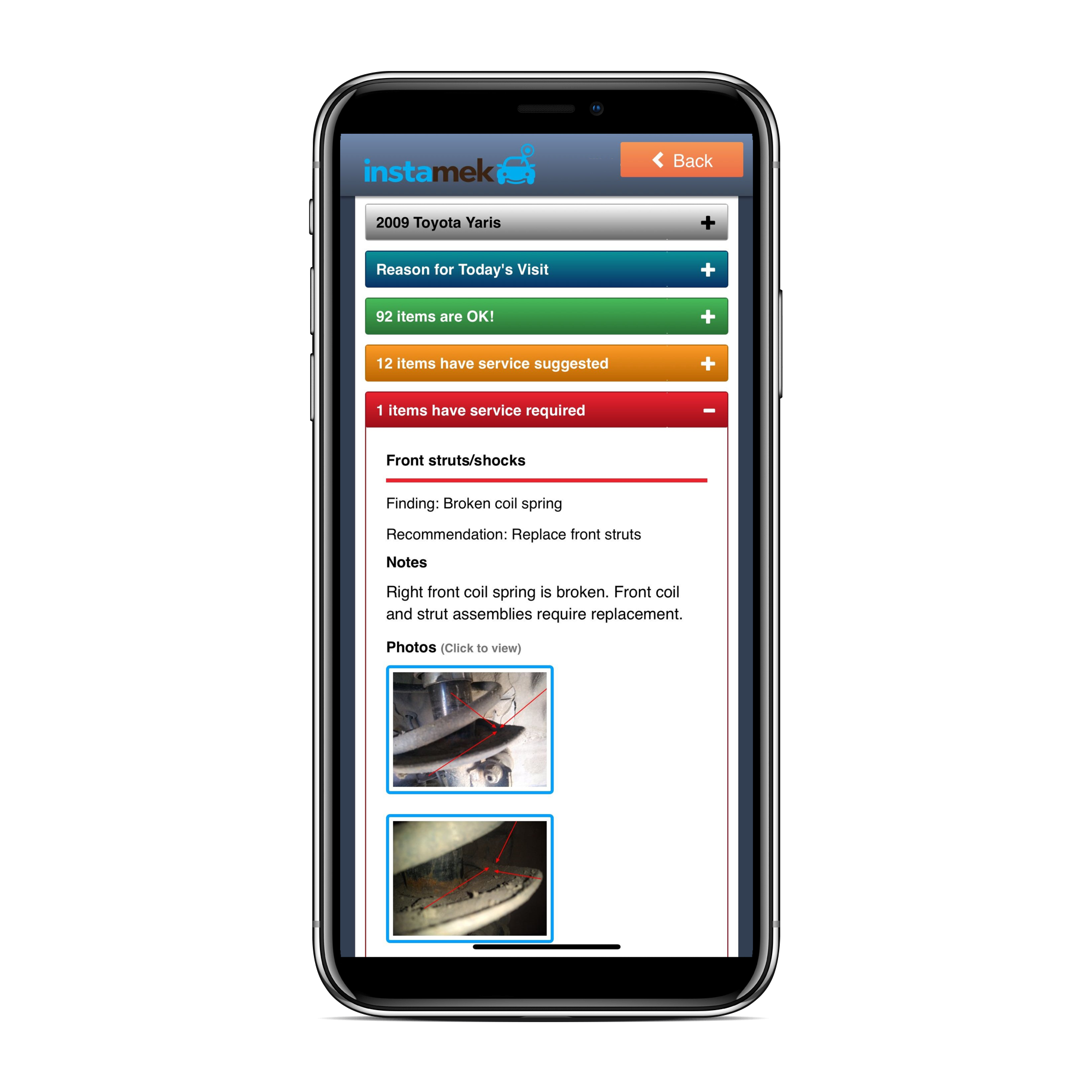 Be informed!
We sent you an electronic report with findings, recommendations and pictures. You can also request a quote (additional fee) showing you how much the repairs on the car would cost. Use it in your negotiations.
147-point inspection

Thorough inspection of the vehicle's mechanical, cosmetic and electrical systems

Identify existing conditions

Identify potential safety and financial problems

Wheels will be taken off, vehicle raised and then taken on a test drive

Each inspection takes between 1 to 1.5 hours
Best Used Car Inspection Service

"The company responds within an hour and dispatches a mechanic shortly after with all the tools and parts required to repair the vehicle onsite."
-GLOBE AND MAIL

"taking a unique approach to vehicle repairs in the same way 'Uber' changed the taxi industry"
-CTV NEWS

"An on-demand automobile repair service, instaMek enables car owners to request and schedule a mechanic from their computer or smartphone."
-CALGARY HERALD

"instaMek, a service that brings certified vehicle mechanics right to your door."
-METRO NEWS

"InstaMek is an on-demand service that allows vehicle owners to request and schedule a meeting with a fully certified mobile mechanic."
-CBC NEWS
Everything You Need to Know About Vehicle Inspections
Car buying advice from our expert mechanics
1. DO YOUR RESEARCH
It is important to do proper research on the car you're considering. You'll have tons of options when it comes to buying a car, so arm yourself with as much information as possible before you make a big decision. Check out this
Used Car Buying Guide
for more information. When you find a car that piques your interest, determine that there are no major potential problems with it. The
Transport Canada
maintains a list of recalls and Technical Service Bulletins, which will tell you about issues with the car.
2. YOU FOUND A CAR YOU LIKE—WHAT TO DO BEFORE MEETING WITH THE SELLER
You'll want to know if the car has been in any accidents, has failed smog checks, or had other past issues. Get the VIN (Vehicle Identification Number) from the seller, which you can use to learn about the car. In Canada,
CarProof
is a good source of car history, taking data from insurance companies, shops, and other providers. Also be sure you know your budget, as well as the fair price and full cost of ownership of the car. Use
Canadian Black Book
,
autoTRADER.ca
,
VMR Canada
or
Autonet.ca
as a solid resource for determining the average cost of ownership of a car. We also recommend getting an insurance quote as well as pricing on registration fees and estimated yearly maintenance costs so you don't later discover any surprises.
3. WHEN YOU MEET THE SELLER
Always test drive the car. Do a visual inspection of the car's exterior and interior to see that it is in an acceptable condition, and check for signs of accidents or damage. Here are additional tips on How to Perform Your Own Used Car Inspection.
During the test drive, listen for any strange noises coming from the car during acceleration or braking. Be sure to take the car out on a highway to ensure it operates properly at high speeds. Test the brakes several times during the drive, braking both hard and normally to determine their responsiveness. Check the dashboard for any warning lights and make sure all the various controls (wipers, blinkers, radio, etc.) and the air conditioning system work.
4. THE VEHICLE PASSED YOUR INSPECTION—NOW HAVE A PROFESSIONAL LOOK IT OVER
If you like the car and it is in good condition, you can enlist a professional mechanic to diagnose the condition of the car. The mechanic's inspection will cover the fluids, brakes, electrical systems, cooling system, suspension, engine/exhaust, HVAC, tires, and body. The mechanic will scan the car's various computers for trouble codes and test drive the vehicle. Should the mechanic discover any problems, they can estimate repair costs and you can use these for further negotiations with the seller. This way you can have complete peace of mind about the car you are buying.
Local Vehicle Inspection in Your Area
Car Maintenance
Power Steering Fluid Leak Inspection
Car Battery Replacement
Spark Plug Replacement
Tune Up
Brake Check Service
Check Engine Light Diagnostic
Winter Tire Change