Power Steering Pump Replacement at your home
Our certified mechanics come to you · Backed by 12-month / 20,000 km gold standard warranty program.
8AM - 6PM Monday to Saturday
Power Steering Pump Replacement Service
How much does a power steering pump replacement cost?
It depends on the type of car you drive and the auto repair shop you go to. Our mechanics are mobile, which means they don't have the overhead that repair shops have. They provide you convenience by coming to your home or office.
Fast and easy service at your home
Backed by 12-month, 20,000-km guarantee
What is the power steering pump and how does it work?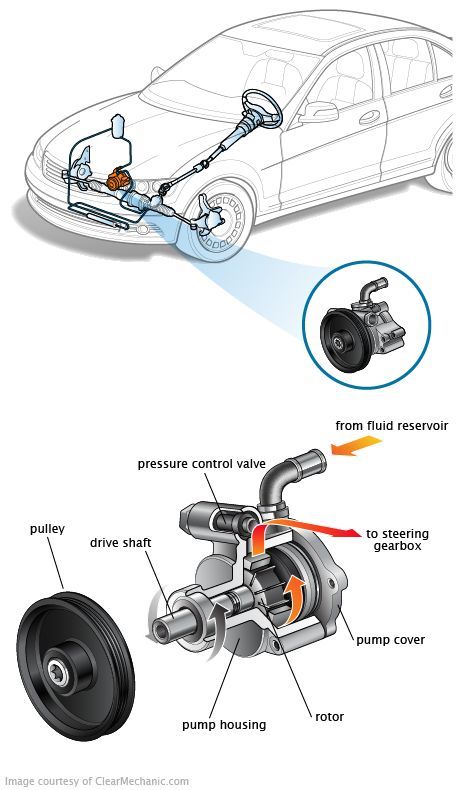 The power steering pump is an electric-driven or belt-driven hydraulic pump that produces the hydraulic pressure required to provide power steering assist. It develops output pressures of 1,000 PSI or more. The pump output, often a rack and pinion type unit, is directed to the steering gear where the hydraulic pressure pushes on the steering rack, greatly decreasing the effort it would otherwise take to turn the steering wheel.
When should you replace your car's power steering pump?
Whining or groaning noise when turning. A low fluid level or trapped air can also cause noises. Noise can occur if there is problem on the pump bearings or impeller vanes. Adding fluid may not get rid of the noise and replacement of the pump might be necessary if the pump has already been operating while dry.
Power steering fluid leaks. Leaks can develop at threaded connections, hoses, pump seals, or on the steering rack and pinion unit. Pump seal leaks will generally need a replacement.
Tough steering. If you notice it is harder to turn the steering wheel, it might indicate that the power steering pump output pressure is too low, or there could be blockages in the pump or lines.
Damage to the pump pulley. Should the pump pulley become broken or is loose on the pump shaft, you might detect vibration, drive belt damage, or hard steering. Either the pump assembly be replaced or the pulley will have to be serviced.
How do mechanics replace the power steering pump?
The power steering pump is bolted to the engine through a bracket that allows for adjustment of the pump drive belt if driven by a drive belt. The drive belt is removed once the engine is cold and safe to work on.
If driven by an electric pump, the pump may be mounted in conjunction with the steering shaft or in conjunction with the steering rack. Removal of any dash, panel, or steering components is performed to access the pump with either a drive belt or electric pump.
The threaded connectors to the pump inlet and outlet are loosened and detached.
Any mounting brackets and bolts are removed so the pump can be removed.
The system is flushed if the old pump has failed terribly, or there is reason to suspect contaminants in the power steering hoses.
The new pump is fastened on, the pressure and return hoses attached and the system is depleted of all air. Pump is tightened to the manufacturer's specification if it is belt-driven.
Lastly, the engine is run and the car is road tested to ensure normal steering effort. If a new drive belt was installed, belt tension is measured again, and adjusted as necessary, after the belt has run for a few minutes.
Keep in mind when replacing the power steering pump
Any belts driving the pump must be inspected and replaced as necessary. If it is driven by the belt, the pump will only produce the required hydraulic pressure at an adequate speed.
Power steering leaks from aged rubber hoses are not unusual and should be carefully inspected, particularly where the rubber is crimped to the steel tube. The system functions under high pressure. The fluid is flammable, and if leaking fluid happens to contact a hot engine part, a fire might start. You always want to make sure the hoses and connections are thorough.
Is it safe to drive with a power steering pump problem?
No. The pump reservoir will not hold fluid due to a large leak if the power steering pump is operated without an adequate amount of fluid. The pump could seize, which would snap the serpentine belt and likely leave you stranded. If the pump turns and there is enough fluid, but there is no power assist, it will need much greater effort to turn the steering wheel, and that presents inherent safety risks. Generally, the wisest course is to seek immediate repairs if you suspect a problem with any component in your car's power steering system.
Power Steering Pump Replacement Reviews

I wanted to get a pre-purchase inspection of a vehicle I was interested in purchasing from a private seller on Craigslist. I was able to book an appointment on the same day I called, which was very convenient. The mechanic who came out, Waheed, was very professional and friendly. He did an extremely thorough inspection of the car and clearly explained what some of the issues that he was seeing

...

were as he went. You get a very detailed report as a result of the inspection which allowed me to negotiate the offering price down quite significantly. It was definitely worth it and I would recommend this service to anyone looking to buy a used car.I should note that the pre-purchase inspection typically includes a driving segment, but the mechanic cannot do it if the car is not insured (for obvious reasons). I didn't realize this when I booked over the phone, and I was comfortable with just a visual inspection given the age/condition of the car in question, but if you are particularly worried about the car's transmission or steering I would make sure it is insured so that the mechanic can come and do this part of the inspection.

read more

Adam Marko
00:04 04 Aug 17
After having a couple bad experiences at some large shops in Calgary I came across these guys while searching for another mechanic on google. Sounded a bit too good to be true at first, but after contacting them I was emailed back a detailed quote within 30 minutes. One day later I had a friendly mechanic named Clay show up at my work to replace my timing belt, water pump AND serpentine belt; all

...

done in the parking lot well before I needed to drive home. This is an amazing service and I hope you guys get the recognition you deserve! Thanks!

read more

Laurie Bell
20:08 26 Apr 16
Great service! I had 2 quotes from other garages. 1 said I needed a water pump and the other said I needed a new radiator. Both quotes were for $750. Instamek charged me $90 and told me I needed a $28 radiator cap. I've used them 3 times and will recommend them to anyone. Convenient, knowledgable staff, and way cheaper than any garage in town. Also available evenings and Sundays.

Marla Palakkamanil
15:54 25 Jan 16
I had an amazing experience with instamek. The mechanic was great; he fixed my power steering pump and I had no issues with it after. He was polite and friendly. I recommend instamek to all my friends .

"The company responds within an hour and dispatches a mechanic shortly after with all the tools and parts required to repair the vehicle onsite."
-GLOBE AND MAIL

"taking a unique approach to vehicle repairs in the same way 'Uber' changed the taxi industry"
-CTV NEWS

"InstaMek is an on-demand service that allows vehicle owners to request and schedule a meeting with a fully certified mobile mechanic."
-CBC NEWS
Geo Power Steering Pump Replacement
GMC Power Steering Pump Replacement
Lincoln Power Steering Pump Replacement
Fiat Power Steering Pump Replacement
Chevrolet Power Steering Pump Replacement
Smart Power Steering Pump Replacement
Toyota Power Steering Pump Replacement
Mazda Power Steering Pump Replacement
Mini Power Steering Pump Replacement
Cadillac Power Steering Pump Replacement
Porsche Power Steering Pump Replacement
Saturn Power Steering Pump Replacement
Mercury Power Steering Pump Replacement
Jaguar Power Steering Pump Replacement
Alternator Repair
Serpentine Belt Repair
Car Starter Not Working
Valve Cover Gasket Leak
Timing Belt Replacement
Water Pump Replacement
Engine Ticking
Engine Knocking Sound
We are open from 8am - 6pm Monday to Saturday