Fuel Injection Service at your home
Our certified mechanics come to you · Backed by 12-month / 20,000 km gold standard warranty program.
8AM - 6PM Monday to Saturday
How much does a Fuel Injection Service cost?
It depends on the type of car you drive and the auto repair shop you go to. Our mechanics are mobile, which means they don't have the overhead that repair shops have. They provide you convenience by coming to your home or office.
Fast and easy service at your home
Backed by 12-month, 20,000-km guarantee
What is a fuel injector and how does it work?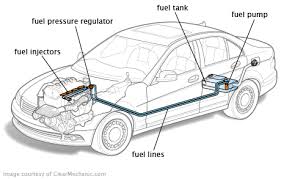 The fuel injector delivers fuel into the engine, either into the engine's intake manifold or directly into the combustion chamber. The fuel injector has an electrically operated gate controlled by the Engine Control Unit (ECU) which dictates when the injector should deliver fuel into the engine cylinder. The goal of the ECU is to keep the air-fuel ratio optimized while the engine load and operating conditions constantly change so that the engine can burn fuel efficiently. It is recommended to clean the injectors every 40,000 to 50,000 km to ensure they don't get clogged and your engine keeps running smoothly.
When should you consider a fuel injection service?
Your engine idles, loses power, or misfires. Faults in the fuel injection system are a common cause of poor engine function.
Smell of raw gas or visible leaks. The smell of gas around you car suggests that your fuel injector may be leaking. There should never be external leaks from a fuel injector. If you suspect that your fuel injector is leaking do not start your car as this is a fire hazard.
Check engine light is on. Certain fuel injection failures, such as a faulty solenoid, will cause a trouble code to be set in the PCM and that will cause the check engine light to turn on. When this happens, a mechanic will read the codes and test the fuel injector, as needed.
Major engine repairs, engine replacement, or long-term storage. Deposits in fuel injectors will always occur given enough mileage. These deposits affect the performance of the injectors from cylinder to cylinder. If you engine is disassembled, or if you are installing a new engine, it's a good time to service the injectors as well. All injectors have tiny internal filter baskets: servicing the injectors entrails cleaning each injector ultrasonically and replacing the filters, which can be done at a relatively low cost.
How does a fuel injection service work?
Injectors can either be removed from the car and serviced, or be replaced with new injectors. When injectors are serviced, specialized equipment are necessary for cleaning and testing. The problem with the injector will determine whether they should be repaired or replaced. Both options require removing the injector from the vehicle and typically following this procedure:
When the engine is off and cool, the mechanic relieves pressure within the fuel rail by briefly running the engine with the fuel pump fuse out.
They will them remove the upper plenum on the intake manifold along with any hoses, cables, or wiring that restricts access.
Next they'll remove the supply and return lines from the fuel rail, unlock and remove the electrical connectors to each fuel injector, and unbolt and remove the fuel rail from the intake manifold.
The injector(s) that need to be serviced or replaced are then removed from the fuel rail. It's critical to make sure no debris enter the exposed openings. An O-ring seal usually firmly holds the injector in a finely polished bore in the fuel rail. This O-ring will need to be replaced.
Using a new O-ring, the injector is re-installed into the fuel rail. O-rings fit very tight to prevent fuel leaks and engine oil is used on the O-ring to prevent any damage to it.
The mechanic will then re-install the fuel rail and reconnect the supply and return lines. The plenum is re-installed along with all cables, hoses, or wiring.
Then, the engine is run and the mechanic will carefully check for leaks and road test the vehicle.
Things to keep in mind when servicing a fuel injector
Making use of top quality Tier One gas may decrease deposits on gas injectors and extend their life.
If an injector issue requires the replacement of one injector, it's most effective remove and service every other injector at the same time. This might involve replacing an electrically failed injector together with an out-the-car cleaning of the remaining injectors. Serving all injectors simultaneously guarantees the injector set will be well balanced and in turn ensures smooth engine function.
Do not make use of gas system cleaning compounds, or treatments, unless such products are defined by your vehicle's manufacturer.
Cleaning gas injectors in the vehicle is not as efficient as out-the-car cleaning since injectors have small inner filter baskets that must be changed as part of the procedure of servicing a gas injector.
Can you safely drive with a fuel injector problem?
Yes, as long as there is no external leak of gas from a damaged or defective injector, it is risk-free to drive the vehicle. Nevertheless, if the injector is recognized to be malfunctioning, it can trigger engine misfires, extreme discharges or, in the case of a terribly leaking injector, can overload as well as overheat the catalytic converter. Furthermore, gas effectiveness will constantly be reduced if the gas injectors are not functioning effectively.
Fuel Injection Service Reviews

Danielle Klaudt
19:55 08 Oct 20
This service was so great! Super convenient and fairly priced- perfect for someone who doesn't know much about cars. I felt like this was the next best thing to having my Dad come down and look it over. Mohamed was thorough and I could tell he's done this a million times. Thanks so much Mo!

Doug Aason
22:24 22 Sep 20
I found Mohammad- from Instamek not just very thorough but very professional and knowledgeable about the whole inspection process. After the inspection he took the time to go through point by point on different Items all the different areas of the vehicle .... what it was he was looking at .... what the concerns for me might be and also what the potential cost would be to bring it up to standard

...

safety requirements.Needless to say it not only saved me the thousands of dollars it would've taken to purchase a vehicle but it saved an additional several thousand dollars in repairs that you couldn't see or feel from driving the vehicle but that he was able to detect and explain to me.I would recommend in instamek and Mohammad- to anyone who is seriously thinking about purchasing a car and protecting their investment. I want to thank the professionalism that the Instamek team had from answering my call and the promptness, courtesy and commitment Mohammad- had and ensuring that I knew everything I had to know to give me confidence in moving ahead with the purchase or not. The big shout out to the Instamek team.Thanks for everything,Doug

read more

Victor Misquith
21:12 02 Sep 20
Moe was prompt and carried out the work professionally and to my satisfaction.

D. Lynn Purdy
18:04 20 Aug 20
I was very happy with the prompt & professional service I received. Mechanic (Alex) was friendly & very knowledgeable. Thoroughly pleased with Instamek !!!

Jahangir Solehria
21:26 17 Jul 20
i am the owner of Sulher motors car dealership in Vancouver. Instamek has been doing inspection for my customers for the last four years. booking a time for an inspection is very convenient and reasonably priced for the job and you do not even have to be present for the inspection Their mechanic Mohamed is very professional and performs a very through inspection. i recommend Instamek to all

...

my customers for a peace of mind inspection before buying a used car or truck.Easy to bookgreat inspection with detailed explanation and picturesfriendly and professional staff

read more

I've been concerned about the brakes on my 2009 Honda Civic for a while, so I called Instamek for a quote, which I received promptly by email. I was then able to arrange for same day service. Mohamed arrived promptly and after his assessment recommended that the front disc brake pads be renewed, but said the rear brake linings were fine. He gave me a quote for the cost of service and then

...

completed the work promptly. I'll use Instamek again the next time I need some work done on my car.

read more

I wanted to get a pre-purchase inspection of a vehicle I was interested in purchasing from a private seller on Craigslist. I was able to book an appointment on the same day I called, which was very convenient. The mechanic who came out, Waheed, was very professional and friendly. He did an extremely thorough inspection of the car and clearly explained what some of the issues that he was seeing

...

were as he went. You get a very detailed report as a result of the inspection which allowed me to negotiate the offering price down quite significantly. It was definitely worth it and I would recommend this service to anyone looking to buy a used car.I should note that the pre-purchase inspection typically includes a driving segment, but the mechanic cannot do it if the car is not insured (for obvious reasons). I didn't realize this when I booked over the phone, and I was comfortable with just a visual inspection given the age/condition of the car in question, but if you are particularly worried about the car's transmission or steering I would make sure it is insured so that the mechanic can come and do this part of the inspection.

read more

"The company responds within an hour and dispatches a mechanic shortly after with all the tools and parts required to repair the vehicle onsite."
-GLOBE AND MAIL

"taking a unique approach to vehicle repairs in the same way 'Uber' changed the taxi industry"
-CTV NEWS

"InstaMek is an on-demand service that allows vehicle owners to request and schedule a meeting with a fully certified mobile mechanic."
-CBC NEWS
Suzuki Fuel Injection Service
Hyundai Fuel Injection Service
Acura Fuel Injection Service
Isuzu Fuel Injection Service
Scion Fuel Injection Service
Mitsubishi Fuel Injection Service
Oldsmobile Fuel Injection Service
Infiniti Fuel Injection Service
Saab Fuel Injection Service
Lexus Fuel Injection Service
Subaru Fuel Injection Service
Kia Fuel Injection Service
Hummer Fuel Injection Service
Dodge Fuel Injection Service
Water Pump Replacement
Safety Inspection
Car Noises
Car Smoking
Abs Light On Car
Car Leaking Oil
Car Electrical Problems
Steering Wheel Hard To Turn
We are open from 8am - 6pm Monday to Saturday