Front Drive Shaft Replacement at your home
Our certified mechanics come to you · Backed by 12-month / 20,000 km gold standard warranty program.
8AM - 6PM Monday to Saturday
Front Drive Shaft Replacement Service
How much does a Front Drive Shaft Replacement cost?
It depends on the type of car you drive and the auto repair shop you go to. Our mechanics are mobile, which means they don't have the overhead that repair shops have. They provide you convenience by coming to your home or office.
Fast and easy service at your home
Backed by 12-month, 20,000-km guarantee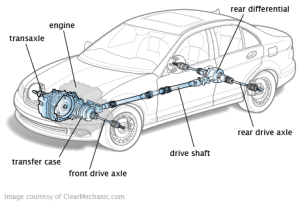 The driveshaft sends the power (torque) produced by the engine to the front (front-wheel-drive), rear (rear-wheel-drive), or front as well as rear (Four wheel-drive) of the car as needed. A four-wheel-drive vehicle might have two driveshafts.
Keep in mind when replacing your front drive shaft
A four-wheel-drive vehicle might have two driveshafts and you might just need to change one of them.
A vehicle with customized elevation run a higher risk of having a damaged driveshaft.
When your driveshaft is changed, all other parts must be inspected for quality and the U-joints must be effectively lubricated.
In some vehicles, it is much more simple and budget friendly to change the whole driveshaft than to change a single part.
The mechanic will ensure that all U-joints are lubricated. This will certainly expand the life of your driveshaft.
Signs that you should replace your Front Drive Shaft
A clunking noise occurs when you accelerate or when you shift between reverse and drive.
Your car vibrates when driving.
You hear a squeaking noise when driving.
The mechanic will remove and change your Front Drive Shaft.
They will then conduct a standard safety and security inspection.
Finally the mechanic will test drive your vehicle.
How important is this service?
A driveshaft transfers power from a car's transmission to its wheels. As the driveshaft gets damaged, it doesn't effectively transfer power to the wheels, which places unnecessary pressure on other parts of the vehicle can in turn cause even more damage. When the driveshaft ceases working completely, the vehicle will not have the ability to send out power to the wheels and you won't be able to drive.
Front Drive Shaft Replacement Reviews

SanityBorder
19:23 27 Nov 20
Our Instamek Grant was amazing, helpful, affordable and knowledge about all our issues and concise in helping us resolve them. Our inspections went well and he was helpful in working with us to achieve what we needed. Would highly recommend, all around amazing guy.

stan miller
04:33 26 Nov 20
Waheed the mechanic was very knowledgable and did an excellent "pre-purchase inspection"on the car. Found some issues with the car, and as a result we didn't buy the car. Very thankful

Matthew Taylor
20:17 20 Nov 20
instaMek provides excellent service and we will continue to hire them. They are on time, friendly, and professional. Grant, the technician who worked on our car, was professional, took the time to explain what needed to be attended to, and was very helpful.

Sina Akbari
04:26 17 Nov 20
Our pre-purchase inspection was done by Waheed who did an excellent and thorough job. He was very professional and took the time to discuss a few questions I had on the phone after I had read the report.

mark angelo zulueta
21:39 06 Nov 20
Glenn was very professional, informative, and easy to deal with. Inspection was thorough and provided me with valuable information and recommendation. I highly recommend instaMek particularly Glenn to work on your vehicle!

Grant completed an on-site pre-purchase inspection for us today on a vehicle. He was super friendly and knowledgeable and the report was clear and detailed. Would highly recommend this service which was worth the money for quality and convenience. Thank you!

Russell Byrd
23:49 21 Sep 20
Glen was a delight to learn from and have come inspect my vehicles brakes. He gave honest, unbiased feedback, and was a straight shooter; a breathe of fresh air for the industry. Would highly recommend Glen for coming to your home to work on your vehicle!

"The company responds within an hour and dispatches a mechanic shortly after with all the tools and parts required to repair the vehicle onsite."
-GLOBE AND MAIL

"taking a unique approach to vehicle repairs in the same way 'Uber' changed the taxi industry"
-CTV NEWS

"InstaMek is an on-demand service that allows vehicle owners to request and schedule a meeting with a fully certified mobile mechanic."
-CBC NEWS
Volvo Front Drive Shaft Replacement
Chrysler Front Drive Shaft Replacement
Jeep Front Drive Shaft Replacement
Suzuki Front Drive Shaft Replacement
Hyundai Front Drive Shaft Replacement
Acura Front Drive Shaft Replacement
Isuzu Front Drive Shaft Replacement
Scion Front Drive Shaft Replacement
Mitsubishi Front Drive Shaft Replacement
Oldsmobile Front Drive Shaft Replacement
Infiniti Front Drive Shaft Replacement
Saab Front Drive Shaft Replacement
Lexus Front Drive Shaft Replacement
Subaru Front Drive Shaft Replacement
Driveshaft Services
Engine Repair
Fuel Injection Service
Water Pump Replacement
Safety Inspection
Car Noises
Car Smoking
Abs Light On Car
We are open from 8am - 6pm Monday to Saturday