CV Boot Replacement at your home
Our certified mechanics come to you · Backed by 12-month / 20,000 km gold standard warranty program.
8AM - 6PM Monday to Saturday
CV Boot Replacement Service
How much does a CV Boot Replacement cost?
It depends on the type of car you drive and the auto repair shop you go to. Our mechanics are mobile, which means they don't have the overhead that repair shops have. They provide you convenience by coming to your home or office.
Fast and easy service at your home
Backed by 12-month, 20,000-km guarantee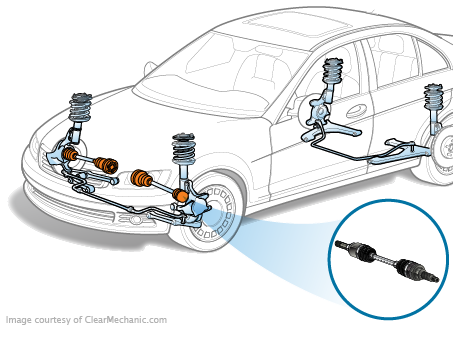 The constant velocity (CV) joint sends power from the transmission to the wheels (typically the front wheels). The CV boot is a flexible rubber boot that protects the joint, preventing water and dirt out of the joint, and keep grease inside of the CV joint.
A grease leak Grease leaks are the most common symptoms of a damaged CV boot. With time, the rubber CV boot gets dry or breakable and ends up cracking or tearing. Holes in the CV boot can cause the grease within the boot to leak on the inside of the wheel. It's also quite common for the grease to get flung onto the chassis or other parts of the bottom of the car as the CV axle turns.
Vibrations Another signs of a damaged CV boot is vibrating coming from under your car close to your wheels. SInce a broken boot can enable dirt, debris, and moisture to go into the CV joint, there may be damage to the CV joint as well which causes can cause vibrations. If you are experiencing vibrations, this usually means that your CV axle will also need to be replacing.
Car clicks during turns If the CV axle gets damaged as a consequence of a torn CV boot, it is likely that you'll hear clicking sounds. Clicking sounds during turning is the sign of a serious problem, as it indicates that the CV joint has become loose. A clicking CV joint will need to be replaced since at that point, it's usually past the point of being salvageable.
How to replace a bad CV boot
The mechanic verifies that the CV Boot needs to be changed. To do that, the car is elevated and sustained on jack stands and the wheel is gotten rid of.
The malfunctioning CV Boot is eliminated by taking off the axle as well as dismantling it to change the boot and tidy up the joint.
The brand-new CV Boot is set up by loading the joint with CV oil, reconstructing the axle, and attaching the brand-new boot.
The CV Boot is examined for procedure and the axle is reinstalled onto the car. The tire is mounted and the car is eliminated from the jack stands.
The car is tested on the road to guarantee correct procedure of the CV Boot as well as the axle.
Is it safe to drive with CV boot problems?
It is possible to drive a vehicle with a torn CV boot, however, doing so will likely result in more damages that will ultimately need a lot more substantial repair work.
CV Boot Replacement Reviews

SanityBorder
19:23 27 Nov 20
Our Instamek Grant was amazing, helpful, affordable and knowledge about all our issues and concise in helping us resolve them. Our inspections went well and he was helpful in working with us to achieve what we needed. Would highly recommend, all around amazing guy.

Michael Assefa
00:28 24 Nov 20
I got my car inspected by grant today, really good mechanic, lots of years of experiences, very friendly. I would definitely recommend

Michael Zouhri
22:31 16 Nov 20
I had an issue with my SUV which left me trapped at my home. I live outside the city so it put me in a bit of a difficult situation to be without my SUV in the winter. I booked with instamek and they sent Grant out to my home. Having a mechanic actually show up to my home, out on the countryside, was incredible. Grant was super knowledgeable and helpful. He was also very friendly and dedicated to

...

exceptional customer service. He definitely left me with a lot of peace of mind and got me back on the road. I will definitely continue using the service and recommending it!

read more

mark angelo zulueta
21:39 06 Nov 20
Glenn was very professional, informative, and easy to deal with. Inspection was thorough and provided me with valuable information and recommendation. I highly recommend instaMek particularly Glenn to work on your vehicle!

Alex Alvarova
23:38 05 Nov 20
Jack Lai was amazing. Very professional. I can only recommend him, guys.

Mitchell Wilson
17:22 05 Nov 20
Waheed was unreal, really detailed and helped me with a pre-purchase inspection. He even thoroughly checked under the car in the pouring rain on the side of the road. Highly recommend.

Grant completed an on-site pre-purchase inspection for us today on a vehicle. He was super friendly and knowledgeable and the report was clear and detailed. Would highly recommend this service which was worth the money for quality and convenience. Thank you!

"The company responds within an hour and dispatches a mechanic shortly after with all the tools and parts required to repair the vehicle onsite."
-GLOBE AND MAIL

"taking a unique approach to vehicle repairs in the same way 'Uber' changed the taxi industry"
-CTV NEWS

"InstaMek is an on-demand service that allows vehicle owners to request and schedule a meeting with a fully certified mobile mechanic."
-CBC NEWS
Jaguar Cv Boot Replacement
Volvo Cv Boot Replacement
Chrysler Cv Boot Replacement
Jeep Cv Boot Replacement
Suzuki Cv Boot Replacement
Hyundai Cv Boot Replacement
Acura Cv Boot Replacement
Isuzu Cv Boot Replacement
Scion Cv Boot Replacement
Mitsubishi Cv Boot Replacement
Oldsmobile Cv Boot Replacement
Infiniti Cv Boot Replacement
Saab Cv Boot Replacement
Lexus Cv Boot Replacement
Front Drive Shaft Replacement
Driveshaft Services
Engine Repair
Fuel Injection Service
Water Pump Replacement
Safety Inspection
Car Noises
Car Smoking
We are open from 8am - 6pm Monday to Saturday