Car Battery Installation at your home
Our certified mechanics come to you · Backed by 12-month / 20,000 km gold standard warranty program.
8AM - 6PM Monday to Saturday
Car Battery Installation Service
Car battery installation cost
The Car battery installation cost is usually between $150 - $300. The battery size determines price as larger the engine the expensive will be the battery. German vehicles generally have bigger batteries or ones installed under the seat and the cost can increase up to $600. Truck batteries are usually more expensive for the same reason.
Fast and easy service at your home
Backed by 12-month, 20,000-km guarantee
What are car batteries and how do they work?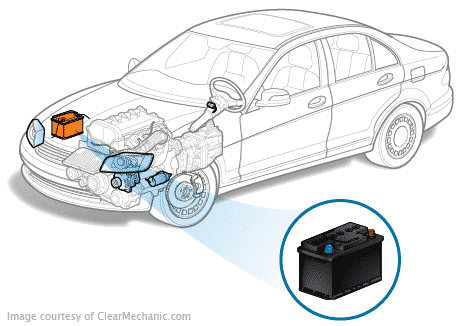 Cars use a source i.e battery to ensure electrical power running in the vehicles and all of the componentes like lights, radio, starter motor, and alternator. If the battery is not properly charged then none of these components can function, hence the car will not start. If you see your car's battery has lost charge, the best way is to test or recharge it is to perform a battery boost. If the battery is dead, it will be difficult to take the car to the mechanic of course. But not with InstaMek, as we send our expert mechanic to your home or office (or wherever you car is) to perform car battery installation or replacement for you.
When to perform car battery installation?
The first sign is when your car doesn't ignite. A new battery has certain capacity to provide power which is known as the cranking amps rating. With time, the amps that a battery can supply become lower than the original rating and once this rating decreases, it gets difficult to start the vehicle.
Charging system warning light or battery is illuminated. When you see the battery light is illuminated, get the vehicle checked by a mechanic who will do some basic tests to see if the car battery requires servicing or repair.
Electrical components stop working. Once the battery fails, the voltage also drops and the electrical components like security systems can malfunction. If you experience this malfunction, its recommend to get the battery checked.
How to change a car battery?
You need to install a temporary power source to eliminate the possibility of losing stored data on the PCM as the battery is out. When the battery is dead completely, this step is not required.
The negative cable of the vehicle is taken out from the battery followed by the positive cable. The tie down system is loosened and old battery is removed.
Your mechanic will inspect the wiring and cable ends to make sure there is no corrosion. In several cases, corrosion can be so extreme that the cable has to be replaced and wiring repaired.
The next step will be to perform a new car battery installation and reinstall the tie down system. On the battery terminals, an anti corrosion compound is then applied and the positive terminal is reconnected followed by the negative terminal.
A few vehicles like Audi, VW, and BMW may require PCM programming to inspect battery parameters. This step uses specialized scan tool and its essential to increase battery life and prevent malfunctions in electrical systems
Next, the car is scanned and the mechanic measures the charging system outfit to compare it against the factory OEM specification, this ensures that the new car battery installation is proper. Mostly, charing output is in the range of 13.8 to 14.8 volts but the exact specifications vary by the model and make of the car.
Is it safe to drive with a battery problem?
It is safe but if your battery is weak, it can die anytime and you would be left stranded somewhere. A faulty battery also have the capability to overload the alternator needlessly and could adversely affect the running of electrical systems of the vehicle including the security and shift interlock.
Car Battery Installation Reviews

Very thorough inspection of my vehicle! The mechanic was great.

Stuart Mackay
15:52 09 Jan 20
I have used them twice now. They make it so easy and convenient. They come to you, they stick to their allocated time slots and the mechanic I have had on both occasions is Mo who's work and professionalism was fantastic.

Jorden Healey
18:51 08 Jan 20
Mek Alexey was a great mechanic, he saved me potentially a couple thousands in repairs. You pay alot for the service but it's well worth it in the long run. InstaMek is a great company, will use again!

Dorris Reynolds
04:34 08 Jan 20
I have multiple experiences with instamek and they're my goto mechanics now. The service is quick and the staff friendly. I first heard about them through BCAA when I wanted to get a car inspected but since have used them to replace my battery and brakes. Thanks again guys!

Great experiences with them. Alexey is a great mechanic. came back to update my review because I still use and have awesome service with instamek.

Camille Nguyen
16:23 17 Dec 19
The mechanic that came was very professional. I needed to get my battery replaced which he was able to do quickly on the spot. So convenient, great customer service and I would use them again for any repairs on my car in the future. I didn't know mobile mechanics existed, doesn't get any more convenient than that! So glad I found you guys!

Liyang Huang
18:31 15 Dec 19
The mechanic is professional, honest and patient. Also I am quite happy with their both online customer service and post-service customer service. Best wishes to their business!

"The company responds within an hour and dispatches a mechanic shortly after with all the tools and parts required to repair the vehicle onsite."
-GLOBE AND MAIL

"taking a unique approach to vehicle repairs in the same way 'Uber' changed the taxi industry"
-CTV NEWS

"InstaMek is an on-demand service that allows vehicle owners to request and schedule a meeting with a fully certified mobile mechanic."
-CBC NEWS
Plymouth Car Battery Installation
Volkswagen Car Battery Installation
Land Rover Car Battery Installation
Tesla Car Battery Installation
Nissan Car Battery Installation
Buick Car Battery Installation
Honda Car Battery Installation
Ram Car Battery Installation
Pontiac Car Battery Installation
Ford Car Battery Installation
Geo Car Battery Installation
GMC Car Battery Installation
Lincoln Car Battery Installation
Fiat Car Battery Installation
Car Battery Repair
Engine Oil Change
Engine Oil Leak
Car Cranks But Won'T Start
Engine Diagnostic
Car Water Pump Problems
Car Engine Overheating Inspection
Car Diagnostic
We are open from 8am - 6pm Monday to Saturday