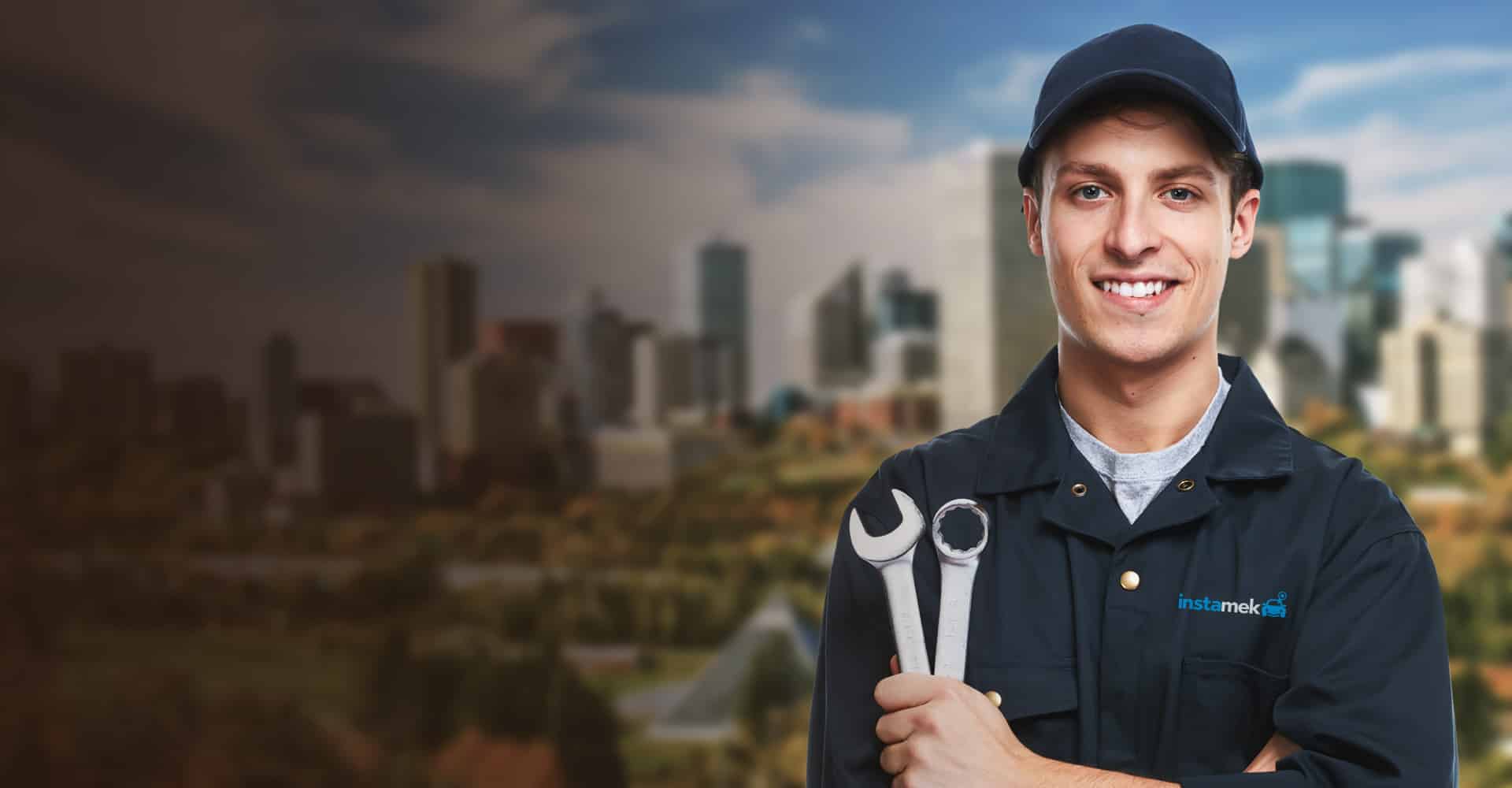 Our certified mobile mechanics in St. Albert will fix your car at your home.
Our certified mechanics come to you · Backed by 12-month / 20,000 km gold standard warranty program.
Popular Services in St. Albert, AB
Car Won't Start?
An InstaMek certified mechanic will meet you at your location to diagnose why your car won't start and promptly get your car up and running again
Vehicle Inspection
Get a comprehensive, 150-point pre-purchase car inspection performed by an expert mobile mechanic before purchasing a used vehicle.
Oil Change
Getting an oil and filter change on a regular basic is considered one of the most important vehicle maintenance services to prevent engine damage.






Best Auto Repair in St. Albert, AB

Kevin Yang
20:12 15 May 19
Prompt quote - received the quote in email 20 minutes after submission.Easy and hassle free booking over the telephone. Service took place one day after the quote.Jack arrived ahead of time and was easy and personable to work with.Very satisfied with the service.Will book again and will recommend.

Helik Sandren
21:07 25 Apr 19
Prompt, courteous, and thorough service. Needed car inspection done on a Saturday - no shops open. Instamek was booked, but managed to rearrange schedule to accommodate. Very happy with the inspection. Great service.

Ksenia Naleykina
18:16 19 Feb 19
My issue was pretty easy, just needed to replace the battery. The guy came as we scheduled, did everything fast and I haven't got any complains so far

Cassie Jones
05:10 16 Feb 19
I woke up and my car battery was dead at 10 am on a Saturday. I called my insurance who reccomended a tow truck and AMA who put me on a 45 minute waiting list. InstaMek answered my call right away and within 10 minutes we had an appointment scheduled for between 130-230 to get my battery replaced. The tech arrived at 239 I believe and I was up in my apartment with everything handled by 259. Came and replaced my battery at the back ally of my apartment and I was on the road by 3. AMA didn't even call me back until 430. Very thankful for this service!

Darleen Collins
19:50 16 Jan 19
I found Wrench Patrol on Google. Their website communicated their services well. The fact they are mobile is fantastic. I called them and the fellow was very pleasant and helpful. They also scheduled the appointment with the vehicle Owner (Seller) and I had the option of being present for the Inspection or not. Since the vehicle was at least 30 minutes away, I opted not to go but let the Mechanic handle it. Very convenient for both Buyer and Seller. The Report arrived via email shortly after the inspection and was very easy to read and thorough. Brake pads will need replaced within the next 6 months and a leaky inner cv boot was indicated. This was critical information in helping us with our purchase. I would definitely use and recommend their service again. Thank you guys.

The mechanic that was sent to me was really nice, friendly, and easy to talk to. I booked for diagnostic and he was able to address all of my concerns and even helped with fixing some issues. Will certainly contact them again should I need to!

Telina Chomey
22:35 24 Dec 18
Alexey came to check out my none starting car. He was easy to talk to and explained what he was doing. He told me my engine was done, but told me he'd keep trying other things just in case. Nothing worked, but I appreciated the extra effort. He explained what was wrong with it and what the noises my car was making meant. Alexey also gave me some insight on things I could do with the car since it is now a very big paperweight.I've already told my friends about them, the fair price range and their ability to work on things (when possible) wherever your car is. 10/10 would recommend.
St. Albert Auto Repair
Service Hours
| | |
| --- | --- |
| Monday | 8AM–7PM |
| Tuesday | 8AM–7PM |
| Wednesday | 8AM–7PM |
| Thursday | 8AM–7PM |
| Friday | 8AM–7PM |
| Saturday | 9AM–4PM |
Contact Us
Toll Free:
1-888-507-3435
Local:
780-809-9613
Phone support hours are typically 8AM to 6PM Monday to Saturday.
Address
We come to your home or office!
---
Local Auto Repair in Your Area
Nissan Mechanic in Edmonton
Honda Mechanic in Calgary
Dodge Mechanic in Sherwood Park
Volkswagen Mechanic in St. Albert
Jeep Mechanic in Fort Saskatchewan
Pontiac Mazda Mechanic in Nisku
Ford Mechanic in Beaumont
Toyota Mechanic in Morinville
Hyundai Mechanic in Leduc
Other automotive services
Our certified mobile mechanics come to you with all necessary parts and tools.
*Please note that there are certain services that
we only perform if we diagnose the issue.
Timing Belt Replacement
Power Steering Repair
Radiator Repair
CV Joints & Axles
Engine Flush
Coolant Flush
Fuel System Flush
We are open from 8am - 6pm Monday to Saturday