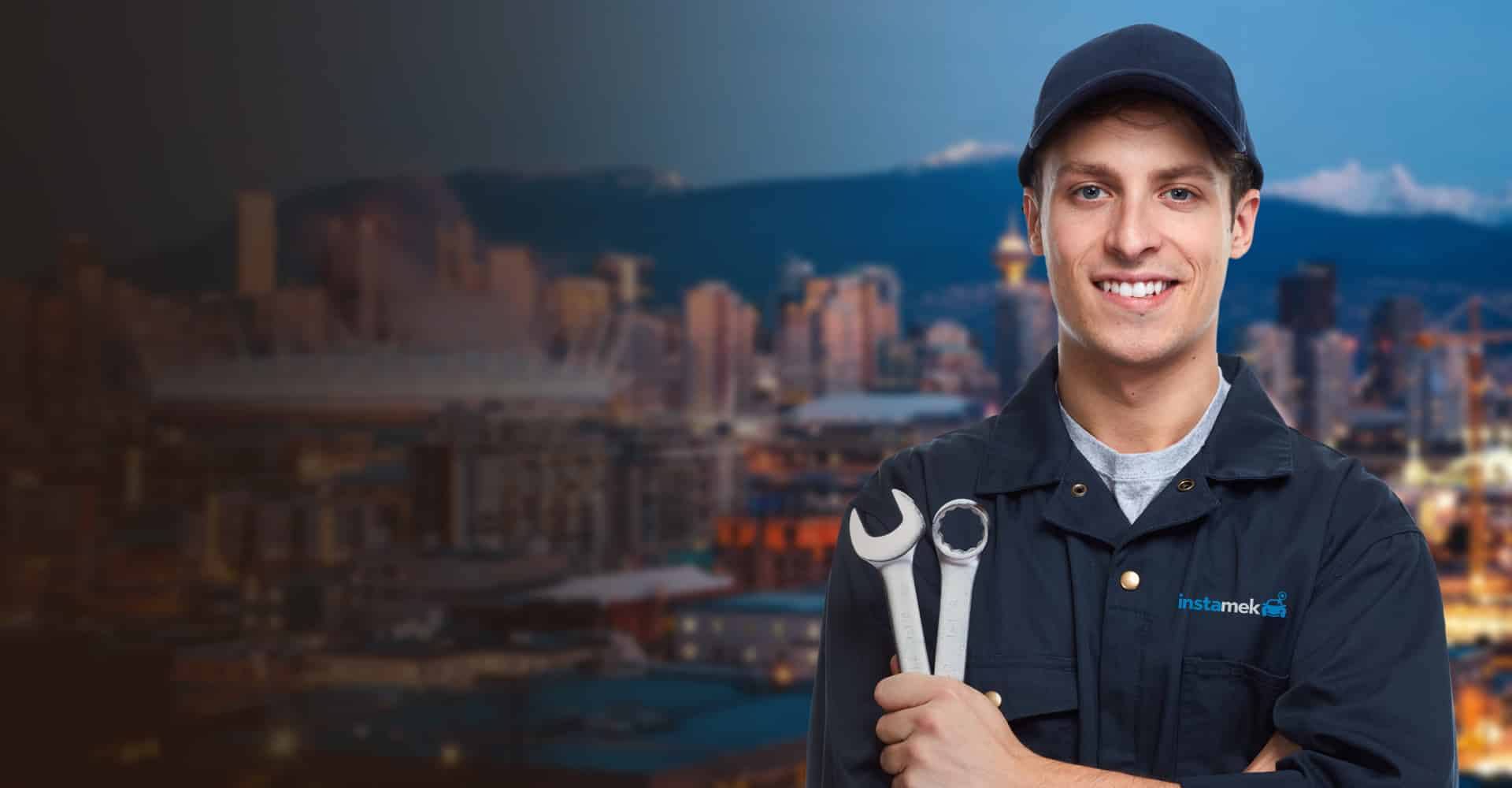 Auto repair in St. Albert, AB - Get your car fixed at home from our certified Mechanic
Our certified mechanics come to you · Backed by 12-month / 20,000 km gold standard warranty program.
The Best & Most Convenient Car Repair Service in St. Albert, AB
instaMek Auto Repair will send a fully insured mobile mechanic to your home anywhere in St. Albert. Our licensed & professional technicians can perform over 500 services included brakes, oil changes, car inspections, batteries and more. Say goodbye to tow trucks and the hassle of auto repair shops today!
Vehicle Inspection in St. Albert by Our Expert Mechanics
Our certified mobile mechanics come to you with all necessary parts and tools.
FAQ
Are you social distance approved? What are you doing to protect people from Covid-19?
Yes! Since our mechanics come to you instead of you going to a shop it makes the first step of the process so much easier. On top of that our technicians wear the proper PPE and sanitize your vehicle after they're done. We also ask you to keep your distance and stay 6 feet or 2 m away from the technician at all times.
What kind of services can you do at peoples homes?
We can do over 500 services right at your home or office including oil changes, tire changes, brakes, inspections, alternator, starter, battery replacements and more. You'd be surprised at all the work we can do!
Are you technicians licensed and insured?
Yup all our technicians have at least 10 years of experience and are all Red Seal Certified Licensed Journeyman Automotive Technicians. We also have liability insurance for your car and your property!
What cities do operate in?
We operate in over 20 cities in Western Canada including Edmonton, Calgary, Vancouver. (I think for this one we need to customize for the landing page).
Is this more expensive than going to a regular shop?
Nope! Our prices are the same or lower than going to a shop especially if you sign for our instaMek Prime membership!
Excellent Ratings From Our Customers

Really good service and a great guy. Super happy with the service and was very clear and precise with his report. Keep up the great work!

I've been concerned about the brakes on my 2009 Honda Civic for a while, so I called Instamek for a quote, which I received promptly by email. I was then able to arrange for same day service. Mohamed arrived promptly and after his assessment recommended that the front disc brake pads be renewed, but said the rear brake linings were fine. He gave me a quote for the cost of service and then completed the work promptly. I'll use Instamek again the next time I need some work done on my car.

Harman Bey
00:13 04 Jul 20
I've been using instamek for both diagnostic andmaintenance and the instamek mechanic Mohamed has been extremely helpful, he's the best mechanic. He was able to explain any issues i was concerned with and I'm really happy to have him service my car. I recommend him to anyone.

Brandon Mordy
22:22 26 May 20
Jack (the Instamek mechanic) called me back when I requested after viewing the inspection report. He provided some really great information and answered the questions that I had. I'd like to thank him for his thorough and in depth inspection as this has helped me understand the condition of the minivan in question. He was also very cordial and easy to speak with. I give him 5 stars. Thank you Instamek for all your help with my pre-purchase inspection.On another note, I noticed that a few Google reviews are negative. I would advise that it is likely that a lot of those reviews were for older cars that might not be in good condition. What you have to remember is that they are primarily an inspection service. They are trying to demonstrate the current condition of the vehicle. If they were to miss something, that might expose the buyer to unforeseen repair expenses. So, of course they are going to proceed on the side of caution by listing everything they can see and test. And, they cannot look inside the engine either. So, some items might need to further diagnosed by a physical repair shop or monitored for follow-up later. They are not able to do an exhaustive review given their fee of approximately $200, their limited time associated with that fee, and being mobile with limited equipment. I do not think it is reasonable to expect them, or any other auto inspection service, to ascertain the location of an oil leak either. A lot more time would be needed to diagnosis this. It is even difficult for a physical shop to determine the exact location of an oil leak. Sometimes, it is easy to determine while other times it is difficult if there is a lot of oil caked on an engine. Sometimes an engine will have be cleaned and then monitor where a leak occurs over a certain duration. So I think that a lot of the negative comments are not justified nor are they reasonable. I just thought that I would share my opinion and perspective for future users of the inspection service.

Shauna Carothers
00:53 26 Feb 20
So happy we discovered this company! I was scared to drive my car to the shop after hearing weird noises and within 2 days they ran the diagnostic and replaced by rotors and brake pads. And since they don't have the overhead of a normal shop it came out to way less than we feared! Signed up for their membership program which is a great deal too. Thanks again Jack and Instamek, I'll be recommending you to everyone!!

Spencer Quimby
04:22 11 Jan 20
Easy to set up an inspection at the location you need. Had a pre-purchase inspection for a used vehicle done by them and was very happy with their customer service and the results they gave me. Very thorough inspection that made me confident I was buying the right car!

Dorris Reynolds
04:34 08 Jan 20
I have multiple experiences with instamek and they're my goto mechanics now. The service is quick and the staff friendly. I first heard about them through BCAA when I wanted to get a car inspected but since have used them to replace my battery and brakes. Thanks again guys!
We are open from 8am - 6pm Monday to Saturday