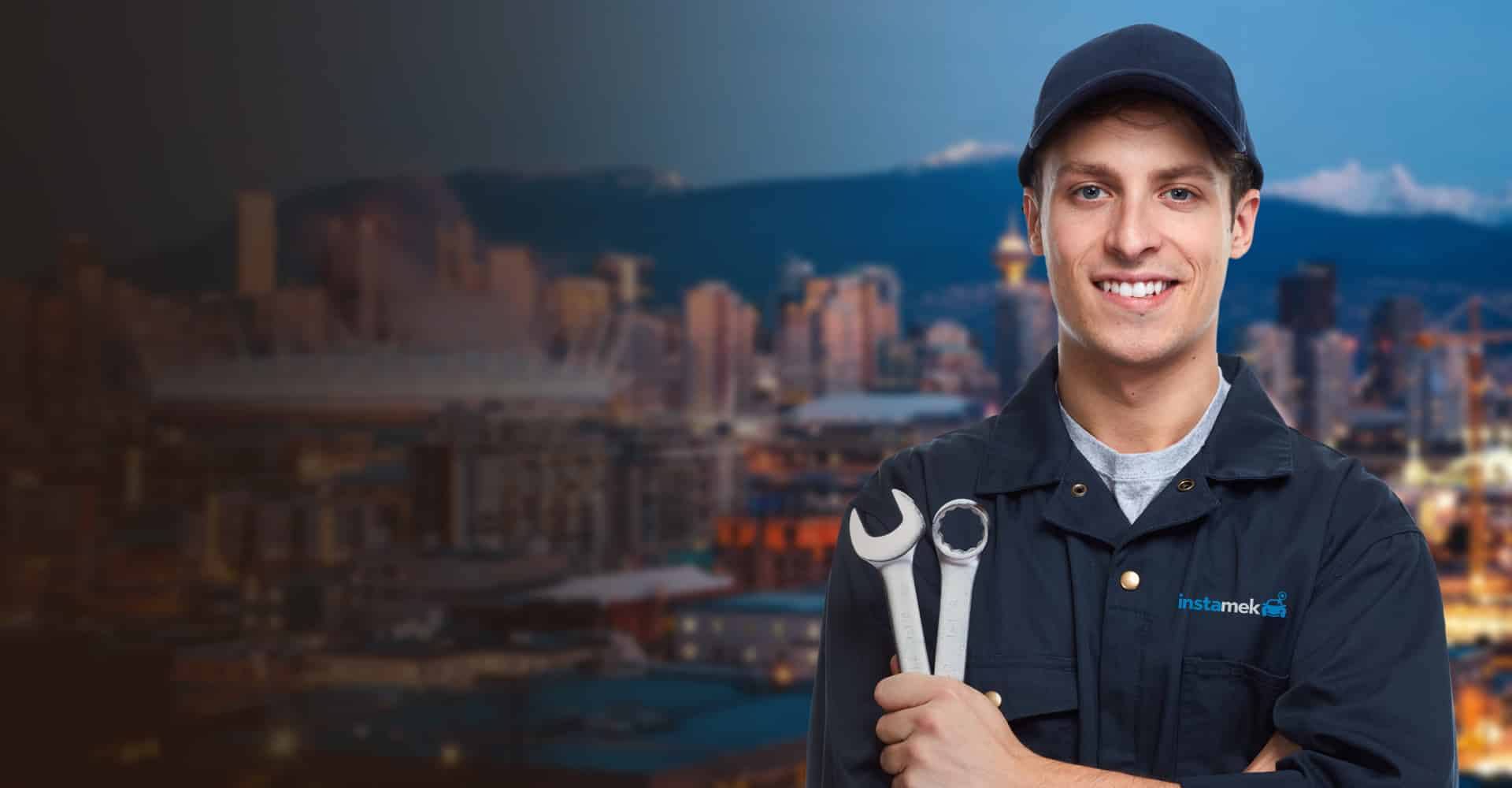 Auto repair in Richmond, BC- Get your car fixed at home from our certified Mobile Mechanic
Our certified mechanics come to you · Backed by 12-month / 20,000 km gold standard warranty program.
The Most Convenient and Top Quality Car Repair in Richmond
Finding a mechanic you can trust in Richmond can be difficult - there are so many options it can be overwhelming. We can help make your life way easier by sending our certified mobile mechanics to your home or office anywhere in Richmond. From battery changes to oil changes and brakes to engine repair - you'd be surprised at all the work that we can do. Our technicians are all Red Seal Certified and insured to protect your car and property.
Call instaMek in Richmond today and join over 20,000 Canadians who have experienced the magic of at-home car repair!
Vehicle Inspection in Richmond by Our Expert Mechanics
Our certified mobile mechanics come to you with all necessary parts and tools.
FAQ
Are you social distance approved? What are you doing to protect people from Covid-19?
Yes! Since our mechanics come to you instead of you going to a shop it makes the first step of the process so much easier. On top of that our technicians wear the proper PPE and sanitize your vehicle after they're done. We also ask you keep your distance and stay 6 feet or 2 m away from the technician at all times.
What kind of services can you do at peoples homes?
We can do over 500 services right at your home or office including oil changes, tire changes, brakes, inspections, alternator, starter, battery replacements and more. You'd be surprised at all the work we can do!
Are you technicians licensed and insured?
Yup all our technicians have at least 10 years of experience and are all Red Seal Certified Licensed Journeyman Automotive Technicians. We also have liability insurance for your car and your property!
What cities do operate in?
We operate in over 20 cities in Western Canada including Edmonton, Calgary, Vancouver. (I think for this one we need to customize for the landing page).
Is this more expensive than going to a regular shop?
Nope! Our prices are the same or lower than going to a shop especially if you sign for our instaMek Prime membership!
Excellent Ratings From Our Customers

My experience with Mohammed the mek was beyond expected. He was very responsive and provided amazing customer service. Will recommend to anyone with car problems and needs the added benefit of convenience.

Car battery was dead since it hasn't been driven for over 6 month. The booking process was extremely straightforward. Moe was our mechanic who gave me a text prior to his arrival and arrived right on time. He was friendly and professional. I didn't have be around but instead he just give me knock on the door when the job was complete which took no more than 1 hour. He also gave my car a quick check-up just to make sure everything else is operating as expected and took the car for a spin just to triple check. Overall a vary smooth and efficient experience that's super stress free.

Had a great experience with their services. Mohamed was very professional and quickly help identify my car's issue and get that me back on the road very quickly.

Geri Kikot
22:00 28 Aug 20
I had a great experience with instaMek. Great support staff and Mohamed was the mechanic assigned and he was courteous, friendly, knowledgeable and professional. Also the turnaround time was great. I would recommend using them to anyone.

Iain Rogers
22:36 27 May 20
My truck wouldn't start, and I knew it wasn't the battery. Booked an appointment online and the mechanic showed up quickly. He diagnosed the problem quickly and correctly, gave a fair quote right on the spot and explained everything. My starter was replaced and I'm back in business. I can't recommend highly enough. Also, definitely go for Instamek PRIME. It got me a good discount on my repair and now I get maintenance service calls, and roadside assistance.

Daniel Kavanagh
01:44 23 May 20
Battery died and had no way of getting it to a shop to get replaced. These guys came to my house within 5 hours of calling and did a diagnostic to make sure it was actually the battery . The tech showed me what the problem was and explained it to me in terms I could understand . When he told me the battery had to be replaced and didn't even mention that they sell them. I asked if he could do it and he said yes - Gave me a great price and had it running within an hour of arriving . He also did a 30 point Inspection. These guys are professional, friendly and do it all. Will be my go-to for Mobil mechanic needs.

Sam Merson
08:17 19 Mar 20
I had a great experience getting a pre-purchase inspection for the vehicle I was looking into buying. It was easy to book an appointment, and the car was inspected and reported on thoroughly. I got my report within an hour of the inspection, and was able to contact and communicate with someone working at instaMek quickly to answer a questions I had.All in all, it was an awesome experience and I'll definitely use their services in the future.
We are open from 8am - 6pm Monday to Saturday