USED CAR INSPECTION
WITHOUT GOING TO A SHOP
We inspect almost any vehicle at the sellers house
or even used car lots, giving you peace of mind.

Call Us Today to Make an Appointment
(604) 330-0424
OR
Schedule Your Inspection Online
PRE-PURCHASE INSPECTIONS WITHOUT GOING TO A SHOP
WE COME OUT TO YOU
A fully licensed and insured mobile mechanic will go to the car to inspect it, anywhere in the Greater Vancouver Area:
Buying a used car can be a great financial decision or a nightmare. Don't take risk of buying one without getting an inspection done by a certified mechanic. An inspection is a worthwhile investment compared to the fortune a wrong buy can cost you.
Conduct a thorough 110-point inspection
Thorough inspection of the vehicle's mechanical, cosmetic and electrical systems
Identify existing conditions
Identify potential safety and financial problems
Wheels will be taken off, vehicle raised and then taken on a test drive
Each inspection takes between 1 to 1.5 hours depending on the condition of the vehicle
You will be sent an electronic report with findings, recommendations and pictures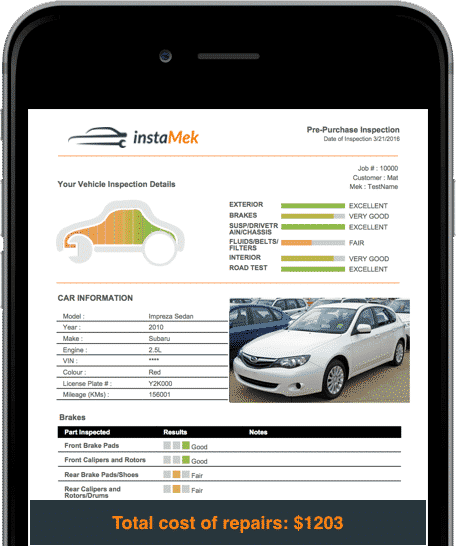 Vehicle Inspection Prices
Insurance Inspection – $99
If you're looking to get a vehicle that is older than 13 years inspected so it can get insurance this is your best bet. Please make sure to print the inspection sheet from your insurance company for the technician.
Used Vehicle or Pre-Purchase Inspection – $159.99
If you're looking to buy a used car and want a certified technician to inspect the vehicle to make sure everything is safe and there are no hidden surprises then pick this inspection. The technician will go through everything with a fine tooth comb and take the vehicle for a test drive. You will receieve an electronic report when the job is completed with pictures so you can make an informed decision.
Out of Province/Salvage/Commercial Inspections
We don't do these inspections and recommend that you reach out to our partner shop for these inspections.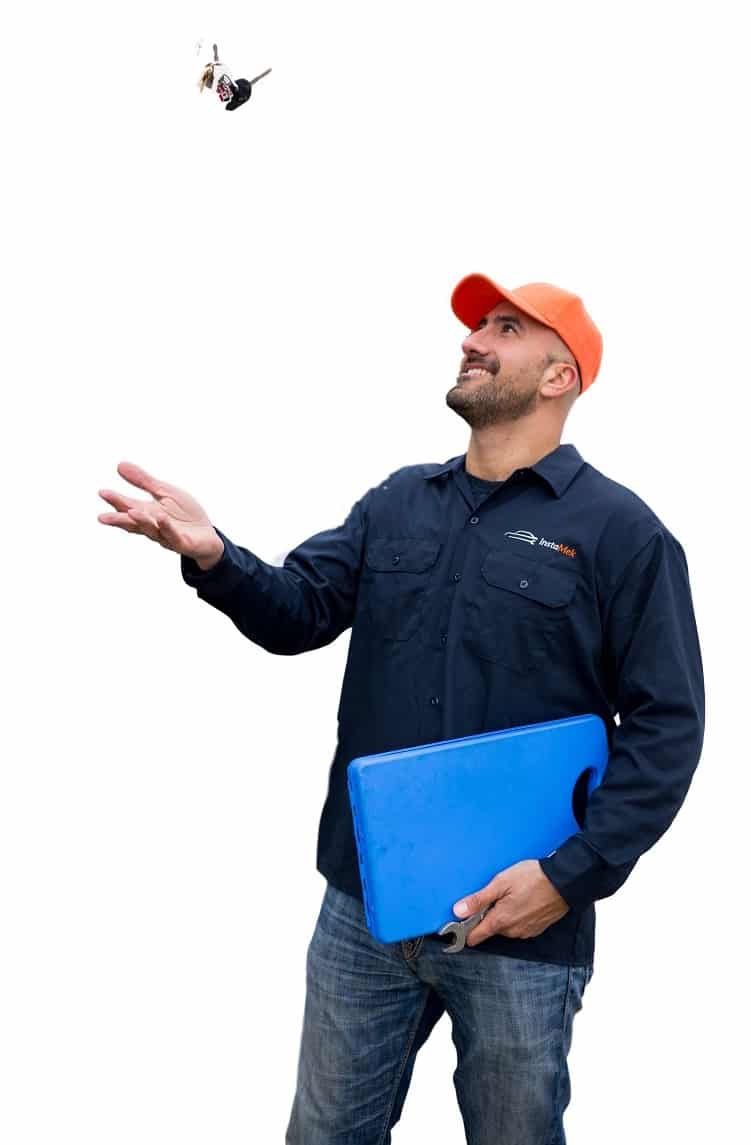 Serving The Greater Vancouver Area
500 West 10th Avenue Vancouver, BC V5Z 4P1
Hours of Operation and Contact Information
| Our Mechanics are available from: |   |
| --- | --- |
| Monday | 8AM–6PM |
| Tuesday | 8AM–6PM |
| Wednesday | 8AM–6PM |
| Thursday | 8AM–6PM |
| Friday | 8AM–6PM |
| Saturday | 8AM–6PM |
Phone support hours are typically 7 am to 5 pm Monday to Saturday.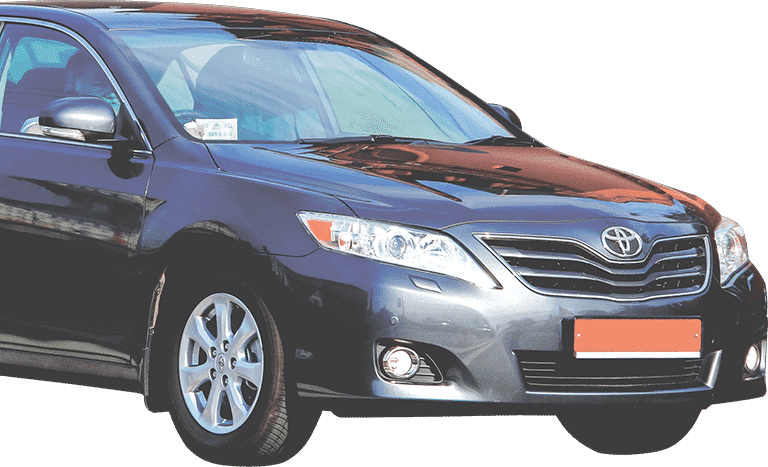 Getting a professional used car inspection is quick & hassle-free
Book in minutes
We schedule an inspection directly with the seller
Fully certified & insured mechanics

We go to wherever the car is – in a driveway, garage or parking lot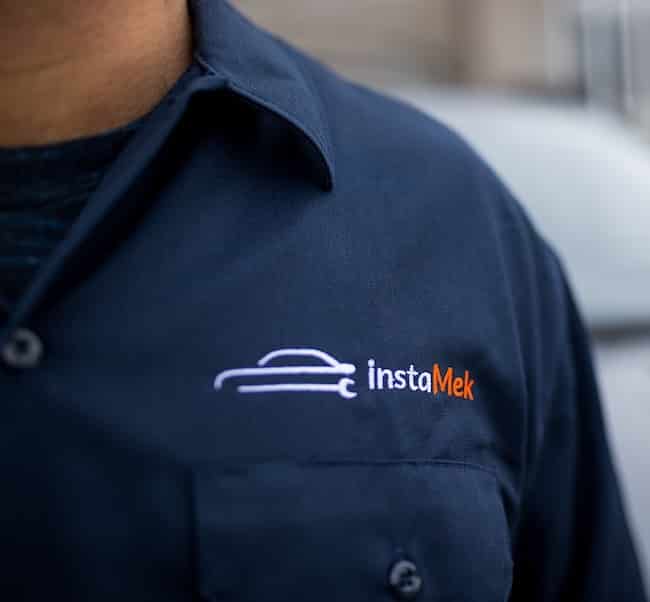 Our Commitment to You
At instaMek we want to change the way you service your car – having our mechanics come to you and providing you with amazing customer service.
Our pricing will always be fair but never at the expense of your experience. Our talented mechanics will take utmost care of your vehicle and your property. We will back our work with the best warranty and after service care in the industry.
Our foundation is based on trust so we can turn every one that uses us into a life long customer. We are transparent and will explain all the technical stuff to you so you know exactly what's going on.
Call (604) 330-0424 and experience the instaMek way.
WE'RE OPEN 7 A.M. – 5 P.M. EVERY DAY
Call Us For Your Vehicle Inspection
(604) 330-0424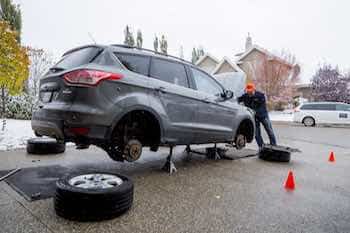 Other Automotive Services
Timing Belt & Water Pump
Fuel Pump Replacement
Power Steering Repair
Cooling System Repair
CV Joints & Axles
Engine Flush
Coolant Flush
Fuel System Flush
Please note that there are certain services we only perform if we diagnose the issue.
Average rating:
2 reviews
Jun 25, 2018
Got an inspection done by Mo and it was super easy to deal with. Mo is very personable and did a great job of going through the vehicle with a fine tooth comb. Highly recommended!
Jun 25, 2018
I'm so happy I found instamek because they did an inspection for me and saved me so much. The seller said the car was in great shape with no issues but Jack came by and found out it needed a new transmission and the all the suspension parts were completely rusted out. That's what you get for trying to buy a car from Ontario but it did save me from buying a nightmare!