Water Pump Replacement at your home
Our certified mechanics come to you · Backed by 12-month / 20,000 km gold standard warranty program.
8AM - 6PM Monday to Saturday
Water Pump Replacement Service
How much does a Water Pump Replacement cost?
It depends on the type of car you drive and the auto repair shop you go to. Our mechanics are mobile, which means they don't have the overhead that repair shops have. They provide you convenience by coming to your home or office.
Fast and easy service at your home
Backed by 12-month, 20,000-km guarantee
How does a water pump work?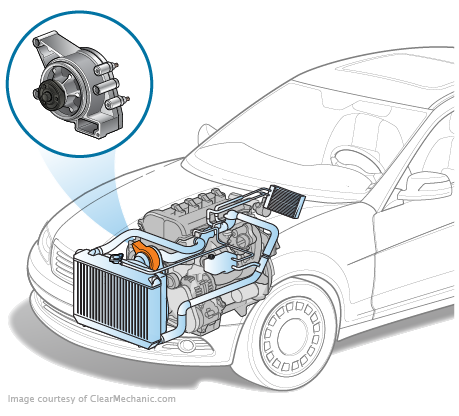 The water pump is the belt or chain-driven engine accessory that is bolted to the engine above the crankshaft pulley. Engine coolant is circulated by the pump through the cooling system passageways. They pump's impeller moves coolant through the engine block and cylinder head on to the radiator, where the temperature of the coolant is lowered. The cooled-down coolant then circulates back to the water inlet on the engine and the water pump restarts the cycle.
Signs it's time to replace your water pump
<
Coolant is leaking or overheating. A bearing sustains the water pump impeller shaft. At some point, the bearing can wear and leak or damage the impeller. Numerous water pumps have weep openings near the pump bearing. Note that it is time to change the pump if you see a considerable amount of leak from that weep opening.
Bearing roughness or noise. If the water pump shaft does not rotate smoothly or the pump is loud, the bearing is excessively worn. Pump replacement will certainly be needed.
Timing belt replacement. It is advised to change the water pump at the same time as you change the timing belt since the two are connected. Both the water pump and the timing belt need to be removed during a routinely scheduled timing belt replacement, so it makes sense and will be more cost-effective to change the water pump at the same time.
The water pump is typically bolted to the front of the engine. The replacement process will differ depending on whether the pump is driven by the timing belt, the serpentine belt, or chain.
On a cold engine, the engine coolant is drained to a level below the water pump.
Parts that block access the water pump are removed, including the belt or chain that directly drive the pump.
The bolts holding the pump to the engine are removed, and the pump is taken out.
The gasket surface area should be cleaned and the pump installing surface should also be checked. A brand-new gasket, rubber seal, or RTV sealant, as required, is set up along with the brand-new pump. The bolts are torqued in series using an adjusted inch pound torque wrench.
For applications where the timing belt drives the water pump, the timing belt should be removed. Usually, this requires removing the crankshaft wheel, timing belt covers, and timing belt tensioner. As soon as the brand-new pump is set up, brand-new coolant is added back while bleeding the cooling system of any air. The engine is then run and brought to regular operating temperature level to look for leakages and guarantee typical operating temperature level.
Keep in mind when replacing your water pump
It is best to install a brand-new cooling system thermostat when you set up a new water pump, especially if the thermostat is older.
Entirely flushing the cooling system is a great idea when you change the water pump. Flushing can be done before or after pump replacement.
The remainder of the cooling system must be examined too--especially rubber hose pipes, which tend to have a lower lifespan.
Can you safely drive with a water pump problem?
No. If the water pump only has a small leak, you can still drive the vehicle. However, a little leak might all of a sudden expand, or the pump bearing might suddenly seize. Either scenario would likely trigger the engine to overheat. If a malfunctioning water pump triggers the overheating, your car will be unsafe to drive.
Water Pump Replacement Reviews

Wayne St John
15:43 22 Jan 21
I was looking at a vehicle to purchase and had Grant from instaMek come out to do an inspection on it before making my final decision. Grant provided an amazing amount of information and noted so many items in his report that I had overlooked, everything from a small leak in the rear differential right down to a broken screw holding the license plate on.This was an easy and extremely

...

professional service to arrange and was absolutely worth every penny.

read more

Brandon Mordy
22:22 26 May 20
Jack (the Instamek mechanic) called me back when I requested after viewing the inspection report. He provided some really great information and answered the questions that I had. I'd like to thank him for his thorough and in depth inspection as this has helped me understand the condition of the minivan in question. He was also very cordial and easy to speak with. I give him 5 stars. Thank you

...

Instamek for all your help with my pre-purchase inspection.On another note, I noticed that a few Google reviews are negative. I would advise that it is likely that a lot of those reviews were for older cars that might not be in good condition. What you have to remember is that they are primarily an inspection service. They are trying to demonstrate the current condition of the vehicle. If they were to miss something, that might expose the buyer to unforeseen repair expenses. So, of course they are going to proceed on the side of caution by listing everything they can see and test. And, they cannot look inside the engine either. So, some items might need to further diagnosed by a physical repair shop or monitored for follow-up later. They are not able to do an exhaustive review given their fee of approximately $200, their limited time associated with that fee, and being mobile with limited equipment. I do not think it is reasonable to expect them, or any other auto inspection service, to ascertain the location of an oil leak either. A lot more time would be needed to diagnosis this. It is even difficult for a physical shop to determine the exact location of an oil leak. Sometimes, it is easy to determine while other times it is difficult if there is a lot of oil caked on an engine. Sometimes an engine will have be cleaned and then monitor where a leak occurs over a certain duration. So I think that a lot of the negative comments are not justified nor are they reasonable. I just thought that I would share my opinion and perspective for future users of the inspection service.

read more

I used instaMek for the purpose of a pre-purchase inspection on a used vehicle.Pros: they were so convenient. I work through the day however they were able to coordinate a time with the seller to inspect the car and provide a report to me within the same day. I was also told by the seller that the mechanic who came by was very easy to deal with and did a thorough inspection.Con: as it is a

...

mobile service they cannot do the most in depth inspection for instance my car had an oil leak but they were unable to fully diagnose where it was coming from.Overall they were very comvenient and also great customer service.

read more

arvind dhanabalan
23:27 25 Jul 18
Booked a pre purchase inspection ... Got the report they said everrhing was good..2 days later i get the check engine light... can't believe they didn't report the P0456 - Evaporative Emissiom System - Small leak ..which I found using my bluetooth obd tool, not sure how they didn't check for codes during the inspection. Not a happy customer.Edit :They gave me a call and have offered to

...

diagnose the issue if the check engine light came back. Definitely great customer service.

read more

Murphy Brown
02:38 01 May 16
This was AMAZING service.It was a very fair price.We bought a used truck and experienced an oil leak. It was scary.Hany came out the same day we called. On a Saturday! (Which did not cost extra).He inspected everything for us. He ran diagnostics. He put us at ease about our purchase.Next time I buy a used vehicle, I'll definitely call Hany to check it out ahead of time.He was professional,

...

knowledgeable, friendly, and a pleasure to work with. I feel that he went above what was necessary and really provided superior customer service.I'll be using them for all my regular service.

read more

Laurie Bell
20:08 26 Apr 16
Great service! I had 2 quotes from other garages. 1 said I needed a water pump and the other said I needed a new radiator. Both quotes were for $750. Instamek charged me $90 and told me I needed a $28 radiator cap. I've used them 3 times and will recommend them to anyone. Convenient, knowledgable staff, and way cheaper than any garage in town. Also available evenings and Sundays.

"The company responds within an hour and dispatches a mechanic shortly after with all the tools and parts required to repair the vehicle onsite."
-GLOBE AND MAIL

"taking a unique approach to vehicle repairs in the same way 'Uber' changed the taxi industry"
-CTV NEWS

"InstaMek is an on-demand service that allows vehicle owners to request and schedule a meeting with a fully certified mobile mechanic."
-CBC NEWS
Cadillac Water Pump Replacement
Porsche Water Pump Replacement
Saturn Water Pump Replacement
Mercury Water Pump Replacement
Jaguar Water Pump Replacement
Volvo Water Pump Replacement
Chrysler Water Pump Replacement
Jeep Water Pump Replacement
Suzuki Water Pump Replacement
Hyundai Water Pump Replacement
Acura Water Pump Replacement
Isuzu Water Pump Replacement
Scion Water Pump Replacement
Mitsubishi Water Pump Replacement
Engine Inspection
Engine Tune Up
Car Battery Service
Starter Motor Rebuild
Drive Belt Replacement
Drive Belt Repair
Power Steering Pump Repair
Alternator Replacement
We are open from 8am - 6pm Monday to Saturday