Valve Cover Gasket Leaking? Get an inspection at your home
Our certified mechanics come to you · Backed by 12-month / 20,000 km gold standard warranty program.
8AM - 6PM Monday to Saturday
Valve Cover Gasket Leak Inspection Reviews

Recently needed an on-site alternator replacement and InstaMek was there for me. Jack, the mechanic, was incredibly helpful, prompt and did a great job on the car. Would definitely recommend. Thank you again InstaMek!

I needed a pre-purchase vehicle inspection done really quick -- seller really wanted to get the car off his hands, and I wanted the car. So I called Instamek and they did a same-day inspection for me. I was surprised at how detailed the report was and how many things they actually looked at.Thank you for the great service.

Muhammad Iqbal
04:56 07 Nov 19
Had a great experience with instaMek - they changed my brakes at my house after doing an inspection for me. It was easy and the mechanic was nice

Brett Bannon
19:53 22 Oct 19
Mo is a great technician. He came hastily, got a good price for our company and did an alternator very quickly! 10/10 would recommend!

Sarah Burwood
22:05 15 Sep 19
The service was prompt and professional and the diagnosis and repair very fast and well organised. Mohammed did a great job with next day phone follow up - thanks a lot.

Justin Alm
23:54 25 Aug 19
Mohamed (Moe) worked on our car. We had another issue the day after he replaced some gaskets in our engine. He made the drive from Port Coquitlam to Vancouver on his day off to help get our car running again. He was very kind, transparent, and professional throughout the process.

Geo Cornelsen
22:43 02 Aug 19
When the company advertises experienced certified mechanics they are not overstating. Mohamed and his professional point by point diagnosis and demonstration of knowledge fully supports the company's assertions. Great Company and great Mechanic👍
Valve Cover Gasket Leak Inspection
Are you seeing oil leaking from the top of your engine? Or are you smelling burning oil? The most likely cause is damage to the valve cover gasket. The first thing you should do is check your oil as you may have been losing oil for a while and it is never good to drive the vehicle if it is low on oil.
How much does a valve cover gasket leak inspection cost?
This is something that greatly varies on the type of vehicle. Most of the price originates from the labor involved for the job with parts typically ranging from $50 to $120. The job itself usually ranges between 1 hour to 3 to 4 hours depending on the vehicle.
Fast and easy service at your home
Backed by 12-month, 20,000-km guarantee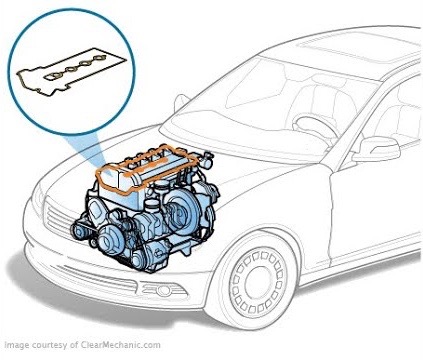 Commonly, the engine valve cover is the top most part of an engine and is labeled with either the name of the manufacturer or the size of the engine. A valve cover gasket is put in place because the metal of the valve cover does not seal tightly enough against the metal of the top of the engine. The cork material or rubber of the valve cover gasket safeguards a good seal, and helps stop oil from spilling out of the top of the engine.
Valve cover gaskets unusually last the life of a vehicle and must be monitored at the time of every service. For vehicles with four-cylinder engines, checking for oil around the valve cover is especially important because of an increased chance that oil could leak into spark plug tubes, causing misfires.
Oil leaks can cause damage to any engine and must immediately be dealt with.
Common causes of valve cover gasket leaks
Blown Valve Cover Gaskets: The tremendous heat an engine produces can result in valve cover gaskets to become brittle and break down over time.
Damaged Valve Covers: A mechanic must also inspect your valve cover(s) to make sure they are still intact when replacing your valve cover gasket. Damage to a valve cover could also result to an oil leak.
What to expect during a valve cover gasket leak service
A certified mechanic will come to your home or office to pinpoint the cause of the oil leak and confirm that the valve cover gasket requires replacement. The mechanic will then run a detailed inspection report outlining the cause of the leak and the cost of any repairs that need to be made.
A mechanic will perform a in-depth examination of the engine bay and determine the source of the leak. The mechanic will remove the valve cover and gasket if the source seems to be coming from the valve cover gasket. Different engines require different gaskets. Our mechanics will make sure they find the one that matches your vehicle exactly. A poorly-fitting gasket will not be able to do its job as effectively. After installing the new gasket, the mechanic will inspect the valve cover to ensure it is fully intact. If not, the mechanic will replace the valve cover and check the engine oil level. Your vehicle might be low on oil if your engine sprung oil leak due to a damaged valve cover. Our mechanics will make sure your oil is topped-off before they leave. The mechanic should then start the engine and inspect the valve cover gasket again to make sure it was installed properly and is not leaking.
How important is this service?
While a small oil spill may not seem like a major issue, it can lead to both potentially costly and potentially dangerous repairs. A practical approach in maintaining the life of an engine must include a check for oil around the valve cover. A mechanic can make the essential repairs and avoid more significant engine issues if oil leaks are found early. Oil leaks of any kind should be taken seriously and should be reported to a mechanic.

"The company responds within an hour and dispatches a mechanic shortly after with all the tools and parts required to repair the vehicle onsite."
-GLOBE AND MAIL

"taking a unique approach to vehicle repairs in the same way 'Uber' changed the taxi industry"
-CTV NEWS

"InstaMek is an on-demand service that allows vehicle owners to request and schedule a meeting with a fully certified mobile mechanic."
-CBC NEWS
Chevrolet Valve Cover Gasket Leak
Smart Valve Cover Gasket Leak
Toyota Valve Cover Gasket Leak
Mazda Valve Cover Gasket Leak
Mini Valve Cover Gasket Leak
Cadillac Valve Cover Gasket Leak
Porsche Valve Cover Gasket Leak
Saturn Valve Cover Gasket Leak
Mercury Valve Cover Gasket Leak
Jaguar Valve Cover Gasket Leak
Volvo Valve Cover Gasket Leak
Chrysler Valve Cover Gasket Leak
Jeep Valve Cover Gasket Leak
Suzuki Valve Cover Gasket Leak
Timing Belt Replacement
Water Pump Replacement
Engine Ticking
Engine Knocking Sound
Car Making Clicking Noise When Driving
Steering Wheel Vibration
Car Shaking
Cv Axle Repair
We are open from 8am - 6pm Monday to Saturday