Radiator Repair at your home
Our certified mechanics come to you · Backed by 12-month / 20,000 km gold standard warranty program.
8AM - 6PM Monday to Saturday
How much does a radiator repair cost?
It depends on the type of car you drive and the auto repair shop you go to. Our mechanics are mobile, which means they don't have the overhead that repair shops have. They provide you convenience by coming to your home or office.
Fast and easy service at your home
Backed by 12-month, 20,000-km guarantee
What does the Car Radiator do?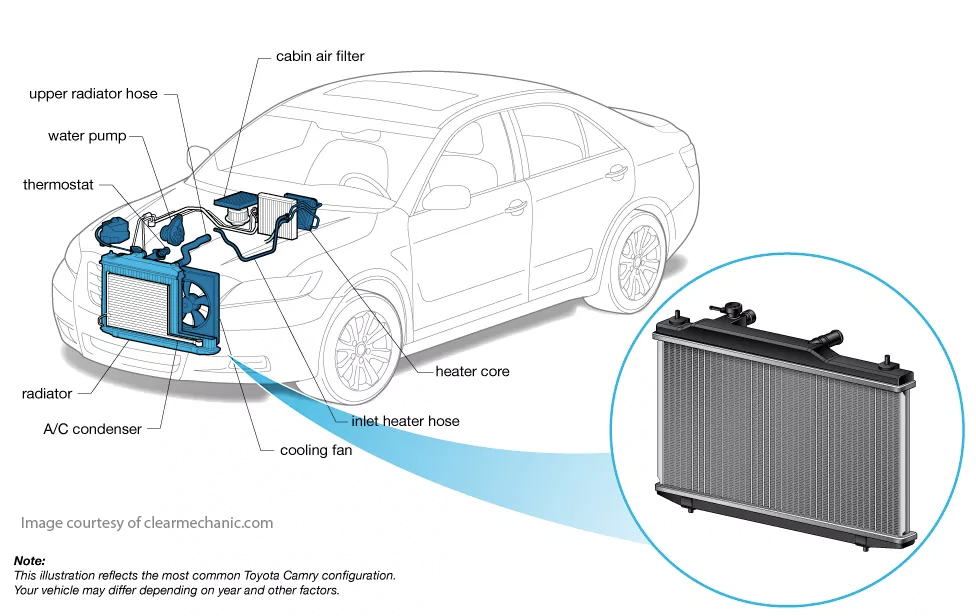 The car radiator performs a critical function: it keeps the engine from overheating. The engine generate heat while running. The extra heat from the engine is removed and absorbed by the coolant flowing through the system. The coolant then goes through the radiator where it cools off and is later circulated back to the engine to absorb heat again.
The aluminum or brass tubes connect the radiator and it has two tanks. The radiator cooling fan blows wind across the radiator to lower the temperature of the coolant, when the coolant goes through these tubes. It is common for it to crack and start leaking coolant because the tank is usually made of plastic. If the tank or the tubes crack, coolant will leak, the automobile will overheat and could cause critical engine damage. Over time, radiators can also clog. This occurs when not enough coolant flows through the radiator leading to heat build-up, causing the engine to overheat.
Signs you need radiator repair?
Overheating car.
Leaking coolant (red, yellow, green fluid)
Temperature warning light is illuminated on dashboard
How is Radiator Repair done:
Examine radiator for leaks.
Pressure test cooling system.
Take out and replace the radiator.
Fill radiator with proper mixture of 50/50 coolant.
Double check for leaks.
Changing the coolant every 40,000-65,000 km is a good practice. Follow the service scheduled maintenace provided by the manufacturer to get the coolant replaced at regular intervals. Replacing the coolant will ensure it is free of contaminants such as corrode or scale that can choke it from flowing through the radiator and engine.
It is inevitable that the tanks in the radiator will eventually crack given the high engine temperatures. When the radiator is replaced, the thermostat and any necessary radiator hoses should also be replaced, and the system should be cleaned out of all old coolant to remove any impurity.
How important is this service?
The overheating of the engine can potentially lead to critical internal engine damage if a defective radiator is not replaced.

Brandon Mordy
22:22 26 May 20
Jack (the Instamek mechanic) called me back when I requested after viewing the inspection report. He provided some really great information and answered the questions that I had. I'd like to thank him for his thorough and in depth inspection as this has helped me understand the condition of the minivan in question. He was also very cordial and easy to speak with. I give him 5 stars. Thank you

...

Instamek for all your help with my pre-purchase inspection.On another note, I noticed that a few Google reviews are negative. I would advise that it is likely that a lot of those reviews were for older cars that might not be in good condition. What you have to remember is that they are primarily an inspection service. They are trying to demonstrate the current condition of the vehicle. If they were to miss something, that might expose the buyer to unforeseen repair expenses. So, of course they are going to proceed on the side of caution by listing everything they can see and test. And, they cannot look inside the engine either. So, some items might need to further diagnosed by a physical repair shop or monitored for follow-up later. They are not able to do an exhaustive review given their fee of approximately $200, their limited time associated with that fee, and being mobile with limited equipment. I do not think it is reasonable to expect them, or any other auto inspection service, to ascertain the location of an oil leak either. A lot more time would be needed to diagnosis this. It is even difficult for a physical shop to determine the exact location of an oil leak. Sometimes, it is easy to determine while other times it is difficult if there is a lot of oil caked on an engine. Sometimes an engine will have be cleaned and then monitor where a leak occurs over a certain duration. So I think that a lot of the negative comments are not justified nor are they reasonable. I just thought that I would share my opinion and perspective for future users of the inspection service.

read more

Mary Maxine
23:26 23 May 20
Mohammad just came by to do a post - pre-purchase (we already bought it, but needed it looked over.) Mohammad was friendly, he was smiling, kept us on our toes with some jokes, and we got to see a picture of his dog wearing the Insta-Mek hat. Thanks for your help Mohammad! You're great :)

Daniel Kavanagh
01:44 23 May 20
Battery died and had no way of getting it to a shop to get replaced. These guys came to my house within 5 hours of calling and did a diagnostic to make sure it was actually the battery . The tech showed me what the problem was and explained it to me in terms I could understand . When he told me the battery had to be replaced and didn't even mention that they sell them. I asked if he could do it

...

and he said yes - Gave me a great price and had it running within an hour of arriving . He also did a 30 point Inspection. These guys are professional, friendly and do it all. Will be my go-to for Mobil mechanic needs.

read more

Sam Merson
08:17 19 Mar 20
I had a great experience getting a pre-purchase inspection for the vehicle I was looking into buying. It was easy to book an appointment, and the car was inspected and reported on thoroughly. I got my report within an hour of the inspection, and was able to contact and communicate with someone working at instaMek quickly to answer a questions I had.All in all, it was an awesome experience and

...

I'll definitely use their services in the future.

read more

Jordan Russell
19:22 09 Mar 20
Admittedly, I don't know much about cars and I also don't have much to compare to. These guys tried fixing my car but when the problem persisted they came back the next day very quickly and fixed it permanently without charging for the second fees, so that's great customer service and makes me trust them. Plus, super convenient and friendly on the phone!

Shauna Carothers
00:53 26 Feb 20
So happy we discovered this company! I was scared to drive my car to the shop after hearing weird noises and within 2 days they ran the diagnostic and replaced by rotors and brake pads. And since they don't have the overhead of a normal shop it came out to way less than we feared! Signed up for their membership program which is a great deal too. Thanks again Jack and Instamek, I'll be

...

recommending you to everyone!!

read more

Very thorough inspection of my vehicle! The mechanic was great.

"The company responds within an hour and dispatches a mechanic shortly after with all the tools and parts required to repair the vehicle onsite."
-GLOBE AND MAIL

"taking a unique approach to vehicle repairs in the same way 'Uber' changed the taxi industry"
-CTV NEWS

"InstaMek is an on-demand service that allows vehicle owners to request and schedule a meeting with a fully certified mobile mechanic."
-CBC NEWS
Honda Brake Check
Ford Brake Check
Toyota Brake Check
Nissan Brake Check
Chevrolet Brake Check
Dodge Brake Check
Jeep Brake Check
Volkwagen Brake Check
Chrystler Brake Check
GMC Brake Check
Hyundai Brake Check
Mazda Brake Check
Pontiac Brake Check
Subaru Brake Check
We are open from 8am - 6pm Monday to Saturday