Radiator Repair at your home
Our certified mechanics come to you · Backed by 12-month / 20,000 km gold standard warranty program.
8AM - 6PM Monday to Saturday
How much does a radiator repair cost?
It depends on the type of car you drive and the auto repair shop you go to. Our mechanics are mobile, which means they don't have the overhead that repair shops have. They provide you convenience by coming to your home or office.
Fast and easy service at your home
Backed by 12-month, 20,000-km guarantee
What does the Car Radiator do?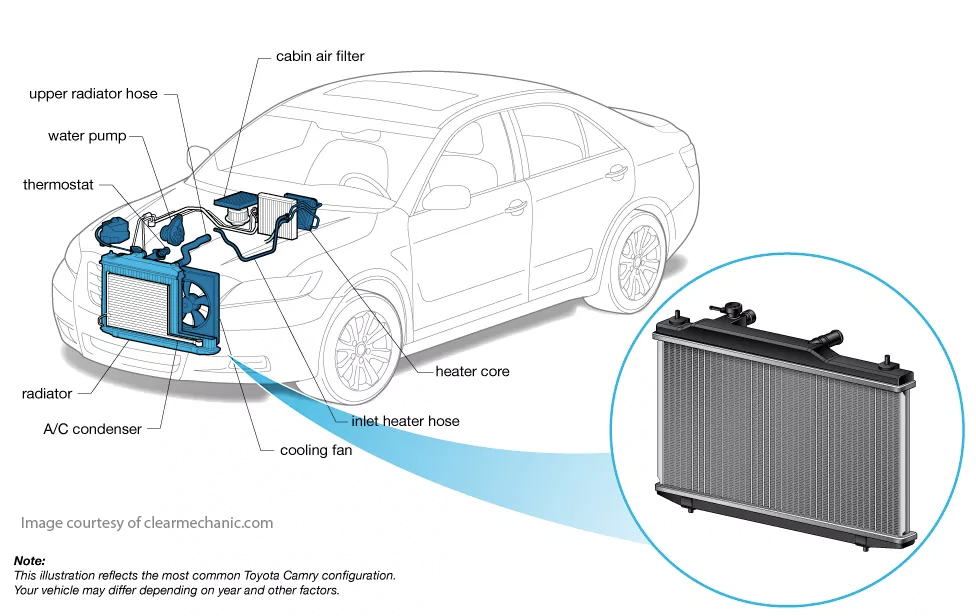 The car radiator performs a critical function: it keeps the engine from overheating. The engine generate heat while running. The extra heat from the engine is removed and absorbed by the coolant flowing through the system. The coolant then goes through the radiator where it cools off and is later circulated back to the engine to absorb heat again.
The aluminum or brass tubes connect the radiator and it has two tanks. The radiator cooling fan blows wind across the radiator to lower the temperature of the coolant, when the coolant goes through these tubes. It is common for it to crack and start leaking coolant because the tank is usually made of plastic. If the tank or the tubes crack, coolant will leak, the automobile will overheat and could cause critical engine damage. Over time, radiators can also clog. This occurs when not enough coolant flows through the radiator leading to heat build-up, causing the engine to overheat.
Signs you need radiator repair?
Overheating car.
Leaking coolant (red, yellow, green fluid)
Temperature warning light is illuminated on dashboard
How is Radiator Repair done:
Examine radiator for leaks.
Pressure test cooling system.
Take out and replace the radiator.
Fill radiator with proper mixture of 50/50 coolant.
Double check for leaks.
Changing the coolant every 40,000-65,000 km is a good practice. Follow the service scheduled maintenace provided by the manufacturer to get the coolant replaced at regular intervals. Replacing the coolant will ensure it is free of contaminants such as corrode or scale that can choke it from flowing through the radiator and engine.
It is inevitable that the tanks in the radiator will eventually crack given the high engine temperatures. When the radiator is replaced, the thermostat and any necessary radiator hoses should also be replaced, and the system should be cleaned out of all old coolant to remove any impurity.
How important is this service?
The overheating of the engine can potentially lead to critical internal engine damage if a defective radiator is not replaced.

"The company responds within an hour and dispatches a mechanic shortly after with all the tools and parts required to repair the vehicle onsite."
-GLOBE AND MAIL

"taking a unique approach to vehicle repairs in the same way 'Uber' changed the taxi industry"
-CTV NEWS

"InstaMek is an on-demand service that allows vehicle owners to request and schedule a meeting with a fully certified mobile mechanic."
-CBC NEWS
Honda Brake Check
Ford Brake Check
Toyota Brake Check
Nissan Brake Check
Chevrolet Brake Check
Dodge Brake Check
Jeep Brake Check
Volkwagen Brake Check
Chrystler Brake Check
GMC Brake Check
Hyundai Brake Check
Mazda Brake Check
Pontiac Brake Check
Subaru Brake Check
We are open from 8am - 6pm Monday to Saturday