Radiator Repair at your home
Our certified mechanics come to you · Backed by 12-month / 20,000 km gold standard warranty program.
8AM - 6PM Monday to Saturday
How much does a radiator repair cost?
It depends on the type of car you drive and the auto repair shop you go to. Our mechanics are mobile, which means they don't have the overhead that repair shops have. They provide you convenience by coming to your home or office.
Fast and easy service at your home
Backed by 12-month, 20,000-km guarantee
What does the Car Radiator do?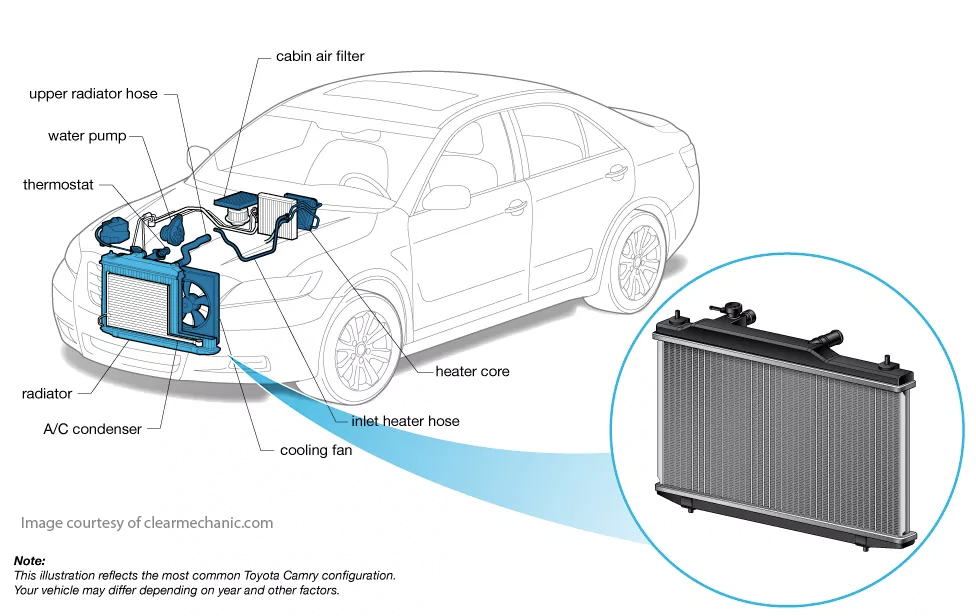 The car radiator performs a critical function: it keeps the engine from overheating. The engine generate heat while running. The extra heat from the engine is removed and absorbed by the coolant flowing through the system. The coolant then goes through the radiator where it cools off and is later circulated back to the engine to absorb heat again.
The aluminum or brass tubes connect the radiator and it has two tanks. The radiator cooling fan blows wind across the radiator to lower the temperature of the coolant, when the coolant goes through these tubes. It is common for it to crack and start leaking coolant because the tank is usually made of plastic. If the tank or the tubes crack, coolant will leak, the automobile will overheat and could cause critical engine damage. Over time, radiators can also clog. This occurs when not enough coolant flows through the radiator leading to heat build-up, causing the engine to overheat.
Signs you need radiator repair?
Overheating car.
Leaking coolant (red, yellow, green fluid)
Temperature warning light is illuminated on dashboard
How is Radiator Repair done:
Examine radiator for leaks.
Pressure test cooling system.
Take out and replace the radiator.
Fill radiator with proper mixture of 50/50 coolant.
Double check for leaks.
Changing the coolant every 40,000-65,000 km is a good practice. Follow the service scheduled maintenace provided by the manufacturer to get the coolant replaced at regular intervals. Replacing the coolant will ensure it is free of contaminants such as corrode or scale that can choke it from flowing through the radiator and engine.
It is inevitable that the tanks in the radiator will eventually crack given the high engine temperatures. When the radiator is replaced, the thermostat and any necessary radiator hoses should also be replaced, and the system should be cleaned out of all old coolant to remove any impurity.
How important is this service?
The overheating of the engine can potentially lead to critical internal engine damage if a defective radiator is not replaced.

Angela Matheson
05:03 24 Sep 20
Jack at InstaMek literally saved me thousands of dollars. I was all ready to buy a used vehicle from a private seller as the vehicle looked and drove great However, I could see a few minor things that made me concerned that there may be bigger underlying issues. I decided it best to have an inspection before completing the sale. As there was a second buyer with cash in hand, I needed a same-day

...

inspection. I contacted InstaMek to see if I could get an inspection ASAP, and they sent a technician out within a couple of hours. That alone was pretty amazing customer service. Jack did a thorough inspection and showed me the photos of his areas of concern...and there were many! Although,I was sad to have spent $200 for an inspection only to walk away without the vehicle I wanted, it was money well spent as the repairs would have cost me a minimum of $3-4000. Whew! On a side note, their reporting system was having technical difficulties, so I had to wait longer than expected to get the full inspection report. However, Jack called me personally (after hours) to discuss his main concerns with me, as he knew I was anxious to make a decision on buying the vehicle. Really great customer service 👍

read more

Had a great experience with their services. Mohamed was very professional and quickly help identify my car's issue and get that me back on the road very quickly.

Gordon Kerr
03:01 05 Sep 20
Very friendly great service Mohammed was great respectful comes prepared and knows the trade well glad to have called them.

Called these guys for a pre purchase inspection as I was unsure about a car and wanted another set of eyes to check it over. They were able to fit me in a couple of hours later and I received a text message when the mechanic was on the way.The mechanic assigned (Waheed) was friendly, extremely thorough and found several faults that I wouldn't have found in a month of Sundays. He was able to

...

explain the faults to me on the spot and followed up with a report including photos a couple of hours later. Overall a reasonable cost for a great service which probably saved me thousands in repairs. Really impressed and will definitely use them again.

read more

I received a great car inspection from Glenn at Instamek. He was informative, professional and had a positive uplifting attitude. Highly recommended!

Geri Kikot
22:00 28 Aug 20
I had a great experience with instaMek. Great support staff and Mohamed was the mechanic assigned and he was courteous, friendly, knowledgeable and professional. Also the turnaround time was great. I would recommend using them to anyone.

Really good service and a great guy. Super happy with the service and was very clear and precise with his report. Keep up the great work!

"The company responds within an hour and dispatches a mechanic shortly after with all the tools and parts required to repair the vehicle onsite."
-GLOBE AND MAIL

"taking a unique approach to vehicle repairs in the same way 'Uber' changed the taxi industry"
-CTV NEWS

"InstaMek is an on-demand service that allows vehicle owners to request and schedule a meeting with a fully certified mobile mechanic."
-CBC NEWS
Honda Brake Check
Ford Brake Check
Toyota Brake Check
Nissan Brake Check
Chevrolet Brake Check
Dodge Brake Check
Jeep Brake Check
Volkwagen Brake Check
Chrystler Brake Check
GMC Brake Check
Hyundai Brake Check
Mazda Brake Check
Pontiac Brake Check
Subaru Brake Check
We are open from 8am - 6pm Monday to Saturday