CV Axle Repair at your home
Our certified mechanics come to you · Backed by 12-month / 20,000 km gold standard warranty program.
8AM - 6PM Monday to Saturday
How much does a CV Axle Repair cost?
It depends on the type of car you drive and the auto repair shop you go to. Our mechanics are mobile, which means they don't have the overhead that repair shops have. They provide you convenience by coming to your home or office.
Fast and easy service at your home
Backed by 12-month, 20,000-km guarantee
What are CV Axles and how do they work?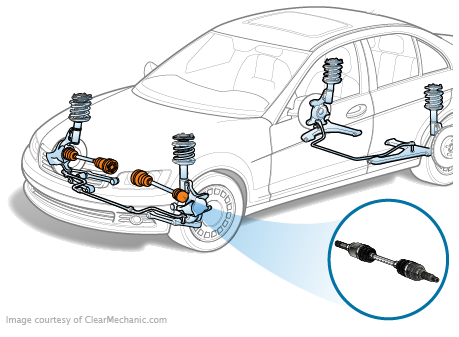 All front wheel drive and all wheel drive cars use CV axles. "CV" stands for constant velocity. Your engine and transmission are mounted to the body of the car such that they don't move up and down with the suspension. The suspension and wheels, on the other hand, do move up and down to absorb bumps. The CV axle is a shaft that has two constant velocity joints at each end. One end comes out of the transmission and the other end mounts in the wheel hub. The two joints let the axle continue to spin as the suspension moves up and down and while you steer the car. A front wheel drive car will have a CV axle on both the passenger side and the driver's side. An all wheel drive car will an additional two in the rear of the car. Each CV joint is covered by a boot that looks like a rubber accordion. It's function is to hold the grease in and keep dirt and water out. Mileage, road conditions, and normal wear and tear can cause these boots to rip. When they rip, the grease leaks out and dirt and water get into the CV joint, causing it to wear out. This wearing out of the CV joint often creates a clicking noise in the front of the car while turning.
When should you replace your CV axles?
There is prescribed time to change CV axles. Overtime, they simply break, and unless you get your car regularly examined by a mechanic, you might not know that you car had torn boots which will lead to your CV axles getting damaged.
You hear a clicking noise when turning that comes from the front of the vehicle.
You see heavy black axle grease within your wheel or on the ground around your vehicle.
Your vehicle vibrates at high speed.
How are CV axles replaced?
The car mechanic will:
Confirm that the axle shaft requires to be changed.
Remove the wheel and also change the damaged axle.
Torque all fasteners and wheels to factory specifications.
Refill any lost transmission fluid
Inspect tire pressure.
Do a road test.
Things to keep in mind when replacing CV axles:
Your vehicle has several axle shafts, however in many cases, just one will certainly require to be changed.
Even if the CV joints or boots are the only part of the axle to stop working, it is commonly suggested to change the whole axle.
CV axles in climates that have snow and also use roadway salt can take to the vehicle's wheel bearing hub or labor to change the CV axle.
Is it safe to drive with a worn out CV axle?
For a brief duration, yes. Nonetheless, with time, there is a risk of having the CV break, leaving you stranded. The CV axle is the only point sending power from your engine and transmission to the wheels.

Brett Farquharson
19:32 01 Dec 20
I was very impressed with my first experience using instaMek today, my mechanic Grant was very friendly, efficient, and someone you could trust. Such a great business model when a mechanic can come to you to fix your car.

Kenny Pierre
21:52 26 Nov 20
Grant was the mechanic that came to check on my car. He was on time, very professional, and one of the best customer service I have ever receive.

stan miller
04:33 26 Nov 20
Waheed the mechanic was very knowledgable and did an excellent "pre-purchase inspection"on the car. Found some issues with the car, and as a result we didn't buy the car. Very thankful

Michael Assefa
00:28 24 Nov 20
I got my car inspected by grant today, really good mechanic, lots of years of experiences, very friendly. I would definitely recommend

Adam Keller
06:06 22 Nov 20
Alexey was very friendly and provided great service. Clearly identified and explained the problem(s), including what needed to be addressed right away as a safety issue vs where & how I could save money. Listened to my needs and did everything he could to make sure they were met without pushing anything more.

Grant was very professional and friendly. He explained clearly what had been done and what still needs to be done. Great service always

Matthew Taylor
20:17 20 Nov 20
instaMek provides excellent service and we will continue to hire them. They are on time, friendly, and professional. Grant, the technician who worked on our car, was professional, took the time to explain what needed to be attended to, and was very helpful.

"The company responds within an hour and dispatches a mechanic shortly after with all the tools and parts required to repair the vehicle onsite."
-GLOBE AND MAIL

"taking a unique approach to vehicle repairs in the same way 'Uber' changed the taxi industry"
-CTV NEWS

"InstaMek is an on-demand service that allows vehicle owners to request and schedule a meeting with a fully certified mobile mechanic."
-CBC NEWS
Mercury Cv Axle Repair
Jaguar Cv Axle Repair
Volvo Cv Axle Repair
Chrysler Cv Axle Repair
Jeep Cv Axle Repair
Suzuki Cv Axle Repair
Hyundai Cv Axle Repair
Acura Cv Axle Repair
Isuzu Cv Axle Repair
Scion Cv Axle Repair
Mitsubishi Cv Axle Repair
Oldsmobile Cv Axle Repair
Infiniti Cv Axle Repair
Saab Cv Axle Repair
Cv Boot Replacement
Front Drive Shaft Replacement
Driveshaft Services
Engine Repair
Fuel Injection Service
Water Pump Replacement
Safety Inspection
Car Noises
We are open from 8am - 6pm Monday to Saturday