CV Axle Repair at your home
Our certified mechanics come to you · Backed by 12-month / 20,000 km gold standard warranty program.
8AM - 6PM Monday to Saturday
How much does a CV Axle Repair cost?
It depends on the type of car you drive and the auto repair shop you go to. Our mechanics are mobile, which means they don't have the overhead that repair shops have. They provide you convenience by coming to your home or office.
Fast and easy service at your home
Backed by 12-month, 20,000-km guarantee
What are CV Axles and how do they work?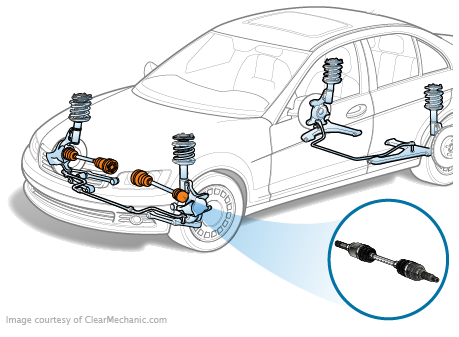 All front wheel drive and all wheel drive cars use CV axles. "CV" stands for constant velocity. Your engine and transmission are mounted to the body of the car such that they don't move up and down with the suspension. The suspension and wheels, on the other hand, do move up and down to absorb bumps. The CV axle is a shaft that has two constant velocity joints at each end. One end comes out of the transmission and the other end mounts in the wheel hub. The two joints let the axle continue to spin as the suspension moves up and down and while you steer the car. A front wheel drive car will have a CV axle on both the passenger side and the driver's side. An all wheel drive car will an additional two in the rear of the car. Each CV joint is covered by a boot that looks like a rubber accordion. It's function is to hold the grease in and keep dirt and water out. Mileage, road conditions, and normal wear and tear can cause these boots to rip. When they rip, the grease leaks out and dirt and water get into the CV joint, causing it to wear out. This wearing out of the CV joint often creates a clicking noise in the front of the car while turning.
When should you replace your CV axles?
There is prescribed time to change CV axles. Overtime, they simply break, and unless you get your car regularly examined by a mechanic, you might not know that you car had torn boots which will lead to your CV axles getting damaged.
You hear a clicking noise when turning that comes from the front of the vehicle.
You see heavy black axle grease within your wheel or on the ground around your vehicle.
Your vehicle vibrates at high speed.
How are CV axles replaced?
The car mechanic will:
Confirm that the axle shaft requires to be changed.
Remove the wheel and also change the damaged axle.
Torque all fasteners and wheels to factory specifications.
Refill any lost transmission fluid
Inspect tire pressure.
Do a road test.
Things to keep in mind when replacing CV axles:
Your vehicle has several axle shafts, however in many cases, just one will certainly require to be changed.
Even if the CV joints or boots are the only part of the axle to stop working, it is commonly suggested to change the whole axle.
CV axles in climates that have snow and also use roadway salt can take to the vehicle's wheel bearing hub or labor to change the CV axle.
Is it safe to drive with a worn out CV axle?
For a brief duration, yes. Nonetheless, with time, there is a risk of having the CV break, leaving you stranded. The CV axle is the only point sending power from your engine and transmission to the wheels.

Had a great experience with their services. Mohamed was very professional and quickly help identify my car's issue and get that me back on the road very quickly.

Doug Aason
22:24 22 Sep 20
I found Mohammad- from Instamek not just very thorough but very professional and knowledgeable about the whole inspection process. After the inspection he took the time to go through point by point on different Items all the different areas of the vehicle .... what it was he was looking at .... what the concerns for me might be and also what the potential cost would be to bring it up to standard

...

safety requirements.Needless to say it not only saved me the thousands of dollars it would've taken to purchase a vehicle but it saved an additional several thousand dollars in repairs that you couldn't see or feel from driving the vehicle but that he was able to detect and explain to me.I would recommend in instamek and Mohammad- to anyone who is seriously thinking about purchasing a car and protecting their investment. I want to thank the professionalism that the Instamek team had from answering my call and the promptness, courtesy and commitment Mohammad- had and ensuring that I knew everything I had to know to give me confidence in moving ahead with the purchase or not. The big shout out to the Instamek team.Thanks for everything,Doug

read more

Kevin Klingbeil
16:50 21 Sep 20
Very helpful. Mechanic arrived on time and answered any questions I had. He wore a mask the entire time. He was able to fix my seized park brake for less than I would have paid to tow the vehicle to another mechanic. He was very friendly and efficient. Results were above expectation. Thank you

Chris Gardiner
23:05 18 Sep 20
Waheed turned up early, explained what he was going to do and had the pre inspection done in the expected time. He then discussed the results with me and covered the points I had asked him to look at. All in all a very good experience

Ashley Bains
01:48 17 Sep 20
Waheed helped me with all of my car troubles over the past few days. He went above and beyond to make sure that I was satisfied with all of the repairs on my vehicle. He did a thorough job and explained all the processes to me to help me understand what was going on. My vehicle is notorious for being tricky to fix but he was able to make all of the necessary repairs for me. I'm an extremely happy

...

customer and will be using his services in the future.

read more

Brandon Barber
20:19 11 Sep 20
My mechanic Jack Lai arrived on time, was very professional and got the job done very quickly! Highly recommend.

Kirk Harrison
21:22 08 Sep 20
Jack the instamek mechanic they sent was awesome extremely though in diagnosing the problem. Friendly and professional. Definitely my go to mechanic for any future auto repairs. Thanks Jack

"The company responds within an hour and dispatches a mechanic shortly after with all the tools and parts required to repair the vehicle onsite."
-GLOBE AND MAIL

"taking a unique approach to vehicle repairs in the same way 'Uber' changed the taxi industry"
-CTV NEWS

"InstaMek is an on-demand service that allows vehicle owners to request and schedule a meeting with a fully certified mobile mechanic."
-CBC NEWS
Mercury Cv Axle Repair
Jaguar Cv Axle Repair
Volvo Cv Axle Repair
Chrysler Cv Axle Repair
Jeep Cv Axle Repair
Suzuki Cv Axle Repair
Hyundai Cv Axle Repair
Acura Cv Axle Repair
Isuzu Cv Axle Repair
Scion Cv Axle Repair
Mitsubishi Cv Axle Repair
Oldsmobile Cv Axle Repair
Infiniti Cv Axle Repair
Saab Cv Axle Repair
Cv Boot Replacement
Front Drive Shaft Replacement
Driveshaft Services
Engine Repair
Fuel Injection Service
Water Pump Replacement
Safety Inspection
Car Noises
We are open from 8am - 6pm Monday to Saturday