Coolant Leak Inspection at your home
Our certified mechanics come to you · Backed by 12-month / 20,000 km gold standard warranty program.
8AM - 6PM Monday to Saturday
Coolant Leak Inspection Service
How much does a coolant leak inspection cost?
It depends on the type of car you drive and the auto repair shop you go to. Our mechanics are mobile, which means they don't have the overhead that repair shops have. They provide you convenience by coming to your home or office.
Fast and easy service at your home
Backed by 12-month, 20,000-km guarantee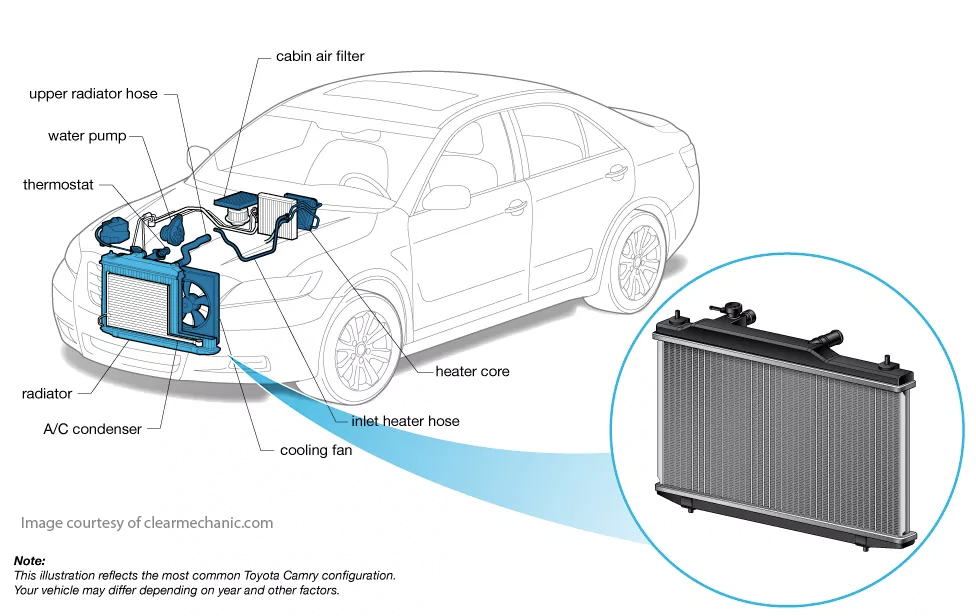 Coolant is likewise referred to as antifreeze. It is a radiant yellow or green fluid that blends with the water in varieties of vehicles to maintain the radiators from getting too cold or getting too hot. It is made from either propylene glycol or ethylene glycol. Antifreeze, as well as coolant, alters the freezing and boiling points of water.
Coolant elevates the boiling point of the liquid in the engine to avoid overheating.
What causes coolant leaks?
Perforated radiator tank or core. This is rather very easy to detect as there will certaintly be indications of leakage around the radiator.
Poor conditioned radiator hoses. The hoses attaching the radiator to the engine can also weaken as well as generate leakages from as small as a pinprick puncture to a full-on ruptured wall surface. Hoses normally end up being fragile and weak as they get old, making them susceptible to failure. If they are discovered as malfunctioning, hoses will certainly required to be changed.
Damaged water pump. Coolant can also break loose from the water-pump housing. Typically, the pump seals fall short adhering to the bearing of failing. This occurs mainly when the pump is running, so the mechanic will look for this with the engine operating. The pump will surely required to be changed if this is the source of the leakage.
Defective radiator cap. It is also feasible for the radiator cap to shed its capacity to keep its system pressure. This will enable the coolant to reach its boiling point at a reduced level of temperature than intended, as well as potentially permit vapor to get away, which presents dampness to the system.
What to expect during a Coolant Leak Inspection
A top-rated mobile mechanic will be introduce to your office or even to your home to establish the source as well as the root cause of the coolant leakage, and will supply a thorough evaluation report after that which will consist of the extent and expense of the needed fixings.
The mechanic will come to your office or home to detect the leakage as well as examine the whole air conditioning system. The technician will pressure test the system if required.
How important is this service?
When engines get too hot as a result of a failing cooling system, it can lead to disastrous engine damage. It is certainly important to have the automobile inspected immediately if you observe unusual level of temperature or even see liquids on the ground under the engine compartment of your vehicle. You can conserve a great deal of cash by solving issues as early as you can in connection with your air conditioning system.
Coolant Leak Inspection Reviews

Darleen Collins
19:50 16 Jan 19
I found Wrench Patrol on Google. Their website communicated their services well. The fact they are mobile is fantastic. I called them and the fellow was very pleasant and helpful. They also scheduled the appointment with the vehicle Owner (Seller) and I had the option of being present for the Inspection or not. Since the vehicle was at least 30 minutes away, I opted not to go but let the

Mechanic handle it. Very convenient for both Buyer and Seller. The Report arrived via email shortly after the inspection and was very easy to read and thorough. Brake pads will need replaced within the next 6 months and a leaky inner cv boot was indicated. This was critical information in helping us with our purchase. I would definitely use and recommend their service again. Thank you guys.

read more

Murphy Brown
02:38 01 May 16
This was AMAZING service.It was a very fair price.We bought a used truck and experienced an oil leak. It was scary.Hany came out the same day we called. On a Saturday! (Which did not cost extra).He inspected everything for us. He ran diagnostics. He put us at ease about our purchase.Next time I buy a used vehicle, I'll definitely call Hany to check it out ahead of time.He was professional,

knowledgeable, friendly, and a pleasure to work with. I feel that he went above what was necessary and really provided superior customer service.I'll be using them for all my regular service.

read more

Laurie Bell
20:08 26 Apr 16
Great service! I had 2 quotes from other garages. 1 said I needed a water pump and the other said I needed a new radiator. Both quotes were for $750. Instamek charged me $90 and told me I needed a $28 radiator cap. I've used them 3 times and will recommend them to anyone. Convenient, knowledgable staff, and way cheaper than any garage in town. Also available evenings and Sundays.

"The company responds within an hour and dispatches a mechanic shortly after with all the tools and parts required to repair the vehicle onsite."
-GLOBE AND MAIL

"taking a unique approach to vehicle repairs in the same way 'Uber' changed the taxi industry"
-CTV NEWS

"InstaMek is an on-demand service that allows vehicle owners to request and schedule a meeting with a fully certified mobile mechanic."
-CBC NEWS
Honda Brake Check
Ford Brake Check
Toyota Brake Check
Nissan Brake Check
Chevrolet Brake Check
Dodge Brake Check
Jeep Brake Check
Volkwagen Brake Check
Chrystler Brake Check
GMC Brake Check
Hyundai Brake Check
Mazda Brake Check
Pontiac Brake Check
Subaru Brake Check
Local Coolant Leak Inspection in Your Area
We are open from 8am - 6pm Monday to Saturday