Car Won't Start And You Hear Clicking Noises? Get a diagnostic at your home
Our certified mechanics come to you · Backed by 12-month / 20,000 km gold standard warranty program.
8AM - 6PM Monday to Saturday
Car Won't Start Clicking Noise Inspection Service
Cost of a Car Won't Start Clicking Noise inspection
It depends on the type of car you drive and the auto repair shop you go to. Our mechanics are mobile, which means they don't have the overhead that repair shops have. They provide you convenience by coming to your home or office.
Fast and easy service at your home
Backed by 12-month, 20,000-km guarantee
Why won't your car start but you hear a clicking noise? Here are common reasons: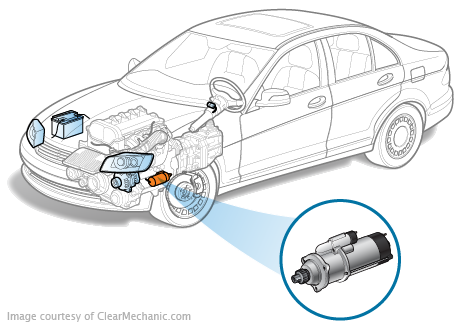 A clicking noise when attempting to start your car and no engine movement generally means that the battery is too low to crank the engine or there may be a poor connection at the battery. If the battery and the connections are fine, then the starter may have stopped working.
Poor battery or terminals: Batteries have a limited life expectancy, and terminals can loosen or wear away.
Poor starter: This should be apparent from the reaction to the key. If nothing occurs at all when you turn the key, the starter may have gotten to the end of its life.
Ignition problem: This could be because of defective contacts in the ignition switch, or in the wiring.

If there is a grinding noise when you turn the key.

Starter is bad: Do not continue cranking the engine
An expert mobile mechanic will come to your office or home to check the source of car won't start clicking noise after which a detailed inspection report with cost and scope of repairs will be provided to you.
Fuel system, charging system, and ignition system will be inspected by an expert mechanic to look for any mechanical damage. The expert will use an alternative source of fuel like a shot of brake or carburetor via a vacuum line. If the car momentarily starts and then dies, this indicates that you have an issue with fuel delivery.
How important is this service?
This is a serious issue that can leave you stranded anywhere if not dealt properly. Its better you book an expert mechanic to carry out a comprehensive inspection immediately.
Car Won't Start Clicking Noise Diagnostic Reviews

"The company responds within an hour and dispatches a mechanic shortly after with all the tools and parts required to repair the vehicle onsite."
-GLOBE AND MAIL

"taking a unique approach to vehicle repairs in the same way 'Uber' changed the taxi industry"
-CTV NEWS

"InstaMek is an on-demand service that allows vehicle owners to request and schedule a meeting with a fully certified mobile mechanic."
-CBC NEWS
Subaru Car Won T Start Clicking Noise
Kia Car Won T Start Clicking Noise
Hummer Car Won T Start Clicking Noise
Dodge Car Won T Start Clicking Noise
Plymouth Car Won T Start Clicking Noise
Volkswagen Car Won T Start Clicking Noise
Land Rover Car Won T Start Clicking Noise
Tesla Car Won T Start Clicking Noise
Nissan Car Won T Start Clicking Noise
Buick Car Won T Start Clicking Noise
Honda Car Won T Start Clicking Noise
Ram Car Won T Start Clicking Noise
Pontiac Car Won T Start Clicking Noise
Ford Car Won T Start Clicking Noise
Water Pump Leak
Cv Joint Replacement
Drive Shaft Replacement
Fuel System Cleaning Service
Car Squeaking
Brake Repair
Car Won'T Start Battery Good
Car Water Pump Repair
We are open from 8am - 6pm Monday to Saturday