Car Won't Start And You Hear Clicking Noises? Get a diagnostic at your home
Our certified mechanics come to you · Backed by 12-month / 20,000 km gold standard warranty program.
8AM - 6PM Monday to Saturday
Car Won't Start Clicking Noise Inspection Service
Cost of a Car Won't Start Clicking Noise inspection
It depends on the type of car you drive and the auto repair shop you go to. Our mechanics are mobile, which means they don't have the overhead that repair shops have. They provide you convenience by coming to your home or office.
Fast and easy service at your home
Backed by 12-month, 20,000-km guarantee
Why won't your car start but you hear a clicking noise? Here are common reasons: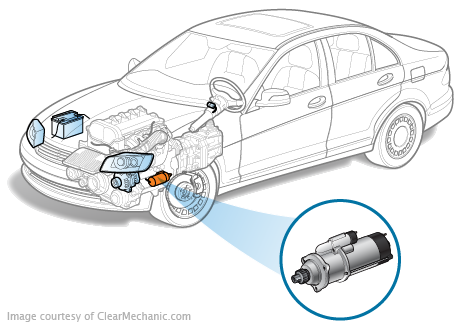 A clicking noise when attempting to start your car and no engine movement generally means that the battery is too low to crank the engine or there may be a poor connection at the battery. If the battery and the connections are fine, then the starter may have stopped working.
Poor battery or terminals: Batteries have a limited life expectancy, and terminals can loosen or wear away.
Poor starter: This should be apparent from the reaction to the key. If nothing occurs at all when you turn the key, the starter may have gotten to the end of its life.
Ignition problem: This could be because of defective contacts in the ignition switch, or in the wiring.

If there is a grinding noise when you turn the key.

Starter is bad: Do not continue cranking the engine
An expert mobile mechanic will come to your office or home to check the source of car won't start clicking noise after which a detailed inspection report with cost and scope of repairs will be provided to you.
Fuel system, charging system, and ignition system will be inspected by an expert mechanic to look for any mechanical damage. The expert will use an alternative source of fuel like a shot of brake or carburetor via a vacuum line. If the car momentarily starts and then dies, this indicates that you have an issue with fuel delivery.
How important is this service?
This is a serious issue that can leave you stranded anywhere if not dealt properly. Its better you book an expert mechanic to carry out a comprehensive inspection immediately.
Car Won't Start Clicking Noise Diagnostic Reviews

Curtis Wong
22:15 01 Sep 20
Called instaMek on a whim and I'm glad that I did! Glen is a consummate professional in every sense of the word, and was an absolute delight to have working on my vehicle. The issue was clearly identified and explained, and he was transparent about the process from start to finish. It's rare to find people adept at their craft and hospitable in equal measure, and Glen is one such individual.

...

Thanks again for your work!

read more

Rodger C. Philip
19:20 20 Aug 20
Hello from Edmonton, I would give 10 stars if I could. Instamek saved me much time and money, . They were professional, polite and a pleasure to deal with. It was my first Instamek experience and it changed the way I see car repairs, it will be my call going forward.From start to finish it was the easiest car repair of my life. My problem without leaving home and now I'm back on the road. My

...

mechanic was Alexey I. He understands people as well as cars.He was frank and honest in his assessment and this saved me a lot of time and money avoiding unnecessary repairs.He was an absolute pleasure to deal with and Instamek is now my first call for auto repairs.I cannot say enough about his people skills in the field. Pricing was much better than a Dealer shop IMHO and not having to tow,move etc the vehicle makes such a service the logical choice.Save the tow dough , forget the headache, the car repair world has changed forever - they come to you now - call Alexey - he'll take care of you.BTW - they sent my quote within a few minutes along with a picture of the mechanic making the house call with it. I couldn't be happier with the experience.

read more

Izi Kavazo
18:58 17 Jul 20
Very convenient, and easy to schedule. The work gets done quickly and without any headaches. Mohammed is very flexible and friendly.My work uses them exclusively to service and repair the fleet vehicles. I'll probably start using them for my personal vehicle as well.

Iain Rogers
22:36 27 May 20
My truck wouldn't start, and I knew it wasn't the battery. Booked an appointment online and the mechanic showed up quickly. He diagnosed the problem quickly and correctly, gave a fair quote right on the spot and explained everything. My starter was replaced and I'm back in business. I can't recommend highly enough. Also, definitely go for Instamek PRIME. It got me a good discount on my repair

...

and now I get maintenance service calls, and roadside assistance.

read more

Glenn Findlay
15:37 10 Mar 20
InstaMek got me going again after my vehicle was incorrectly jump-started at a parking facility. Quick, professional service.

Ashutosh Chhabra
17:35 23 Apr 19
Came on Sunday to help start my car. Fixed the fuse. Mechanic knew exactly where to look and fix. They were also polite to deal with.

gladtidings
18:20 11 Mar 19
Absolutely top class service! My car wouldn't start and literally within 5 mins my car was up and running and they didn't even charge me for the service just for the diagnostic and it's been about a week now with no issues. This company genuinely cares about the service they give and they even followed up to see if everything went well. Im definitely going to be using this service again in the

...

future and I'm going to tell all my friends and family just how affordable, reliable and convienent the service they deliver is!

read more

"The company responds within an hour and dispatches a mechanic shortly after with all the tools and parts required to repair the vehicle onsite."
-GLOBE AND MAIL

"taking a unique approach to vehicle repairs in the same way 'Uber' changed the taxi industry"
-CTV NEWS

"InstaMek is an on-demand service that allows vehicle owners to request and schedule a meeting with a fully certified mobile mechanic."
-CBC NEWS
Subaru Car Won T Start Clicking Noise
Kia Car Won T Start Clicking Noise
Hummer Car Won T Start Clicking Noise
Dodge Car Won T Start Clicking Noise
Plymouth Car Won T Start Clicking Noise
Volkswagen Car Won T Start Clicking Noise
Land Rover Car Won T Start Clicking Noise
Tesla Car Won T Start Clicking Noise
Nissan Car Won T Start Clicking Noise
Buick Car Won T Start Clicking Noise
Honda Car Won T Start Clicking Noise
Ram Car Won T Start Clicking Noise
Pontiac Car Won T Start Clicking Noise
Ford Car Won T Start Clicking Noise
Water Pump Leak
Cv Joint Replacement
Drive Shaft Replacement
Fuel System Cleaning Service
Car Squeaking
Brake Repair
Car Won'T Start Battery Good
Car Water Pump Repair
We are open from 8am - 6pm Monday to Saturday