Car Water Pump Problems Diagnostic at your home
Our certified mechanics come to you · Backed by 12-month / 20,000 km gold standard warranty program.
8AM - 6PM Monday to Saturday
Car Water Pump Problems Diagnostic Service
How much does a Car Water Pump Problems Diagnostic cost?
It depends on the type of car you drive and the auto repair shop you go to. Our mechanics are mobile, which means they don't have the overhead that repair shops have. They provide you convenience by coming to your home or office.
Fast and easy service at your home
Backed by 12-month, 20,000-km guarantee
What is a water pump and how does it work?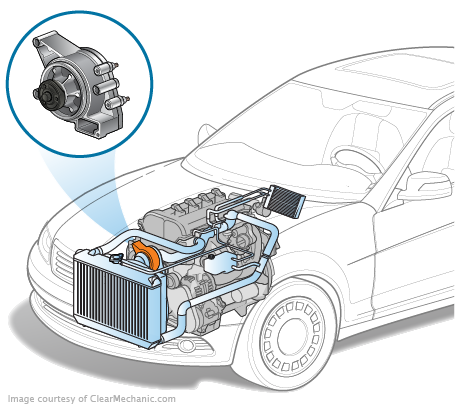 The water pump is an engine accessory bolted to the engine, above the crankshaft pulley. It is driven by a belt or chain and circulates engine coolant through the cooling system passageways in the engine block and cylinder head, on to the radiator, where the coolant temperature is reduced. Once the coolant is reduced, it flows back to the water inlet on the engine and the water pump continues the cycle.
When can car water pump problems become concerning?
The coolant is overheating or leaking. The water pump impeller shaft is supported by a bearing. Eventually, the bearing or seal can wear down and leak or damage the impeller. Many water pumps have leakages near the pump bearing and when this car water pump problem becomes significant, then it's time to replace the pump.
The bearing is making noise. If the water pump shaft isn't turning smoothly or the pump is noisy, the bearing is excessively worn and this is a major car water pump problem that can only be fixed by replacing the pump is necessary.
What do mechanics handle car water pump problems?
If the car water pump problems are very significant then the water pump will need to be replaced. How the replacement is done depends on whether the pump is driven by the timing belt, serpentine belt, or chain.
On an idle engine, the engine coolant is drained to a level below the water pump.
Parts like the belt and the chain directly below the belt are removed.
The bolts holding the pump to the engine are removed and the pump is pulled out.
The gasket surface is cleaned and the pump mounting surface is inspected. If necessary, a new gasket, rubber seal, or RTV sealant, is installed and then the new pump. The bolts are torqued in sequential order using a calibrated inch pound torque wrench.
In cases where the water pump is driven by the timing belt, the timing belt must also be removed. Usually, this involves removing the crankshaft pulley, timing belt covers, and timing belt tensioner. After installing the new pump, new coolant is added and all air is removed from the cooling system. Our certified mechanic will then run the engine bring it to normal operating temperature to check for leaks and ensure that the engine temperature is normal.
Is it safe to drive with car water pump problems?
No. If the leakage is minor, then the car can be driven; however, it is highly not recommended because a small leak can expand rapidly or a pump bearing can seize, resulting in engine overheating problems and consequent engine damage.
Car Water Pump Problems Reviews

Adam Marko
00:04 04 Aug 17
After having a couple bad experiences at some large shops in Calgary I came across these guys while searching for another mechanic on google. Sounded a bit too good to be true at first, but after contacting them I was emailed back a detailed quote within 30 minutes. One day later I had a friendly mechanic named Clay show up at my work to replace my timing belt, water pump AND serpentine belt; all

...

done in the parking lot well before I needed to drive home. This is an amazing service and I hope you guys get the recognition you deserve! Thanks!

read more

Laurie Bell
20:08 26 Apr 16
Great service! I had 2 quotes from other garages. 1 said I needed a water pump and the other said I needed a new radiator. Both quotes were for $750. Instamek charged me $90 and told me I needed a $28 radiator cap. I've used them 3 times and will recommend them to anyone. Convenient, knowledgable staff, and way cheaper than any garage in town. Also available evenings and Sundays.

Marla Palakkamanil
15:54 25 Jan 16
I had an amazing experience with instamek. The mechanic was great; he fixed my power steering pump and I had no issues with it after. He was polite and friendly. I recommend instamek to all my friends .

"The company responds within an hour and dispatches a mechanic shortly after with all the tools and parts required to repair the vehicle onsite."
-GLOBE AND MAIL

"taking a unique approach to vehicle repairs in the same way 'Uber' changed the taxi industry"
-CTV NEWS

"InstaMek is an on-demand service that allows vehicle owners to request and schedule a meeting with a fully certified mobile mechanic."
-CBC NEWS
Honda Car Water Pump Problems
Ram Car Water Pump Problems
Pontiac Car Water Pump Problems
Ford Car Water Pump Problems
Geo Car Water Pump Problems
GMC Car Water Pump Problems
Lincoln Car Water Pump Problems
Fiat Car Water Pump Problems
Chevrolet Car Water Pump Problems
Smart Car Water Pump Problems
Toyota Car Water Pump Problems
Mazda Car Water Pump Problems
Mini Car Water Pump Problems
Cadillac Car Water Pump Problems
Car Engine Overheating Inspection
Car Diagnostic
Auto Battery Repair
Coolant Light Flashing
Car Won'T Start Battery Good
Engine Service
Auto Battery Replacement
Car Won'T Start Clicking Noise
We are open from 8am - 6pm Monday to Saturday