Brake Fluid Flush at your home
Our certified mechanics come to you · Backed by 12-month / 20,000 km gold standard warranty program.
8AM - 6PM Monday to Saturday
Brake Fluid Flush Service
How much does a brake fluid flush cost?
It depends on the type of car you drive and the auto repair shop you go to. Our mechanics are mobile, which means they don't have the overhead that repair shops have. They provide you convenience by coming to your home or office.
Fast and easy service at your home
Backed by 12-month, 20,000-km guarantee
What is a brake system flush?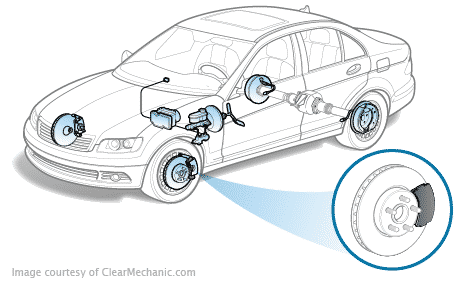 Brake fluid is essential for your brakes to work. When you push on the brake pedal, the brake fluid that leads to the brake pads pressing against the rotors, causing your car to slow down and stop. As time goes on, brake fluid absorbs air, moisture and sludge and gets contaminated. Air in the brake fluid greatly decreases braking efficiency and causes braking to feel spongy. A brake system flush requires removing the existing fluid and moisture out of the system and replacing it with fresh, clean, fluid. A brake fluid flush ensures that your brake system performs properly and will increase the lifespan of your brake system components.
Signs you need a brake system flush?
Your Brake fluid looks black or brown, which is a sign of contamination
Your Brake pedal feels spongy when you press down
Your brake system doesn't perform as well
How often should you flush your brake fluid?
It's suggested that brake fluid is changed every 40,000 km or 3 years. Always follow your car manufacturer's maintenance schedule and guidelines regarding brake fluid maintenance and always use the brake fluid they recommend (our mek's will make sure they use the right fluid for your car).
How important is this service?
It's important to regularly flush your brake system, otherwise you risk needing expensive repairs to your brake system down the road. As the brake fluid gets contaminated, it will wear down the brake system components, causing them to fail and leak. This will also decrease your brake system performance, causing a safety concern.
Brake Fluid Flush Reviews

I just had my rear brakes and rotors replaced and front brakes checked and was a reasonable price. Jack was very pleasant and kind. The service was fast and clean.will share their services to friends and family. Thank you Jack

Elena MacGregor
21:46 10 Oct 18
I love this service! I was looking at a car that was repaired from salvage. The dealer said that the damage was minor and instaMek confirmed that there was nothing to worry about. I bought a car at a considerable discount with peace of mind. I also appreciated that all my questions about the report were answered immediately. The report had great detail and gave me a good idea of the condition of

tires, structure, brakes and more. I recommend this service to anyone buying a car.

read more

Davin Heikkinen
21:03 23 Apr 18
Omar is awesome! Very honest, friendly and efficient. I was in Vancouver visiting from out of town and in a tough spot when my brakes gave out - this team helped me professionally from the initial call I made, to watching Omar's tail lights leave the parking lot! A great option if you're repairs are not too extreme and a "Mek" can come out to help! I would use them again. I wish Omar and

the rest of the InstaMek team health and happiness.

read more

Rebecca Verveda
19:16 30 Mar 17
My brakes gave out on me. These guys came and replaced my breaks/pads and checked my engine the same day for an extremely reasonable price. I am thoroughly impressed with their service, professionalism and would (and have) recommend them to anyone.

Todd Spychka
15:15 03 Nov 16
I had called thinking i had a wheel bearing that was shot. They recommended doing a diagnostic first.( Which was a smart idea as they saved me about $700.00) Hany came and took it for a test drive, he said the wheel bearing was fine and that it was my tires. So he swapped the front to back and fixed most of the problem. Hany also said that it was the type of tires i had and that they would give

me a little vibration. I would defiantly recommend InstaMek and Hany for future work. Hany was a very pleasant , helpful and quick.I will be using them for all my mechanical needs.Thank you.September 1 2016.Had Hany come out and change my brakes as well as do an oil service.did a great job and quick. Hany is very personable and would recommend Hany and Instamek for and work you may require.ThanksSept 14 2016Another awesome job done by Hany.Had an oil service done on my sons car. He also checked the cabin air filter and found that it had not been changed since we bought the car(about 4-years ago) and it was very dirty. he recommended changing it once a year as it can burn out the fan motor and you get better air flow.Thank you Hany.Nov 1 2016Just had an oil service, great communication as Hany was going to be late so I had Dawson and Hany called me to let me know. I have used InstaMek about four times now and will keep using them. Great service!Thanks again Hany.

read more

Colin Geissler
04:35 29 Apr 16
Fantastic. I have used them twice. Once to get my brakes redone and the second time to get winter tires and oil changed on two vehicles. Way more convenient than driving back and forth across the city to have tires changed. The mechanic came to my house, swapped the tires and changed the oil while I got caught up on yard work, rather than sitting around a service center. Highly recommend.

I needed to get my brakes replaced and a service done on my 2013 Acura but I didn't have the time to take my car to the dealership, so a friend of mine recommended instaMek. I gave them a shot and it went fantastic -- the mechanic who came was extremely professional and friendly. He did the job quickly, gave me a report so I had the paperwork, and it was done without an issue.

"The company responds within an hour and dispatches a mechanic shortly after with all the tools and parts required to repair the vehicle onsite."
-GLOBE AND MAIL

"taking a unique approach to vehicle repairs in the same way 'Uber' changed the taxi industry"
-CTV NEWS

"InstaMek is an on-demand service that allows vehicle owners to request and schedule a meeting with a fully certified mobile mechanic."
-CBC NEWS
Honda Brake Fluid Flush
Ford Brake Fluid Flush
Toyota Brake Fluid Flush
Nissan Brake Fluid Flush
Chevrolet Brake Fluid Flush
Dodge Brake Fluid Flush
Jeep Brake Fluid Flush
Volkwagen Brake Fluid Flush
Chrystler Brake Fluid Flush
GMC Brake Fluid Flush
Hyundai Brake Fluid Flush
Mazda Brake Fluid Flush
Pontiac Brake Fluid Flush
Subaru Brake Fluid Flush
Local Brake Fluid Flush in Your Area
We are open from 8am - 6pm Monday to Saturday