Our certified mechanics come to you · Backed by 12-month / 20,000 km gold standard warranty program.
8AM - 6PM Monday to Saturday
Few of us think about our brakes on a daily basis, but they are a critical component of a car and can mean the difference between life and death in an emergency. Proper maintenance and a quick response to warning signs will ensure that your car will stop every time you hit the brakes.
How much does a brake check cost?
It depends on the type of car you drive and the auto repair shop you go to. Our mechanics are mobile, which means they don't have the overhead that repair shops have. They provide you convenience by coming to your home or office.
Fast and easy service at your home
Backed by 12-month, 20,000-km guarantee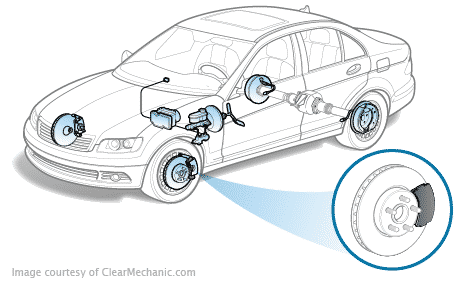 Brake systems come in two forms, disc and drum. They both work by using friction and resistance.
Over time, this friction will wear down the brake pad, which is why they must be replaced on a regular basis.
Brake systems require regular maintenance to ensure optimal performance. A fresh brake pad can be 8, 10 or 12 mm thick. Once the pad gets down to 3 mm it is time to have it replaced. Failing to do so can cause damage to your rotors. Rotors will also wear down over time, and when the thickness is too low to dissipate the heat, they will have to be replaced.
Signs you need to replace your brakes
In most cases, your car will warn you that it is time to have a brake check. It might be a dashboard light, a squeaky or grinding noise, or a number of other indicators. Here are the most common warning signs and causes of brake trouble.
You feel your brake pedal is soft or spongy.
You feel that your brake pedal is hard to press.
Your brake pedal goes all the way down.
The brake warning light flashes.
The car takes longer to stop.
You have squeaky brakes or hear your brakes grinding, squealing or make strange noises.
Your vehicle is pulling to one side when you brake.
Your brakes are vibrating.
It's important to get your brake looked at as soon as you see, hear or feel the above warning signs. Faulty brakes are one of the leading causes of motor vehicle accidents. If you aren't sure if you need your brakes changed then call us or get a quote for a brake check with one of our certified mechanics.
What to expect during a brake check service
Whether it's time for your annual brake inspection or you have experienced any of the symptoms listed above, a top-rated mobile mechanic will come to your home or office to perform a thorough inspection of your brake system.
In addition to completing a test drive to get a sense of the symptoms you're experiencing when operating the car, the mechanic will examine the following components during the brake check:
Brake pads and shoes
Hydraulic fluid
Rotor and drum wear
Brake calipers
Wheel cylinders
All brake hardware
All hoses and lines
Master cylinder
Anti-lock system
After the inspection, the mechanic will provide a detailed report that describes the source and cause of the brake issue, along with the scope and cost of the necessary repairs.
The mechanic will inspect the entire brake system (brake pads, rotors, calipers, master cylinder, fluid, hoses, drums, shoes, proportioning valve, ABS, and wheel cylinders).
How important is this service?
There is no safe operation of a vehicle without properly functioning brakes. If you suspect an issue with your braking system, do not drive the car and request a brake check as soon as possible.

"The company responds within an hour and dispatches a mechanic shortly after with all the tools and parts required to repair the vehicle onsite."
-GLOBE AND MAIL

"taking a unique approach to vehicle repairs in the same way 'Uber' changed the taxi industry"
-CTV NEWS

"InstaMek is an on-demand service that allows vehicle owners to request and schedule a meeting with a fully certified mobile mechanic."
-CBC NEWS
Honda Brake Check
Ford Brake Check
Toyota Brake Check
Nissan Brake Check
Chevrolet Brake Check
Dodge Brake Check
Jeep Brake Check
Volkwagen Brake Check
Chrystler Brake Check
GMC Brake Check
Hyundai Brake Check
Mazda Brake Check
Pontiac Brake Check
Subaru Brake Check
Local Brake Check in Your Area
We are open from 8am - 6pm Monday to Saturday