Auto Battery Replacement at your home
Our certified mechanics come to you · Backed by 12-month / 20,000 km gold standard warranty program.
8AM - 6PM Monday to Saturday
Auto Battery Replacement Service
Auto battery replacement cost
The Auto battery replacement usually costs between $150 - $300, including the installation cost. The price depends on the size of the battery – generally the larger the engine, the larger and more expensive the battery. German vehicles usually have larger batteries or batteries which cost up to $600. Truck batteries cost a lot more than normal batteries as well.
Fast and easy service at your home
Backed by 12-month, 20,000-km guarantee
What are car batteries and how do they work?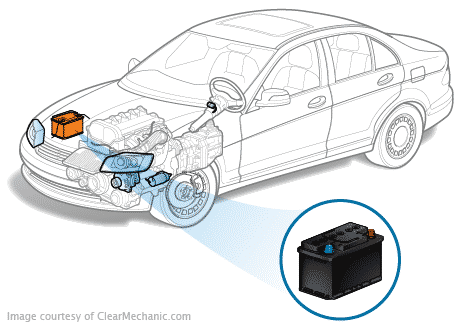 The car battery is what the car uses as a source to provide electrical power to the entire car and all of the electrical components (e.g. the starter motor, alternator, lights, radio, etc.). And if the car's battery is not sufficiently charged or contains no charge, then none of the electrical components in the car will work and the car will not start. If your battery seems to have lost its charge, a good way to test it or recharge it is to boost the battery.
If your car battery is dead then getting your car to the Mechanic's is difficult. However; with instaMek – we will send over a certified technician for auto battery replacement right on site.
When to get auto battery replacement?
Your car doesn't start. A new battery has a specified capacity to provide power. This capacity is referred to as the cranking amps rating of the battery. As time goes on, the actual amps that a battery can supply becomes lower than its original rating. Once these amps fall below a certain level; starting your car will become a difficult task.
Battery or charging system warning indicator lights up. Should a battery or charging system warning light illuminate, a mechanic should perform a few basic tests to determine if a battery replacement is needed.
Electrical components don't work. Once a battery has started to fail, and the voltage produced by the battery drops, then vehicle electrical components can malfunction, such as the security system. If you are experiencing electrical malfunctions, it's a smart idea to have the battery tested.
What's done during an auto battery replacement?
A temporary power source needs to be set up to ensure that no stored data is lost. If the battery is completely dead, this step is unnecessary.
The vehicle's negative cable is removed from the battery, followed by the positive cable. The battery tie down system is loosened and the old battery removed.
Cable ends and wiring are carefully inspected to ensure cleanliness and no corrosion. In some cases, corrosion can be extreme and the cable may need to be replaced or wiring repaired.
The new battery is installed and the tie down system is reinstalled. Anti-corrosion compound is applied to the battery terminals. The positive terminal is reconnected followed by the negative terminal.
Some cars need PCM programming to input battery parameters. This is necessary to maximize battery life and prevent electrical system malfunctions.
The car is started and charging system output is measured and compared against the factory OEM specification to ensure that the new battery will properly recharge. Generally, charging output will be in the range of 13.8 to 14.8 volts but the exact specifications vary by make and model.
Is it safe to drive with a battery problem?
It is safe, but not recommended because if your battery dies, you're in trouble. A faulty battery may also overburden the alternator and could adversely affect the operation of the vehicle's electrical system, including the vehicle security system and the shift interlock. You shouldn't wait to schedule an auto battery replacement if you are experiencing problems.
Auto Battery Replacement Reviews

Their customer service is top notch, I called in the morning and a mechanic came out the same afternoon. I wasn't home for the battery service and they were happy to coordinate with my wife. Can't say enough about their service and professionalism from beginning to end.

Linda Smith
03:07 25 Jul 18
So glad I called InstaMek instead of trying to take my three little kids with me to the nearest dealership. Turns out my battery was dead and alternator needed replacing, which they couldn't repair in my carport. They referred me to their awesome partner repair shop, which built on InstaMek's diagnostic and completed the job the next day.

Cassie Jones
05:10 16 Feb 19
I woke up and my car battery was dead at 10 am on a Saturday. I called my insurance who reccomended a tow truck and AMA who put me on a 45 minute waiting list. InstaMek answered my call right away and within 10 minutes we had an appointment scheduled for between 130-230 to get my battery replaced. The tech arrived at 239 I believe and I was up in my apartment with everything handled by 259. Came

...

and replaced my battery at the back ally of my apartment and I was on the road by 3. AMA didn't even call me back until 430. Very thankful for this service!

read more

Katrin Gustar
18:49 17 Mar 16
Awesome mechanic, very polite and worked fast could imprivise and think on his feet. Would definitely recommend this service to all you gals out there like me who can't /won't change a tire or battery.

Camille Nguyen
16:23 17 Dec 19
The mechanic that came was very professional. I needed to get my battery replaced which he was able to do quickly on the spot. So convenient, great customer service and I would use them again for any repairs on my car in the future. I didn't know mobile mechanics existed, doesn't get any more convenient than that! So glad I found you guys!

Robin Lauscher
21:36 26 Jun 18
I was blown away by the knowledge and skill my MEK presented me with. My truck had power to all systems except the starter. I had tried banging it but it didn't go. When MyMek arrived he did a diagnostic before replacing the starter. The tests he did I had never seen. And thorough.Even if it meant crawling under the truck and back again for a small adjustment. In the end he saved me the cost of a

...

starter. And I got a brand new battery. That was my problem. Not enough cranking amps. I was beyond happy and Alex is a rock star!!

read more

Javier Barrios Briceno
01:01 16 Dec 17
Convinient service, the mechanic delivered the service I expected for, he figured out the failure effectively, even better he fixed a battery terminal issue which wasn't include in the initial requirement.

"The company responds within an hour and dispatches a mechanic shortly after with all the tools and parts required to repair the vehicle onsite."
-GLOBE AND MAIL

"taking a unique approach to vehicle repairs in the same way 'Uber' changed the taxi industry"
-CTV NEWS

"InstaMek is an on-demand service that allows vehicle owners to request and schedule a meeting with a fully certified mobile mechanic."
-CBC NEWS
Fiat Auto Battery Replacement
Chevrolet Auto Battery Replacement
Smart Auto Battery Replacement
Toyota Auto Battery Replacement
Mazda Auto Battery Replacement
Mini Auto Battery Replacement
Cadillac Auto Battery Replacement
Porsche Auto Battery Replacement
Saturn Auto Battery Replacement
Mercury Auto Battery Replacement
Jaguar Auto Battery Replacement
Volvo Auto Battery Replacement
Chrysler Auto Battery Replacement
Jeep Auto Battery Replacement
Car Won'T Start Clicking Noise
Engine Oil Flush
Car Check
Auto Diagnostic
Engine Coolant Low
Water Pump Replacement
Engine Inspection
Engine Tune Up
We are open from 8am - 6pm Monday to Saturday