Alternator Repair at your home
Our certified mechanics come to you · Backed by 12-month / 20,000 km gold standard warranty program.
8AM - 6PM Monday to Saturday
Alternator Repair Service
How much does a alternator repair cost?
The Alternator price depends entirely on the vehicle but for most domestic vehicles the cost for an alternator is around $250 to $500 and requires between 1 to 2 hours to replace. The cost for imports ranges from $400 to $1000 and the labour times can be between 1 to 3 hours. You can replace the alternator with a brand new OEM one, or a restored one. The restored one is usually a little bit cheaper – either way the choice is yours.
Fast and easy service at your home
Backed by 12-month, 20,000-km guarantee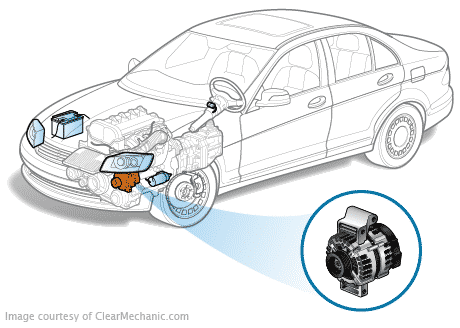 The alternator is the part that charges the battery in your car. When you use electrical components in your car (stereo, lights, etc.), the battery loses power. The alternator recharges the battery, replenishing the lost battery power. The alternator is found in the engine compartment. Your car will only stay running for as long as the battery has power stored if the alternator is not working properly. Once the battery loses power, your car will not start. Normally, a faulty alternator will turn on the battery warning light or will have a low volt gauge reading.
How do you know if need to replace your car's alternator?
Dead battery or battery will not store a charge.
Battery warning light is on.
Dim lights.
How to replace an alternator
Examine entire charging system (battery, cables, alternator).
Check the drive belts.
Test alternator output.
Remove and replace alternator if found to be faulty.
Re-test alternator output.
Our recommendation for alternator repair services
During every major service, ask your mechanic to inspect the condition of the charging system and should also clean and tighten the battery cables.
Why repairing your alternator is important
Your alternator charges your battery, which powers the electronics in your vehicle, such as the air conditioning and the radio. The battery is also necessary to turn on your vehicle. A faulty alternator will not charge your car's battery, and your vehicle's battery life will eventually run out and will not be able to start.
Alternator Repair Reviews

Denise Karkhanis
18:47 08 Jan 20
the instamek service was quick, efficient and professional. the technician jack was friendly and diagnosed my alternator as the problem and fixed it quickly.

Recently needed an on-site alternator replacement and InstaMek was there for me. Jack, the mechanic, was incredibly helpful, prompt and did a great job on the car. Would definitely recommend. Thank you again InstaMek!

Brett Bannon
19:53 22 Oct 19
Mo is a great technician. He came hastily, got a good price for our company and did an alternator very quickly! 10/10 would recommend!

David Fraser
23:05 06 Mar 19
My wife's car would start but stall at traffic lights. My best guess after checking battery and belts was that I'd require a new alternator. For the cost of a tow, the instamek mechanic diagnosed problem and got the car running. The technician Jack found a faulty sensor, cleaned the contacts and my wife is now happy once more. Very courteous and thorough service. No doubt I'll be using them in

...

the future.

read more

Maciek Sokulski
23:44 14 Jan 19
Second time with InstaMek. After my alternator belt snapped, I contacted InstaMek, and with in an hour Alex was at my place with all the necessary parts. In the next hour my car was fixed and ready to go. I was impressed with communication, quick and convenient service. Good people, great service, very highly recommended.Alex was on time and inspected the car. Gave me great advice on

...

possible fixes. The communication with the company is outstanding. It's both emails and text, and in this digital world it is very welcoming. I knew exactly when the mechanic would arrive and if there were any issues when arriving late. Absolutely outstanding and convenient service. I'm will definitely call on them again.

read more

Linda Smith
03:07 25 Jul 18
So glad I called InstaMek instead of trying to take my three little kids with me to the nearest dealership. Turns out my battery was dead and alternator needed replacing, which they couldn't repair in my carport. They referred me to their awesome partner repair shop, which built on InstaMek's diagnostic and completed the job the next day.

Had a great experience. The team was well organized, responsive, and extremely helpful. The mechanic arrived on time and was very professional and knowledgeable. My timing belt and alternator was replaced and I'm very happy with the quality of work done. The experience was truly hassle free as promised.

"The company responds within an hour and dispatches a mechanic shortly after with all the tools and parts required to repair the vehicle onsite."
-GLOBE AND MAIL

"taking a unique approach to vehicle repairs in the same way 'Uber' changed the taxi industry"
-CTV NEWS

"InstaMek is an on-demand service that allows vehicle owners to request and schedule a meeting with a fully certified mobile mechanic."
-CBC NEWS
GMC Alternator Repair
Lincoln Alternator Repair
Fiat Alternator Repair
Chevrolet Alternator Repair
Smart Alternator Repair
Toyota Alternator Repair
Mazda Alternator Repair
Mini Alternator Repair
Cadillac Alternator Repair
Porsche Alternator Repair
Saturn Alternator Repair
Mercury Alternator Repair
Jaguar Alternator Repair
Volvo Alternator Repair
Serpentine Belt Repair
Car Starter Not Working
Valve Cover Gasket Leak
Timing Belt Replacement
Water Pump Replacement
Engine Ticking
Engine Knocking Sound
Car Making Clicking Noise When Driving
We are open from 8am - 6pm Monday to Saturday