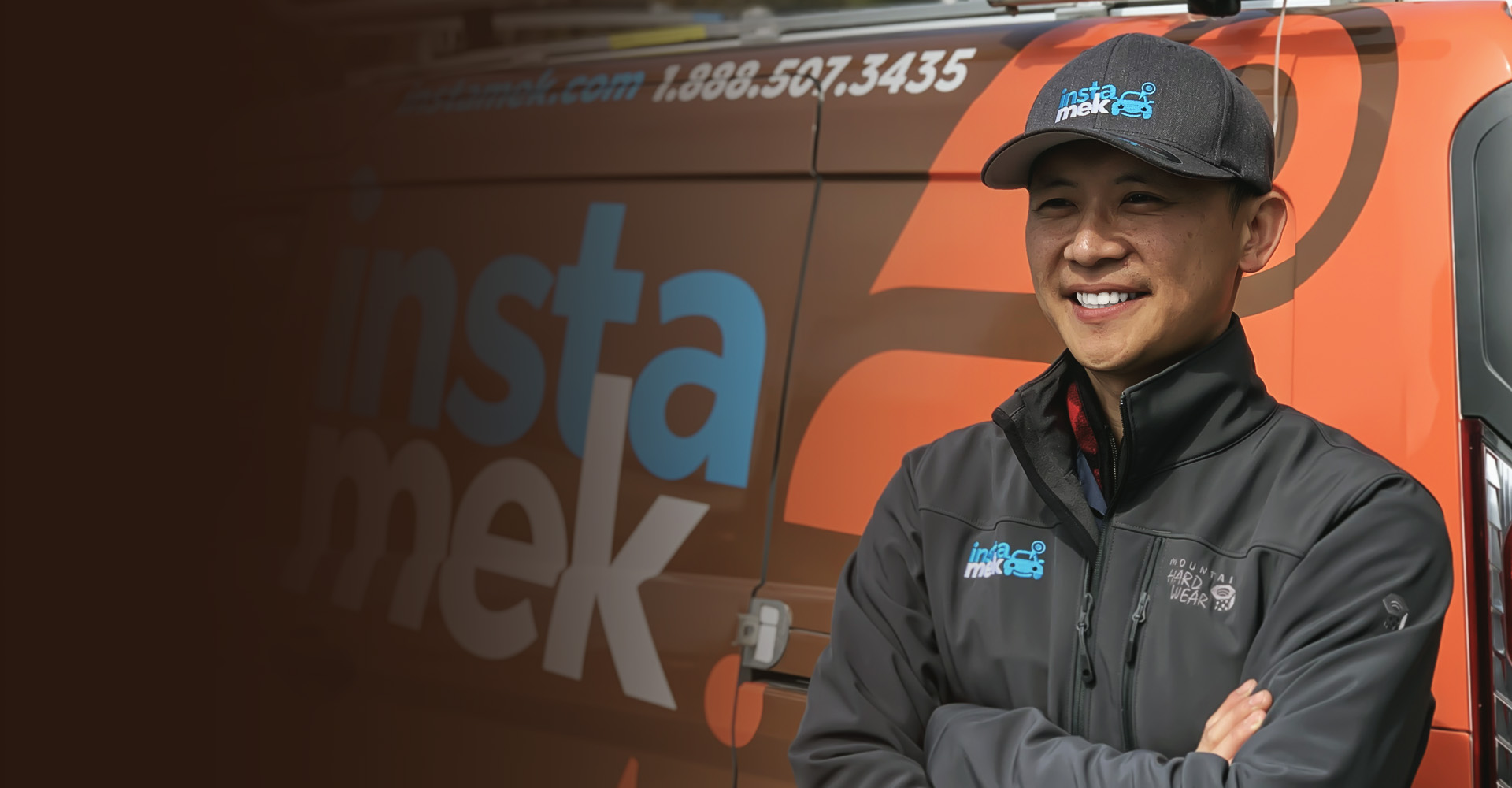 Our Locations
Expert Mobile Car Mechanics Near You
Our mission is to give you a hassle free car repair experience.
Here's what our customers say about us
Battery died and had no way of getting it to a shop to get replaced. These guys came to my house within 5 hours of calling and did a diagnostic to make sure it was actually the battery . The tech showed me what the problem was and explained it to me in terms I could understand . When he told me the battery had to be replaced and didn't even mention that they sell them. I asked if he could do it and he said yes - Gave me a great price and had it running within an hour of arriving . He also did a 30 point Inspection. These guys are professional, friendly and do it all. Will be my go-to for Mobil mechanic needs.

Daniel Kavanagh
01:44 23 May 20
Mek Waheed and his mechanic partner were excellent. Very friendly, and much more thorough than my last inspection, which was at a shop with a lift! They spent time with me afterwards explaining things in detail. Would definitely recommend this service.

I had a great experience getting a pre-purchase inspection for the vehicle I was looking into buying. It was easy to book an appointment, and the car was inspected and reported on thoroughly. I got my report within an hour of the inspection, and was able to contact and communicate with someone working at instaMek quickly to answer a questions I had.All in all, it was an awesome experience and I'll definitely use their services in the future.

Sam Merson
08:17 19 Mar 20
So happy we discovered this company! I was scared to drive my car to the shop after hearing weird noises and within 2 days they ran the diagnostic and replaced by rotors and brake pads. And since they don't have the overhead of a normal shop it came out to way less than we feared! Signed up for their membership program which is a great deal too. Thanks again Jack and Instamek, I'll be recommending you to everyone!!

Shauna Carothers
00:53 26 Feb 20
Very thorough inspection of my vehicle! The mechanic was great.

Easy to set up an inspection at the location you need. Had a pre-purchase inspection for a used vehicle done by them and was very happy with their customer service and the results they gave me. Very thorough inspection that made me confident I was buying the right car!

Spencer Quimby
04:22 11 Jan 20
Needed a Pre-Purchase inspection done on a vehicle in somewhat short notice and with a hesitation from the small dealer to have us tie up one of their plates in taking the car to a brick and motor service location for a day. Enter Instamek.Able to make all the arrangement required including identifying who to contact at dealership. Got a confirmation email with the time window and let dealer know. Mek arrived on time and did what they needed to do with no muss and no fuss. Got the report an hour later with images of things to note from their inspection and a complete list of pass, monitor, and required things in regards to the vehicle.everything was coordinated by email and text and it did not require me to be onsite which was nice as schedule didn't permit.All in all... a very good experience and would HIGHLY recommend. You do pay a bit more for the convenience but it was worth it in this case.

Kevin Shamanski
15:42 04 Dec 19
I needed a pre-purchase vehicle inspection done really quick -- seller really wanted to get the car off his hands, and I wanted the car. So I called Instamek and they did a same-day inspection for me. I was surprised at how detailed the report was and how many things they actually looked at.Thank you for the great service.

Had a great experience with instaMek - they changed my brakes at my house after doing an inspection for me. It was easy and the mechanic was nice

Muhammad Iqbal
04:56 07 Nov 19
I needed to have an inspection done on a car for insurance purposes. I googled local mechanic services to get quotes when I saw the ad for InstaMek. Uzair answered me right away and I had a technician booked within minutes. Having a mobile mechanic come to me saved me a lot of time and money. My tech (Alexey) was very knowledgeable, very friendly, and worked quite quickly. He was able to find a few issues that I hadn't suspected, and needed repair. Once those things are repaired, he confirmed that the car would be solid, safe and reliable. Now, I am confident in this car. I will definitely call on InstaMek again in the future.

Dale Radjo
14:42 16 Sep 19
I found instaMek on google and decided to try it. What a GREAT experience!I needed a safety inspection asap and the tech came to my home, at my convenience and it took less than an hour. Taking a vehicle to an auto shop can be intimidating, waste a lot of time and create a lot of stress being overcharged with unnecessary repairs etc. After this experience I would not hesitate to use instaMek in the future.

Delores Parkins
19:19 31 Aug 19
Had a pre purchase inspection done with Doug. Was fantastic service, right on time and easy to book. Have actually booked my second pre inspection for this week! Definitely will be using this service quite a-lot.Thanks Doug

Sophies Visuals
20:43 16 Jul 19
This is for a pre purchase inspection.Jack did a great job, very well spoken and polite.

James Goss
02:46 13 Jul 19
I was sincerly pleased with the service from InstaMek. My mechanic Doug was right on time and was at work within minutes. He had the inspection done in no time and went over the results in great detail. All in all I had a great experience and will recommend this company to everyone i know.

Dillon Tomyn
02:41 10 Jul 19
Mohamed was our mechanic and he was terrific! He arrived right on time and clearly explained his inspection to us so we understood. The entire process was seamless. Highly recommend!!

Jennifer Gray Kurtz
23:39 05 Jul 19
Prompt, quick and professional. I had a inspection done for insurance and was provided advice and knowledge beyond what the inspections required!

I had them come out to do a insurance inspection on a vehicle we bought. The gentleman that came out was polite and professional, his name was Lexi, he even shook my hand. I was very pleased with their customer service and I would definitely have them come out again for any repairs on my vehicles in the future. I never even knew a mobile service like this existed, doesn't get any more convenient than that! So I'm very glad that I found them online :)

I had a pre buy inspection with Mohamed. He was very friendly, helpful and competent. We got our recommendations and report instantly, would definitely recommend!

Luis Wiedmann
00:48 25 May 19
i called Instamek at 10AM to arrange a pre-purchase inspection for a 2008 Toyota that i liked at a dealership.Kyle answered my call and helped me to set up an appointment with the dealer the same day AT 3PM .Their mechanic Mohamed arrived on time and did a detailed inspection which revealed worn suspension and rear brake pads worn out.i was able to negotiate with the dealer and drop the price accordingly.I got a quote for the repair by Kyle and Mohamed came to my home the same weekend and did the repair as quoted .i like my new Toyota.Excellent experience from start to finish.. thank you

Y Tsukagoshi
01:45 15 May 19
we are car dealer and we used this company to do all our inspections we are happy with them ( MOE )he is very good at what he dose, Highly recommended

ALPHA AUTO
18:22 14 May 19
Instamek is amazing company, i used them few times and they always impressed me with reasonable pricing, quality of work, expertise and explaining what is happening with car in details. Few days ago Alex came to do inspection and check out my bmw m3 2005 and as he was checking out the car he explain in details what he was finding and how it affects driving and use of the car at present stage and also in future. Also Uzair is always answering promptly and getting back to clients with answer on any question. Great job Insamek, you are setting good standard in the car repair world and making sense of it for us as customers. I am recommending Instamek to all my friends and family. Thank you again for great job. Vito

Prompt, courteous, and thorough service. Needed car inspection done on a Saturday - no shops open. Instamek was booked, but managed to rearrange schedule to accommodate. Very happy with the inspection. Great service.

Helik Sandren
21:07 25 Apr 19
We used instaMek twice for a pre purchase vehicle inspection within a few days over the Easter period, (all other mechanic shops were fully booked). Both technicians were very helpful and informative, which helped us make a decision on which vehicle to purchase. I highly recommend this company for their communication, attention to detail and customer focused approach. Spend the money on an inspection, so you are aware of what work might be required or if you should avoid buying the vehicle all together.

Stewart Wyllie
21:10 22 Apr 19
My initial impressions are very good for Instamek. I had Alexey do a pre-purchase inspection on a used vehicle. He was professional, seemed to be thorough in his assessment, and provided advice and noticed things I would have easily missed. The best part was that he took the time to explain things, and actually seemed invested in what he was doing. Price was reasonable for the level of convenience. Will definitely be trying their services again, and will update this review based on my next experience.

Sean Trayner
16:34 04 Apr 19
I had InstaMek do an inspection an a truck I was interested in purchasing. The inspection was prompt and the report was very thorough. It revealed many problems that I would otherwise been unaware of, and the cost of the inspection probably saved me what would have been a couple thousand dollars in repairs. I did not purchase the vehicle, and was very glad that I chose to have it inspected by InstaMek!

Absolutely top class service! My car wouldn't start and literally within 5 mins my car was up and running and they didn't even charge me for the service just for the diagnostic and it's been about a week now with no issues. This company genuinely cares about the service they give and they even followed up to see if everything went well. Im definitely going to be using this service again in the future and I'm going to tell all my friends and family just how affordable, reliable and convienent the service they deliver is!

gladtidings
18:20 11 Mar 19
Absolutely top class service! My car wouldn't start and literally within 5 mins my car was up and running and they didn't even charge me for the service just for the diagnostic and it's been about a week now with no issues. This company genuinely cares about the service they give and they even followed up to see if everything went well. Im definitely going to be using this service again in the future and I'm going to tell all my friends and family just how affordable, reliable and convienent the service they deliver is!

gladtidings
18:18 11 Mar 19
I made an appointment for a used car pre-purchase inspection. Alexey was assigned to the job. He was ontime and conducted the inspection professionally. He also took time to answer my questions and showed me the defects and explain their implications. He caught several defects that I would otherwise overlook. I am completely satisfied with the service and would recommend InstaMek to anyone.

Eric Lam Nguyen
22:19 24 Jan 19
I found Wrench Patrol on Google. Their website communicated their services well. The fact they are mobile is fantastic. I called them and the fellow was very pleasant and helpful. They also scheduled the appointment with the vehicle Owner (Seller) and I had the option of being present for the Inspection or not. Since the vehicle was at least 30 minutes away, I opted not to go but let the Mechanic handle it. Very convenient for both Buyer and Seller. The Report arrived via email shortly after the inspection and was very easy to read and thorough. Brake pads will need replaced within the next 6 months and a leaky inner cv boot was indicated. This was critical information in helping us with our purchase. I would definitely use and recommend their service again. Thank you guys.

Darleen Collins
19:50 16 Jan 19
Second time with InstaMek. After my alternator belt snapped, I contacted InstaMek, and with in an hour Alex was at my place with all the necessary parts. In the next hour my car was fixed and ready to go. I was impressed with communication, quick and convenient service. Good people, great service, very highly recommended.Alex was on time and inspected the car. Gave me great advice on possible fixes. The communication with the company is outstanding. It's both emails and text, and in this digital world it is very welcoming. I knew exactly when the mechanic would arrive and if there were any issues when arriving late. Absolutely outstanding and convenient service. I'm will definitely call on them again.

Maciek Sokulski
23:44 14 Jan 19
We are open from 8am - 7pm Monday to Saturday