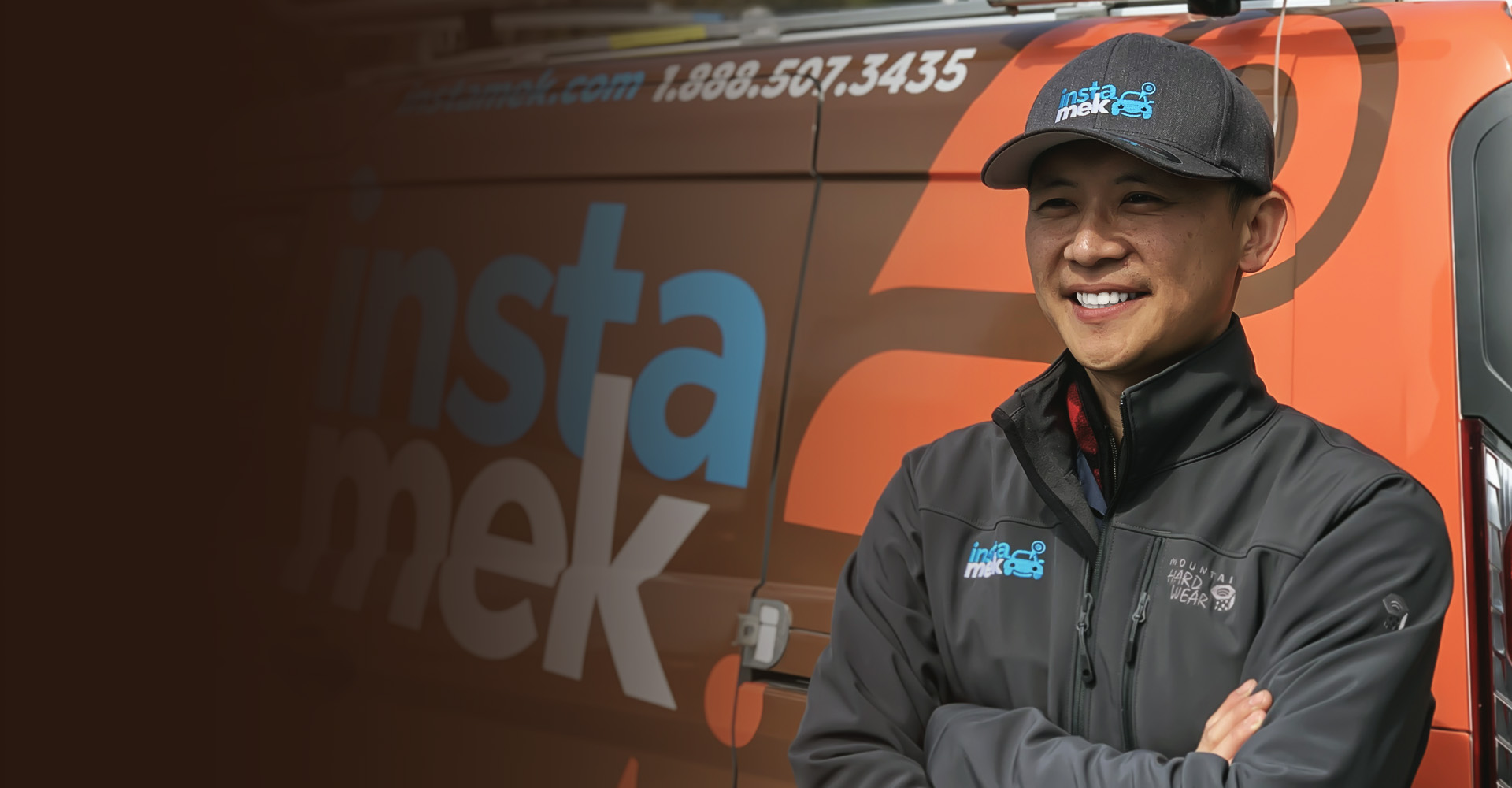 Our Locations
Expert Mobile Car Mechanics Near You
Our mission is to give you a hassle free car repair experience.
Here's what our customers say about us
Waheed did a pre purchase inspection for my Ford Focus. He was on time, and very professional throughout the whole engagement. I am very convinced that he knows what he is doing. He answerd all my questions and made my purchasing decision very easy. This service is very convenient.

Isuru Wijethunga
19:43 07 Oct 20
Got an inspection done. Waheed was thorough. Unfortunately it doesn't make sense to me to spend 2x the value of the car in repairs. Good to know what I have to do to keep it running safely though.

Geoff McSherry
01:02 29 Sep 20
Jack at InstaMek literally saved me thousands of dollars. I was all ready to buy a used vehicle from a private seller as the vehicle looked and drove great However, I could see a few minor things that made me concerned that there may be bigger underlying issues. I decided it best to have an inspection before completing the sale. As there was a second buyer with cash in hand, I needed a same-day inspection. I contacted InstaMek to see if I could get an inspection ASAP, and they sent a technician out within a couple of hours. That alone was pretty amazing customer service. Jack did a thorough inspection and showed me the photos of his areas of concern...and there were many! Although,I was sad to have spent $200 for an inspection only to walk away without the vehicle I wanted, it was money well spent as the repairs would have cost me a minimum of $3-4000. Whew! On a side note, their reporting system was having technical difficulties, so I had to wait longer than expected to get the full inspection report. However, Jack called me personally (after hours) to discuss his main concerns with me, as he knew I was anxious to make a decision on buying the vehicle. Really great customer service 👍

Angela Matheson
05:03 24 Sep 20
I found Mohammad- from Instamek not just very thorough but very professional and knowledgeable about the whole inspection process. After the inspection he took the time to go through point by point on different Items all the different areas of the vehicle .... what it was he was looking at .... what the concerns for me might be and also what the potential cost would be to bring it up to standard safety requirements.Needless to say it not only saved me the thousands of dollars it would've taken to purchase a vehicle but it saved an additional several thousand dollars in repairs that you couldn't see or feel from driving the vehicle but that he was able to detect and explain to me.I would recommend in instamek and Mohammad- to anyone who is seriously thinking about purchasing a car and protecting their investment. I want to thank the professionalism that the Instamek team had from answering my call and the promptness, courtesy and commitment Mohammad- had and ensuring that I knew everything I had to know to give me confidence in moving ahead with the purchase or not. The big shout out to the Instamek team.Thanks for everything,Doug

Doug Aason
22:24 22 Sep 20
Waheed turned up early, explained what he was going to do and had the pre inspection done in the expected time. He then discussed the results with me and covered the points I had asked him to look at. All in all a very good experience

Chris Gardiner
23:05 18 Sep 20
My mechanic showed up looking clean & professional asked what car & proceeded to go through it with a fine tooth comb. It took between 1-1.5 hrs which is awesome because he's not rushing & when he was finished he let me know the outcome of his inspection. I'm definitely using InstaMek during my car search. If you're looking to buy a car call these guys to have a look & inspect it before you buy it, it's money WELL SPENT.

Reggie Symonds
17:11 10 Sep 20
Called these guys for a pre purchase inspection as I was unsure about a car and wanted another set of eyes to check it over. They were able to fit me in a couple of hours later and I received a text message when the mechanic was on the way.The mechanic assigned (Waheed) was friendly, extremely thorough and found several faults that I wouldn't have found in a month of Sundays. He was able to explain the faults to me on the spot and followed up with a report including photos a couple of hours later.Overall a reasonable cost for a great service which probably saved me thousands in repairs. Really impressed and will definitely use them again.

We got a Pre-Purchase Inspection done on a car we are giving to our son, as we wanted to know everything was safe and what needed to be done. Mohammed was the mechanic who did the inspection, the report was thorough and complete with nothing missed. Mo was very helpful, and explained everything. Highly recommended!

I received a great car inspection from Glenn at Instamek. He was informative, professional and had a positive uplifting attitude. Highly recommended!

Super helpful. Almost bought a car with loads of expensive issues but Waheed came out, inspected and subsequently saved me a world of hurt in the near future. I'll be using these guys again for pre-purchase inspections for sure.

Jeremy Lind
03:49 19 Aug 20
I'm someone that works five days a week, 8am-6pm so finding out that Instamek offered a service where the inspection can be arranged for the mechanic to come to you, took a huge amount of stress off my shoulders. It's amazing how it's so easy, definitely a god-send for people that have super busy schedules!Waheed was the gentleman that helped me conduct a pre-purchase inspection and he was absolutely perfect. He was vocal about everything he was doing, kept me in the loop offered to explain his findings after the inspection, and even extended his services to calls/texts anytime I had questions!He was honest, kind and patient, and gave me his professional opinion on the situation which ultimately helped me decide on my next step with the seller. For someone like me who's very much vehicle-illiterate, it was the most helpful piece of advice.I highly recommend Instamek, and to have Waheed as your guy! You won't be disappointed.

This is the first time I have used this service. instaMek was amazing. They were on site within 2 hours of contacting them. Mohammed was the mechanic sent out. Unfortunately since I live 3000km from Vancouver I was not able to be on site. Mohammed took care of that, he called me before and after so he could answer any of my questions. He also went above and beyond as I sent him texts all day asking questions after he was finished.. Thx again Mo you are the best, why cant all mechanics be this good.......Also the inspection sheet they send you when they are done is A1.......

Terry Miller
01:29 25 Jul 20
Mohammed was very knowledgeable and thorough with his inspection of my vehicle. He explained everything he was doing along the way and answered any questions I had. I was very pleased with his service.

Michael Cooper
06:46 23 Jul 20
i am the owner of Sulher motors car dealership in Vancouver. Instamek has been doing inspection for my customers for the last four years. booking a time for an inspection is very convenient and reasonably priced for the job and you do not even have to be present for the inspection Their mechanic Mohamed is very professional and performs a very through inspection. i recommend Instamek to all my customers for a peace of mind inspection before buying a used car or truck.Easy to bookgreat inspection with detailed explanation and picturesfriendly and professional staff

Jahangir Solehria
21:26 17 Jul 20
Mohamed was great, showed up on time to do the vehicle inspection, was very professional and very pleasant to work with. Overall I was pleased with the service.

Tal Shalev
04:12 15 Jul 20
Even though his diagnostics (insurance inspection) may result in loss on the sale of my vehicle, the Mek, Alexey is a gentle, caring, professional giant. He's conversational, and there's something about his demeanor that's comforting. Great customer service.

Yurnique Uchiha
18:01 13 Jul 20
I've been using instamek for both diagnostic andmaintenance and the instamek mechanic Mohamed has been extremely helpful, he's the best mechanic. He was able to explain any issues i was concerned with and I'm really happy to have him service my car. I recommend him to anyone.

Harman Bey
00:13 04 Jul 20
Before buying my car I took it to those guys and they did a full inspection on it, they were very professional and absolutely liked their service.

Sukhmeet Hayer
22:02 03 Jul 20
I wanted to get a pre-purchase inspection of a vehicle I was interested in purchasing from a private seller on Craigslist. I was able to book an appointment on the same day I called, which was very convenient. The mechanic who came out, Waheed, was very professional and friendly. He did an extremely thorough inspection of the car and clearly explained what some of the issues that he was seeing were as he went. You get a very detailed report as a result of the inspection which allowed me to negotiate the offering price down quite significantly. It was definitely worth it and I would recommend this service to anyone looking to buy a used car.I should note that the pre-purchase inspection typically includes a driving segment, but the mechanic cannot do it if the car is not insured (for obvious reasons). I didn't realize this when I booked over the phone, and I was comfortable with just a visual inspection given the age/condition of the car in question, but if you are particularly worried about the car's transmission or steering I would make sure it is insured so that the mechanic can come and do this part of the inspection.

After buying a used car on the spot, I realized that I needed to get an inspection done in order to insure it! So, I went on Google and searched for "mobile mechanic". Thankfully, I found InstaMek. I emailed in the late morning and a certified mechanic (or "Mek") showed up in the mid afternoon! Mek Kenroy was so friendly yet professional. He went about the inspection quickly and efficiently and provided the necessary paperwork for me to obtain my insurance. I also learned that they can do alot of basic maintenance and repairs right on your driveway. The pricing was more than reasonable, especially after I signed up for the Prime membership. Thank you InstaMek! I will be using your service in the future to take care of my vehicles.

Mateo Tamano
22:51 27 May 20
Jack (the Instamek mechanic) called me back when I requested after viewing the inspection report. He provided some really great information and answered the questions that I had. I'd like to thank him for his thorough and in depth inspection as this has helped me understand the condition of the minivan in question. He was also very cordial and easy to speak with. I give him 5 stars. Thank you Instamek for all your help with my pre-purchase inspection.On another note, I noticed that a few Google reviews are negative. I would advise that it is likely that a lot of those reviews were for older cars that might not be in good condition. What you have to remember is that they are primarily an inspection service. They are trying to demonstrate the current condition of the vehicle. If they were to miss something, that might expose the buyer to unforeseen repair expenses. So, of course they are going to proceed on the side of caution by listing everything they can see and test. And, they cannot look inside the engine either. So, some items might need to further diagnosed by a physical repair shop or monitored for follow-up later. They are not able to do an exhaustive review given their fee of approximately $200, their limited time associated with that fee, and being mobile with limited equipment. I do not think it is reasonable to expect them, or any other auto inspection service, to ascertain the location of an oil leak either. A lot more time would be needed to diagnosis this. It is even difficult for a physical shop to determine the exact location of an oil leak. Sometimes, it is easy to determine while other times it is difficult if there is a lot of oil caked on an engine. Sometimes an engine will have be cleaned and then monitor where a leak occurs over a certain duration. So I think that a lot of the negative comments are not justified nor are they reasonable. I just thought that I would share my opinion and perspective for future users of the inspection service.

Brandon Mordy
22:22 26 May 20
Battery died and had no way of getting it to a shop to get replaced. These guys came to my house within 5 hours of calling and did a diagnostic to make sure it was actually the battery . The tech showed me what the problem was and explained it to me in terms I could understand . When he told me the battery had to be replaced and didn't even mention that they sell them. I asked if he could do it and he said yes - Gave me a great price and had it running within an hour of arriving . He also did a 30 point Inspection. These guys are professional, friendly and do it all. Will be my go-to for Mobil mechanic needs.

Daniel Kavanagh
01:44 23 May 20
Mek Waheed and his mechanic partner were excellent. Very friendly, and much more thorough than my last inspection, which was at a shop with a lift! They spent time with me afterwards explaining things in detail. Would definitely recommend this service.

I had a great experience getting a pre-purchase inspection for the vehicle I was looking into buying. It was easy to book an appointment, and the car was inspected and reported on thoroughly. I got my report within an hour of the inspection, and was able to contact and communicate with someone working at instaMek quickly to answer a questions I had.All in all, it was an awesome experience and I'll definitely use their services in the future.

Sam Merson
08:17 19 Mar 20
So happy we discovered this company! I was scared to drive my car to the shop after hearing weird noises and within 2 days they ran the diagnostic and replaced by rotors and brake pads. And since they don't have the overhead of a normal shop it came out to way less than we feared! Signed up for their membership program which is a great deal too. Thanks again Jack and Instamek, I'll be recommending you to everyone!!

Shauna Carothers
00:53 26 Feb 20
Very thorough inspection of my vehicle! The mechanic was great.

Easy to set up an inspection at the location you need. Had a pre-purchase inspection for a used vehicle done by them and was very happy with their customer service and the results they gave me. Very thorough inspection that made me confident I was buying the right car!

Spencer Quimby
04:22 11 Jan 20
Needed a Pre-Purchase inspection done on a vehicle in somewhat short notice and with a hesitation from the small dealer to have us tie up one of their plates in taking the car to a brick and motor service location for a day. Enter Instamek.Able to make all the arrangement required including identifying who to contact at dealership. Got a confirmation email with the time window and let dealer know. Mek arrived on time and did what they needed to do with no muss and no fuss. Got the report an hour later with images of things to note from their inspection and a complete list of pass, monitor, and required things in regards to the vehicle.everything was coordinated by email and text and it did not require me to be onsite which was nice as schedule didn't permit.All in all... a very good experience and would HIGHLY recommend. You do pay a bit more for the convenience but it was worth it in this case.

Kevin Shamanski
15:42 04 Dec 19
I needed a pre-purchase vehicle inspection done really quick -- seller really wanted to get the car off his hands, and I wanted the car. So I called Instamek and they did a same-day inspection for me. I was surprised at how detailed the report was and how many things they actually looked at.Thank you for the great service.

Had a great experience with instaMek - they changed my brakes at my house after doing an inspection for me. It was easy and the mechanic was nice

Muhammad Iqbal
04:56 07 Nov 19
We are open from 8am - 7pm Monday to Saturday