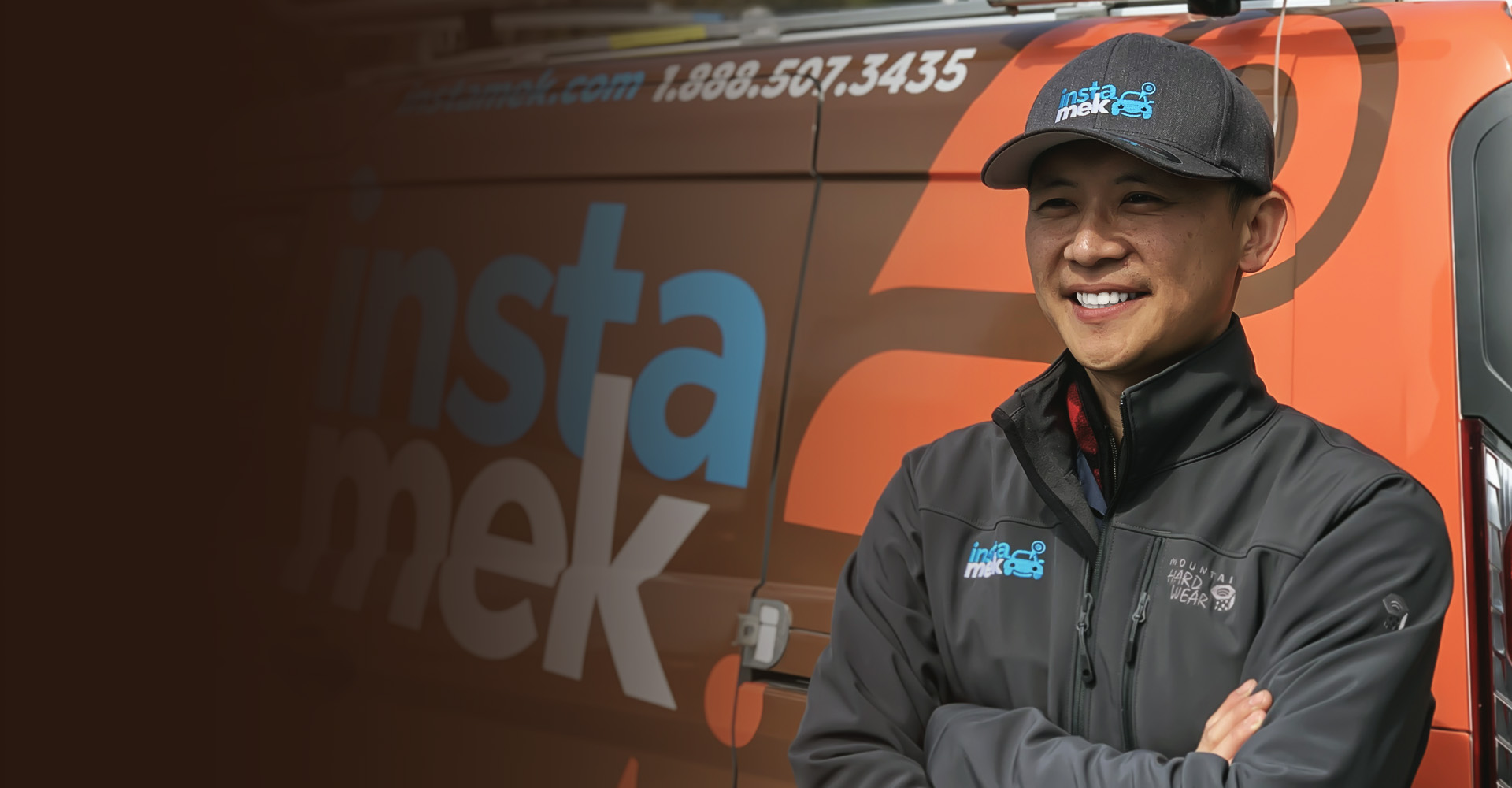 Our Locations
Expert Mobile Car Mechanics Near You
Our mission is to give you a hassle free car repair experience.
Here's what our customers say about us
Really easy process to get a pre purchase inspection done by instaMek and their mechanic was thorough and took the time to run through the report with me to answer any questions I had.Thank you - I will definitely be using instaMek again!

Roisin Mulligan
06:19 27 Jan 21
I was looking at a vehicle to purchase and had Grant from instaMek come out to do an inspection on it before making my final decision. Grant provided an amazing amount of information and noted so many items in his report that I had overlooked, everything from a small leak in the rear differential right down to a broken screw holding the license plate on.This was an easy and extremely professional service to arrange and was absolutely worth every penny.

Wayne St John
15:43 22 Jan 21
Glenn in Calgary was amazing. Beyond knowledgeable and was happy to share information and quality conversation while working. He went above and beyond in not only inspecting my car but providing tons of information, opinions , and solution options. In the future whenever I need a car inspection I will be using instamek and asking for Glenn. Fair price for the fact they come to you and very convenient and easy.

Cody David
22:11 20 Jan 21
Booked a pre-purchase vehicle inspection and was very impressed with the report.Excellent work and amazing to deal with!

David Doogan-Smith
19:43 19 Jan 21
The Mek Jack came right to my place and repaired my alternator. No more problems, my van is working again. Booked another inspection, and Jack came again and fully inspected my vehicle. Thank you Jack for your time. I recommend InstaMek and Mek Jack.

marc yammine
20:56 18 Jan 21
Grant Feth, was great to deal with. He did a very thorough pre purchase inspection for me. He caught a couple things I never would have thought to check, and I was able to get the dealer to fix those deficiencies before I bought the car.

Jordan MacInnes
00:37 17 Jan 21
Waheed was on time, efficient, knowledgeable, allowed me to be involved and showed me all the results as he went through the inspection. I was buying a rebuilt 2019 RAM 1500 so I really needed an expert to check it out. I feel this is good value.

Dave Eleiter
19:46 14 Jan 21
I was blown away by this service. While I can't speak for all their mechanics, Jeff was brilliant. He went above and beyond for my prepurchase inspection and explained everything I needed to know about the car I was looking at.

Renz Barril
02:52 08 Jan 21
Wish I had known about them sooner. Jack came on time to my house (I'm still blown away by this service) did his diagnostic on my car and was able to tell me everything that was not working correctly and if it could be fixed.Prior to this I had gone to 2 different mechanics that told me that there were major problems and wasn't worth getting it fixed, and I should buy another vehicle. I am so glad I did not listen to them because they were very wrong about the problems they thought my car had.Jack booked me in for the very next day I didn't have to go anywhere to drop off my car or pick it up, all the repairs were done right there.He took lots of photos to show me where the problems where then afterward I took it for a test drive, it felt like a brand new car. I was having problems starting it but he zeroed in on it right away, and now I have no problem starting my car. I was so relieved I joined their membership, which I think is worth it.

We called InstaMek to conduct a pre-purchase inspection on a vehicle we were looking to purchase in Edmondon (we live in Toronto btw!) We were so impressed with how easy and straightforward the booking process was. Grant was our mechanic, and I cannot express how grateful we were for his professional service. Not only did he provide us with a thorough inspection report, but we spoke on the phone for at least 30 minutes while he explained everything. I'm so appreciate for his advice, especially since we were at a distance and couldn't see the vehicle first-hand, he really was our only unbiased insight on whether we should proceed with the purchase. We didn't end up buying the vehicle, and we're so thankful for this!! So glad we discovered InstaMek! Now if you can only operate out of Toronto please!

Excellent service. Fast tire swap and great diagnostics. There were multiple warning lights on in my car and Grant identified the cause and was incredibly knowledgeable regarding what needed to be done. I will be recommending instaMek to others and will continue to use them when I need fast and quality service on my car.

Albert Mallia
19:11 08 Dec 20
I recently had instamek perform a pre-purchase inspection of a used vehicle in Burnaby. Booking was straight-forward, and I received notification when the mechanic was on his way. The inspection report was generated very quickly, which was great, and did note a few minor items requiring repair. I purchased the vehicle and took it to a local shop to perform the repairs. This local mechanic however noted the extent of the repairs was quite significant, well above what was noted in the report. Concerned about the cost of these repairs I contacted Omar at Instamek, explained the situation, and he arranged to have the vehicle checked again. Mo, the mechanic, thoroughly inspected the reported problems on the vehicle, quickly solved one of them, and de-bunked the other through a detailed explanation with a test-drive, saving me a huge repair bill in the process. Very happy with their honesty, attention to detail, and customer service. Highly recommend their services.

Adam Gruchala
05:28 03 Dec 20
Our Instamek Grant was amazing, helpful, affordable and knowledge about all our issues and concise in helping us resolve them. Our inspections went well and he was helpful in working with us to achieve what we needed. Would highly recommend, all around amazing guy.

SanityBorder
19:23 27 Nov 20
Waheed the mechanic was very knowledgable and did an excellent "pre-purchase inspection"on the car. Found some issues with the car, and as a result we didn't buy the car. Very thankful

stan miller
04:33 26 Nov 20
Our pre-purchase inspection was done by Waheed who did an excellent and thorough job. He was very professional and took the time to discuss a few questions I had on the phone after I had read the report.

Sina Akbari
04:26 17 Nov 20
I booked for a pre purchase inspection and My mechanic was Waheed and he was very efficient and went out of his way to help me finish the inspection. My seller didn't have a plate so the inspection had to be stopped but Waheed came back to finish it when my seller had the plate. He also was very honest about the condition of the car, I know nothing about cars and he was patient to explain everything to me.

Alice Annee
04:07 12 Nov 20
Waheed was unreal, really detailed and helped me with a pre-purchase inspection. He even thoroughly checked under the car in the pouring rain on the side of the road. Highly recommend.

Mitchell Wilson
17:22 05 Nov 20
Grant completed an on-site pre-purchase inspection for us today on a vehicle. He was super friendly and knowledgeable and the report was clear and detailed. Would highly recommend this service which was worth the money for quality and convenience. Thank you!

Got a free inspection as a starting promotion for a car I just bought. I was extremely impressed with the service. I'm always a bit skeptical with mechanics from previous experiences, but Waheed was incredible. Not only super nice and polite, but also explained the issues he found and answered the questions I had. I don't usually write reviews but in this case I had to, and will definitely be using InstaMek's services in the future.

Giovanna Monastero
19:09 02 Nov 20
My mechanic was Waheed and he did a great job. He was professional and friendly. It was worth it to do the pre-purchase inspection and I would use Instamek again.

I would like to appreciate for a job well done on my car the tech name is mohamed is very professional and very friendly. The prime membership is very affordable and free inspection twice a year it helps me to keep my car safe on the road thanks mohamed. Job well done!

I had Grant come to home to look at my car because i didn't trust Kal Tire's inspection. Grant was super helpful, he showed me what to look for regarding my issue, knowledgeable on the issue!I have booked a repair with Grant!!!

Cass Lyseyko
20:07 28 Oct 20
Waheed did a pre purchase inspection for my Ford Focus. He was on time, and very professional throughout the whole engagement. I am very convinced that he knows what he is doing. He answerd all my questions and made my purchasing decision very easy. This service is very convenient.

Isuru Wijethunga
19:43 07 Oct 20
Got an inspection done. Waheed was thorough. Unfortunately it doesn't make sense to me to spend 2x the value of the car in repairs. Good to know what I have to do to keep it running safely though.

Jack at InstaMek literally saved me thousands of dollars. I was all ready to buy a used vehicle from a private seller as the vehicle looked and drove great However, I could see a few minor things that made me concerned that there may be bigger underlying issues. I decided it best to have an inspection before completing the sale. As there was a second buyer with cash in hand, I needed a same-day inspection. I contacted InstaMek to see if I could get an inspection ASAP, and they sent a technician out within a couple of hours. That alone was pretty amazing customer service. Jack did a thorough inspection and showed me the photos of his areas of concern...and there were many! Although,I was sad to have spent $200 for an inspection only to walk away without the vehicle I wanted, it was money well spent as the repairs would have cost me a minimum of $3-4000. Whew! On a side note, their reporting system was having technical difficulties, so I had to wait longer than expected to get the full inspection report. However, Jack called me personally (after hours) to discuss his main concerns with me, as he knew I was anxious to make a decision on buying the vehicle. Really great customer service 👍

Angela Matheson
05:03 24 Sep 20
I found Mohammad- from Instamek not just very thorough but very professional and knowledgeable about the whole inspection process. After the inspection he took the time to go through point by point on different Items all the different areas of the vehicle .... what it was he was looking at .... what the concerns for me might be and also what the potential cost would be to bring it up to standard safety requirements.Needless to say it not only saved me the thousands of dollars it would've taken to purchase a vehicle but it saved an additional several thousand dollars in repairs that you couldn't see or feel from driving the vehicle but that he was able to detect and explain to me.I would recommend in instamek and Mohammad- to anyone who is seriously thinking about purchasing a car and protecting their investment. I want to thank the professionalism that the Instamek team had from answering my call and the promptness, courtesy and commitment Mohammad- had and ensuring that I knew everything I had to know to give me confidence in moving ahead with the purchase or not. The big shout out to the Instamek team.Thanks for everything,Doug

Doug Aason
22:24 22 Sep 20
Waheed turned up early, explained what he was going to do and had the pre inspection done in the expected time. He then discussed the results with me and covered the points I had asked him to look at. All in all a very good experience

Chris Gardiner
23:05 18 Sep 20
My mechanic showed up looking clean & professional asked what car & proceeded to go through it with a fine tooth comb. It took between 1-1.5 hrs which is awesome because he's not rushing & when he was finished he let me know the outcome of his inspection. I'm definitely using InstaMek during my car search. If you're looking to buy a car call these guys to have a look & inspect it before you buy it, it's money WELL SPENT.

Reggie Symonds
17:11 10 Sep 20
Called these guys for a pre purchase inspection as I was unsure about a car and wanted another set of eyes to check it over. They were able to fit me in a couple of hours later and I received a text message when the mechanic was on the way.The mechanic assigned (Waheed) was friendly, extremely thorough and found several faults that I wouldn't have found in a month of Sundays. He was able to explain the faults to me on the spot and followed up with a report including photos a couple of hours later.Overall a reasonable cost for a great service which probably saved me thousands in repairs. Really impressed and will definitely use them again.

We got a Pre-Purchase Inspection done on a car we are giving to our son, as we wanted to know everything was safe and what needed to be done. Mohammed was the mechanic who did the inspection, the report was thorough and complete with nothing missed. Mo was very helpful, and explained everything. Highly recommended!

We are open from 8am - 7pm Monday to Saturday