instaMek Mobile Mechanics will replace or repair your alternator wherever you are – saving you the hassle of getting a tow truck and dealing with the back and forth of a shop all at a very reasonable cost.
Alternator
The alternator is what charges your battery using power from the engine. You'll notice your alternator failing as it fails to charge your battery and you're stuck in a lot of situations where your won't turn on. It also powers the accessories in your vehicle so if the alternator isn't working your car just might stop dead on the road. It's an important part of the car you have to replace if you're having any issues with it!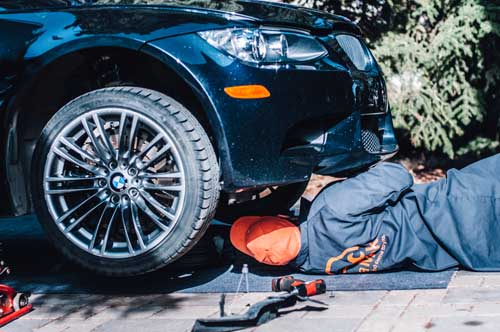 Alternator Belt
The alternator belt, also known as the serpentine, accessory or drive belt, is what connects the engine's output shaft to the alternator. If your belt is wearing out you'll notice cracking and fraying which is a sign that it should be changed. The cost for changing the belt depends on the vehicle but is usually between $100 to $350.
Alternator Cost
This depends entirely on the vehicle but for most domestic vehicles the cost for an alternator is around $250 to $500 and require between 1 to 2 hours to replace. The cost for imports goes from $500 to $1000 and the labour times can be between 1 to 3 hours. You can replace the alternator with a brand new OEM one, or a refurbished one. The refurbished one is usually a little bit cheaper – either way the choice is yours.
Mobile Alternator Repair
Don't deal with the headaches of having to tow your car to a shop – this service is our bread and butter as mobile mechanics. You'll have a completely hassle free experience with us coming to you instead. Call us at (604) 330-0424 for a quote or click the link below for an online quote.
Serving The Greater Vancouver Area
500 West 10th Avenue Vancouver, BC V5Z 4P1
Hours of Operation and Contact Information
| Our Mechanics are available from: |   |
| --- | --- |
| Monday | 8AM–6PM |
| Tuesday | 8AM–6PM |
| Wednesday | 8AM–6PM |
| Thursday | 8AM–6PM |
| Friday | 8AM–6PM |
| Saturday | 8AM–6PM |
Phone support hours are typically 7 am to 5 pm Monday to Saturday.
Average rating:
2 reviews
Apr 30, 2018
I just used instaMek today to replace my alternator. The mechanic Jack was excellent - very friendly and did a great job.
Apr 12, 2018
I called a previous mechanic on Cragslist to come and fix my alternator. I don't know what he did but the car was in worse shape than before. I was stuck and then I found out about instaMek. They sent a real mechanic my way who fixed my car properly and now it's running great - honestly I'm so lucky I found these guys. I had no idea what to do...